"If I were any calmer, I'd be levitating."
---
---
╔
╗
╚
╝
---
---
---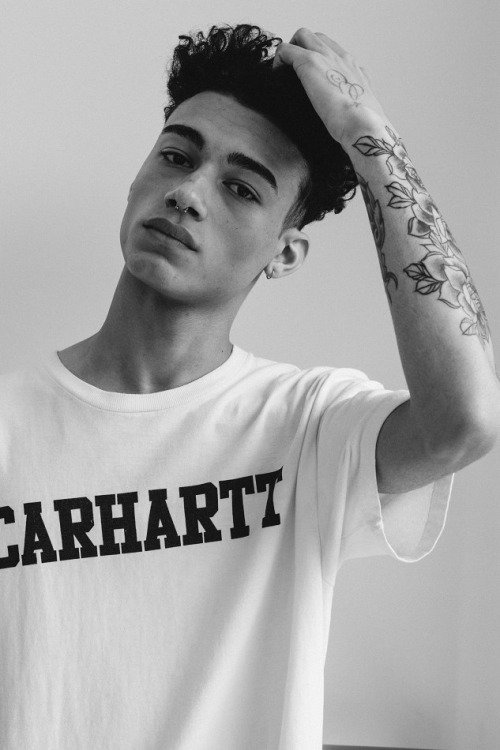 F U L L

X

N A M E
Fabian Alejandro Gonzalez.

N I C K N A M E
Fabian doesn't really like to associate nicknames with himself. He likes to be called by his name, Fabian, because he feels like when people give you a nickname, they'll forget your real name entirely.

B I R T H D A Y
October 1st.

A G E
Nineteen.

H O M E T O W N
Albuquerque, New Mexico.

G O D L Y

X

P A R E N T
Demeter.

G E N D E R
Male.

S E X U A L

X

O R I E N T A T I O N
Openly Homosexual.

E T H N I C I T Y
50% African American, 50% Hispanic.

H E X

X

C O D E
#A53C20

F A C E

X

C L A I M
Reece King

U S E R N A M E
Sunshine and Whiskey.
---
H E I G H T
6'2.

W E I G H T
159 lbs.

A P P E A R A N C E
Fabian's appearance is very unique towards anyone that is meeting him for the first time. But if you've known him for a little while then whatever he decides to do to his body and wear upon his body shouldn't be to any shock to you. Fabian likes to keep his frame very slender as he has an athletic, toned out body. He stands about six foot two inches tall with a weight of one hundred and fifty-nine pounds. Yes, he has a little bit of muscle but he is also a little bit scrawny, as well. Fabian's hair takes on a deep brown complexion in most light but in other amounts of lighting, his hair can appear to be almost black. He likes to keep his hair curled up like a little Afro, as well. Since he is mixed with African American and Hispanic, his skin complexion takes up a light skinned approach and his eyes are a pure hazelnut color. Fabian has an array of tattoos, one giant tattoo that is located on his right arm and it's nothing more than a bunch of roses. He also has a tattoo behind his left ear that is of a four leaf clover. Fabian only has three piercings and one of those is through his nose while the other two and within his earlobes. Fabian has a very casual style of dress, as well. He likes to wear t-shirts and baggy pants or cargo shorts along with a pair of Chuck Taylor's, which is about the only pairs of shoes he owns. Fabian also has an assortment of hats and bandanas that he'll sometimes wear, too.
---
---
---
Q U I R K S
•

When angered, Fabian will speak fluent Spanish. Sometimes he'll transition from Spanish to English, as well

•

Fabian loves to raise his middle finger up towards people, whether it be random or because that person might've said something stupid or pissed him off

•

Is a hand talker and is left handed

•

Doodles on any piece of paper in front of him

•

Likes to sing in the shower

•

Is a vegetarian

•

H O B B I E S
The only hobby Fabian truly enjoys is Gardening. Yes, he has many other hobbies such as working out, most sports, creative writing and collecting comic books. But Gardening is really the hobby that fits Fabian best.

L I K E S

✔

The Outdoors


✔

Nature, Sunny Days


✔

Writing in his journal


✔

Comic Books


✔

Telling Jokes, Playing Pranks


✔

Early Mornings


✔

Cuddling
D I S L I K E S
✘

His emotions


✘

One of his plants dying


✘

Negative People


✘

Body Odor, Anything that smells bad


✘

Severe Thunderstorms


✘

Meat


✘

Betrayal

F E A R S
☠ Failing ☠ Clowns ☠ Drowning ☠ Losing those close to him ☠
---
---
CALM ❖ GENUINE ❖ OBSERVANT
SARCASTIC ❖ STRAIGHTFORWARD ❖ TEMPERAMENTAL
P E R S O N A L I T Y
Calm, cool and collected are three words that really describe Fabian's personality, most of the time. He always says that if he was any calmer, he'd really be levitating right off of the ground and people that know him can vouch that statement. Fabian has a really calm and laid back personality, sometimes going with the flow and letting things fall into place as they are. He is a very genuine person that will always be honest with you - No matter what. Fabian does not like people that lie even when they know the truth about something. It's really something that irks Fabian's nerves to the core. He is always watching the people around him and his surroundings. His observant nature comes from his years of living in a rather rough neighborhood.

Fabian has negative traits to his personality, just like any other human being and demigod. He is very straightforward towards just about anyone that crosses his path. He'll even tell someone something that they definitely do not want to hear. Fabian likes to be truthful towards everyone and being straightforward is really the way to be. One should be careful when it comes to sarcastic remarks being thrown towards Fabian because he is very quick on his feet when it comes to sarcasm. Fabian is definitely not the person to engage in a sarcastic battle with because you just might lose within a matter of seconds.

He certainly has his mother's temperament when it comes to certain situations and environments that he is in. You'll know whenever you made him made when his top lip starts to twitch but when you make him sad, he'll grow silent and wants to be by himself. Overall, Fabian is a great person to be around and if you want befriend someone that tells you how it is then he is definitely your guy.

B I O G R A P H Y
Fabian was born on a beautiful fall day, or at least, that's what his mother, Demeter has always told him. When Fabian was born, the father wasn't even there for the birth and then, he wasn't even there afterwards neither so Demeter had no choice but to give him up for adoption. But he wasn't just handed to anybody, he was given to a couple that has been trying for years and years to have a baby and Demeter felt it was the right thing to do. Fabian's adoptive parents lived in a very rough neighborhood with the state of New Mexico. He practically couldn't go outside without hearing gunshots or seeing a fight breakout right before his eyes. It was pure tragic sight for Fabian to see and he wished for something better to come.

Demeter heard her son's cry for help and visited him one night as she promised him that things were going to get better as time rolled on. Fabian listened and things got a little bit better but not as much as he had hoped. Though, Fabian went out back one day while his mother was gardening and joined beside her as it seemed that he had natural instinct for it. Ever since then, he attended to his mother's garden and even started a small one right there beside hers.

Growing up wasn't exactly easy for someone like Fabian but through it all, he always remained calm and just went with whatever came his way. Fabian knew that things were going to get it better and all he had to do was wait. His adoptive parents were proud of him as he excelled through school with excellent grades. They celebrated every single time Fabian past a grade and after his eighth grade graduation.

Fabian hasn't really seen his mother for quite some time but when he was tending to his garden in the summer, she appeared again. She mentioned an academy to him and he first hesitated but then thought that maybe this was what he has been waiting for. Fabian quickly rose and accepted the offer though Demeter also told him about some tournament that he'll need to enter whenever he is there. She mentioned that he could really enter at any time that he wishes and told him not to rush. Before she left, she admired his gardening skills and cuffed his face with her hands and closed her eyes. Demeter mentioned to Fabian that he was ready for his abilities and that she had just transferred them to him.

Confused by what that meant, Fabian packed for the academy and left in the middle of the night though left his parents a note. Once at the academy, Fabian knew that he belonged there as the atmosphere felt completely right to him. Since his time at Legacy Academy, he has made many friends and enemies but kept his distance from committed relationships as he did not want any distractions from whenever he signed up for the legendary tournament known as Agon. Fabian signed up for the tournament on his last and final year at Legacy and cannot honestly wait to compete.
---
---
---
G R A D E
12th.
T E A M
X
R O L E
Special.
R E L A T I O N S H I P
X
W I T H
G O D L Y
X
P A R E N T
Fabian's not Demeter's favorite child but they definitely share a tight bond with one another. Whenever Fabian needed her, she came to see him and spoke with him for long periods of time. The bond they share is really indescribable but he knows that whenever he needs Demeter, she will definitely be there for him.
A M B I T I O N S
Fabian doesn't really have anything to prove by winning the tournament but he just really wants to see if he can win, to be honest. He's not really in the tournament for any favors or to make anybody proud of him but he's really in the tournament for the good fun and hopefully to win.
S T R E N G T H S
Chlorokinesis;
This is Fabian's main strength as it passed down to him from Demeter herself. Fabian has ultimate control over various plant matter as he can cause plants to grow and even make them rise from the soil. He can even use plants as offensive attacks, as well.
W E A K N E S S E S
Fire & Ice;
With Fabian's abilities, extreme temperatures of fire and ice, or anyone with the ability to manipulate fire or ice can cause issues for him.
Areas Without Plants;
In areas where there are no plants, he is completely helpless as he has no combative abilities whatsoever.
---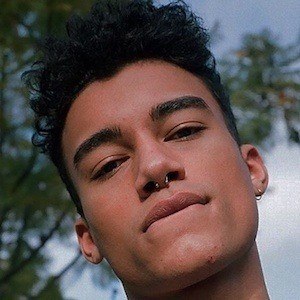 R E P U T A T I O N
Fabian's reputation around Legacy Academy is that he's one of the coolest people and people love being around him. Even though the gay guy on the campus title is taken, people do not see Fabian just as a gay guy and he is lucky for that. Fabian has heard people speak about him, both good and bad, but he really just ignores the negativity and that has always been one good thing about him.
---
---