Name:
Summer Nadine Vorhees
Nickname:
Kite, Nadi, Blitz
Age:
16
Sexuality:
Lesbian
---
---
Secrets
◇Her mother has been gone for two months and she has not clue where she is
◇She has a stalker thats been following her the last few weeks. She just thinks its a coincidence but its not.
◇Her drug habit has been getting worse and worse and she has gotten to the point where she can't go a few hours without being high
◇Shes a virgin
---
---
Height
5'4"
Weight
110lbs
Hair color
Black with red highlights
Eye color
Grey
Likes
Weed
Her mates
Alcohol
Partying
Music
Drawing
Dancing
smoking
Her hair
Clubs
Girls
Going to the lakeside
Skinny dipping
Her sister
Drugs
Being high
Dislike
Her parents
Being sober
Authority
Being alone
Waking up somewhere she doesn't know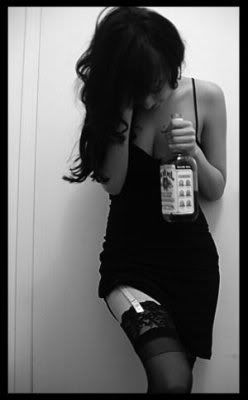 ---
---
Soda Pop and Kite
---
---
Personality
Summer is a very hard girl to describe, she is very rebellious and doesn't usually listen to any rules. She likes to make her own. She relys complete on her friends and is never good at being alone.. She is sarcastic and sometimes its hard for anyone to take her seriously. She loves any sort of affection but never is one that asks for it, its hard to believe but she is actually very shy when it comes to asking for affection.
When it comes to her friends she kinda is protective of them, she has been in many fights because of someone verybally or physically attacking one of her mates. She is loyal to the bone and always seems to put others before herself. Though when she is sober she is comepletely different, you probably wouldn't even recognize her. She becomes withdrawn and secluded, she gets lost in her mind. This is why she is usually high on something, doesn't matter what kind of drug you give her she will most likely take it. She has dated a few girls but it never lasts long because she gets bored with them, its hard for her to stay comitted to that person. At partys she will be found dancing from one girl to another.
She hates school and everything to do with it, she has skipped many days but somehow her work still gets passed in. She doesn't speak of her parents much, and if she does she is probably high off her mind and probably not very understanding. She isn't one that talks about herself even to her group of friends, in some ways she i still a mystery to the group. She has only broke down in front of her friends twice but her excuse was that she was drunk. She really would like to talk to her friends about some of the issues shes dealing with but she feels if she talks about it then it really means that its true and it happened.
All in all Summer is a very crazy caring girl, she keeps to the drugs and alcohol and always trying to have fun. Its never a dull moment when you are around her.
History
WIP
---
---
Theme Song

Tik Tok|Ke$ha
Wake up in the mornin' feelin' like P- Diddy (Hey what's up girl)
Grab ma glasses I'm out the door I'm gonna hit the city (Let's go)
Before I leave brush ma teeth with a bottle of Jack
'Cuz when I leave for the night I ain't comin back
I'm talkin pedicure on our toes toes
Tryin on all our clothes clothes
Boys blowin' up our phones phones
Drop top and playin' our favorite CD's
Goin up to the parties
Tryna get a little bit tipsy
[CHORUS]
Don't stop, make it pop
DJ, blow my speakers up
Tonight, Im'ma fight
Till we see the sunlight
TiK ToK, on the clock
But the party don't stop no
Woah-oh oh oh
Woah-oh oh oh
Don't stop, make it pop
DJ, blow my speakers up
Tonight, Im'ma fight
Till we see the sunlight
TiK ToK, on the clock
But the party don't stop no
Woah-oh oh oh
Woah-oh oh oh
Aint got a care in world, but got plenty of beer
Aint got no money in my pocket, but I'm already here
Now, the dudes are lining up cause they hear we got swagger
But we kick em to the curb unless they look like Mick Jagger
I'm talkin' bout - everybody getting crunk, crunk
Boys tryna touch my junk, junk
Gonna smack him if he getting too drunk, drunk
Now, now - we goin' til they kick us out, out
Or the police shut us down, down
Police shut us down, down
Po-po shut us - (down)-man
[CHORUS]
Don't stop, make it pop
DJ, blow my speakers up
Tonight, Ima fight
Till we see the sunlight
TiK ToK, on the clock
But the party don't stop no
Woah-oh oh oh
Woah-oh oh oh
Don't stop, make it pop
DJ, blow my speakers up
Tonight, Im'ma fight
Till we see the sunlight
TiK ToK, on the clock
But the party don't stop no
Woah-oh oh oh
Woah-oh oh oh
[BRIDGE]
You build me up
You break me down
My heart, it pounds
Yeah, you got me
With my hands up
You got me now
You got that sound
Yeah, you got me
You build me up
You break me down
My heart, it pounds
Yeah, you got me
With my hands up
Put your hands up
Put your hands up
Now, the party don't start till I walk in
[CHORUS]
Don't stop, make it pop
DJ, blow my speakers up
Tonight, Im'ma fight
Till we see the sunlight
TiK ToK, on the clock
But the party don't stop no
Woah-oh oh oh
Woah-oh oh oh
Don't stop, make it pop
DJ, blow my speakers up
Tonight, Im'ma fight
Till we see the sunlight
TiK ToK, on the clock
But the party don't stop no
Woah-oh oh oh
Woah-oh oh oh