---
"I would tell you to fuck off, but that would be rude, wouldn't it?"
---
---
| Name |
Asher Edward Blanche
| Age & Grade |
Seventeen & Year Twelve (Senior)
| Years Attending Laurel |
This will be his second year.
| Sexual Orientation |
Homosexual
| Group |
Power
| Power |
Illusion Manipulation
---
---
---
---
| Strengths |
arguments, playing piano, his powers (duh!), he can ride a motorcycle, dont-give-a-f*** attitude, humor, mysterious backstory, hand-making pasta, math and science classes, chess, following instructions, long-distance running
| Weaknesses |
emotionally-straining situations, empathy, the fact that his confidence is a lie, keeping up with time, his mother's early-onset Alzheimers, writing, really anything that has to do with organizing his thoughts
| Fears |
scary movies- Most people are afraid of scary movies, right? Well, not in the way Asher is affected. Scary movies will send him into literal panic attack mode, leave him with nightmares for weeks, and even possibly induce some bed wetting. He will avoid horror films until his dying breath.
losing his free will- Maybe this is something he would have been afraid of naturally, or maybe this stems from his kidnapping. Asher himself doesn't know. What he does know is that as soon as he enters a situation where he loses control, he loses his shit.
being outed as homosexual- Asher has admitted to himself that he is gay. He has always known, in a way. But he would never admit that to anyone else. Not yet. His conservative parents and sheltered upbringing led to a great fear of the consequences of leading such a 'taboo' life.
| Secrets |
He is gay & He was kidnapped at age seven and returned when he was twelve. Nobody knows what happened during this time, except him. He has never spoken about his experience to anybody, although his psychologist tried for years to get him to open up. He did not have his powers before this kidnapping.
---
---
---
---
| Personality |
Friendly, Humorous, Loyal, Confident, Cocky
Despite his rather traumatic backstory, Asher has always remained a relatively good person. To the friends that he has, he is respectful and thoughtful. He enjoys joking and making light of things, which is something he has developed as a sort of coping mechanism. He is a generally pleasant person to be around and it is common to hear that he is a fun person.
Asher is known for doing random extreme things with no explanation. For example, when he first began school at Laurel, he had longer hair. He shaved it off completely, leaving him bald only a few months into his first year at school. When asked why, he just shrugged. It was something that he did for himself and had no regrets about.
Many people think Asher is rude at first. This is because he is pretty cocky at first meeting, but those who have given him a chance will see that he will do anything for those that he cares about. He cherishes his friends, even if he doesn't let them know that.
---
---
---
---
| Likes |
winter time, cold weather, glasses, nose rings, movies, beer, having a good time with friends, comedians, creating things, playing chess, running, math class, watching youtube videos, rain coats
---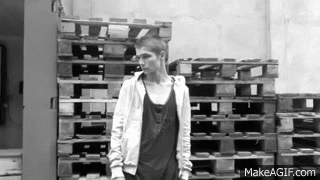 | Dislikes |
rainbows, the color orange, grapes, prejudice, ignorance, his father, flakes, reading small print, predictability, people who aren't creative, chipmunks, church
---
---
---
---
| Biography |
Asher was born to Lori and Dan Blanche in southern Virginia. His parents thought they were infertile and had no chance of having children, so when they were blessed with a little boy when they were both in their mid-forties, they were so unbelievably happy. Asher had a happy childhood, but his parents were strict. He attended church every Sunday and Wednesday until the age of seven and they spent a lot of their family time enforcing rules and teaching him manners. When Asher was kidnapped and did not return until he was twelve, his parents broke. His return covered the problems with a bandaid, but even Asher could feel the permanent rift that had been created.
When his mother was diagnosed with early onset Alzheimers when he was fifteen, his family fell apart. His dad left and he had to take care of his mom until her early death. He was put into his father's custody. Now that his dad is in his early sixties, he wants to focus on retirement. He sent Asher to Laurel last year.
---
---
---
---
Played By: AvonDialogue Color:

#796969

Face Claim: Anton Lisin