---
---
Name
Christian Wilde
Age
Eighteen
Birth Date
April 12, 1994
Role
Jock
Sexuality
Heterosexual
Playby/Face Claim
Hector David Jr
---
---
Hair Color
Brown
Eye Color
Hazel
Height
5'8
Weight
145 lbs
Tattoos
None
Piercings
Ears
---
---
Personality
Positive Traits:
Adventurous, Courageous, Versatile, Lively, Positive and Passionate
Negative Traits:
Arrogant, Stubborn, Impulsive, Confrontational and Lack of Dedication
Christian is the kind of person who throws caution to the wind. He isn't an adeline junkie but he does like to do things that raise his adeline levels and makes him feel alive. He believes in the mottos of "never say never" and "don't knock it till you've tried it", which is why he will always do or try something at least once before declaring that it isn't for him. He's been a high-spirited mischief causing guy seen he was a young rugrat. He's the guy who loves playing pranks and causing all kinds of hell. He lives in the present; not feeling guilty about the past or anxious about the future; he's all about the now. Being courageous, physically bold, and tough; he isn't afraid to stand up to anyone who would dare try to take advantage of him or challenge him in any way. He does things regardless of the feelings or potential consequences. He just follows his intuition and whatever comes of it whether good or bad he'll deal with it the best way he knows how. His parents nicknamed him the energizer bunny when he was kind because his batteries never seemed to run out and that hasn't change at all as he's gotten older. He's full of a lot of energy and the energy is a positive one. He's energy is one of the things that draws people to him because when your around Christian you can't help but have a good time. He is passionate man. If he is interested in something, be it a relationship or a project, he will be passionately into it and be an inspiration for others.

While there are a lot of good things about Christian he is human and that means that he isn't perfect. He knows he's not perfect and accepts that about himself. One of his not so flattering traits is his level of arrogance. He claims that he is just prideful but others would call him conceited. Along with his arrogance he is stubborn which can be and often is problematic when it comes to sports and being a team player. He's been the captain of his high school basketball and football team since he was sophomore in high school and while he's led his teams to many victories and championships he's ego and hardheaded ways cause a lot strife within teammate relations. Spontaneous by nature his impulsiveness can be both a good and bad thing. Not one to back down from a confrontational situation when you factor his impulsive nature into the mix you can be left with a explosive grenade on your hands.

Christian is an enthusiastic guy who is always ready for adventure and excitement. He loves surprises as as stuff like that keeps him engaged and mentally stimulated. Anything predictable and/or straight from the text-book dampens his spirits. At first, he may come across as selfish and self-centred. However, there does exist a generous and genuine side to this guy highly active dude who doesn't seem to have a care in the world. He is just very particular in who he shares this side of himself with as only a selected worthy few get to see all of who he is. Christian doesn't spend his precious time whining about how the world has been unfair to him and things like that. And even if he does, he's quick to bounce back. It is this courage, enthusiasm, positivity and love for near and dear ones, which gives him immense strength to face the challenges of life. However, he tends to be outspoken, overconfident, and at times, quite insensitive also. Expecting him to listen to your woes endlessly and heal your wounds patiently may be too much to ask for. Confrontational, short-tempered, egoistic and controlling, Christian rarely admits to his shortcomings and is not so keen in rectifying his mistakes. Besides, his demanding attitude creates pressure on his relationships, causing irreparable damage at times. He knows how to play with words in order to get what he wants. While it is a positive trait to some extent, it also makes him somewhat manipulative. Although often the one to start off projects enthusiastically and with passion, he isn't the greatest finisher. Once the initial excitement dies down, he tends to lose the interest to continue, and in all likelihood, he will shift focus to another goals or adventuress, including romantic interests. Maintaining his enthusiasm levels is a challenge for him.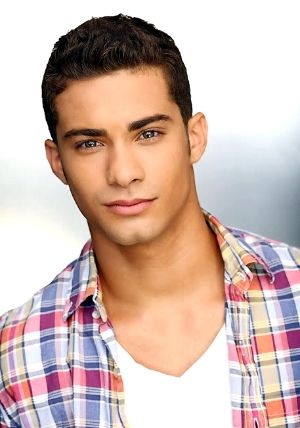 Likes
~ Outdoors

~ Sports

~ Girls

~ Alcohol

~ Summer

~ Animals

~ Electronics

~ Music

~ Food

~ Parties
Dislikes
~ Being Stereotyped

~ Lawton Wood Summer Camp

~ Pessimistic People

~ Being Stuck Inside

~ Schedules

~ Flappy Bird (Fucking annoying and very addicting)

~ Mosquitoes

~ Losing

~ Cats (evil)

~ Seafood (allergic)
Fears
He has no fears. Anything he has ever feared he has forced himself to overcome.
---
---
Character Back Story
Christian has lived a life of luxury since he was born. He's dad is a professional basketball with the Miami Heat. He gets to see his dad during the off season but normally it's just him and his mom. He's mother is a businesswoman in her own right having stocks in different things and owning her own lines of clothing, perfumes, makeup and other girly stuff. He grew up living the life that most people would expect a kid in his position to live. He never had to want for anything as his parents never had an issue providing for him. As a child his mother thought he had some kind of disorder because of his high energy levels and his short attention spans. However, doctors assured her that he was mentally unstable he was just a kid with tons of energy. Being the son of a professional athletic everyone also expected him to get into the world of sports. At first he wasn't really for the idea because than he felt everything he did would be in comparison to his father. Which are shoes he didn't want the pressure of trying to fill. However, in the end he did cave to the instance popularity and girls flocking to his side. He was a nature at game and it gave him something to put his energy into.

Things were going great for him until his father got injured and ended up being sent home for recovery. The more time they spent together the more and more they got to know each other and his father didn't like everything that he saw. This is the reason behind why Christian is now being forced to spend his summer at Lawton Wood Summer Camp. He father thinks that this will be a positive experience for Christian and make her more appreciative of things he has in his life. He father always figured getting him away from the city and around a different circle of people would also be beneficial to Christian. This isn't exactly the way Christian envisioned spending his summer but while he has never done the summer camping he has been camping and likes the whole outdoor experience. So he's not totally against the summer although he hates the fact that he won't have internet or phone reception for an entire summer.
Bunked With
Unassigned
Relationship Status
Single