---
---
Name


"The name is Raquel. Raquel Pierce if you must know the full name. I have many nicknames but unless you know me it's best you just stick to Raquel."
Raquel Pierce



Age


"As of right now am sixteen, but by the end of the god forsaken summer I'll be another year older. Thankfully."
Sixteen



Birth Date


"Am a summer baby. I was born on the last day of july."
31th of July



Role


"Well if were being stereotypical about things I guess am a prep."
Prep



Sexuality


"When it comes to love why should gender matter?"
Bisexual



Playby/Face Claim


Jasmine Villegas
---
---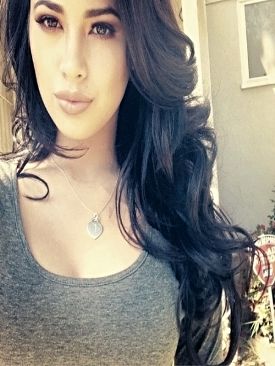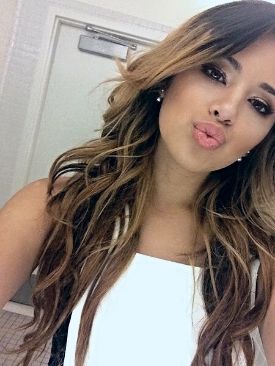 Hair Color
"Naturally am a brunette, however, for the summer I decided to change it up a bit by dying my hair honey blonde."
Honey Blonde
Eye Color
"Kind of wish I was born with some exotic colored eyes but it's whatever I guess."
Brown
Height
"I consider myself to be of average height."
5'5
Tattoos/Piercings
"I've got several different tattoos. The first one I ever got is my "Never look back" tattoo on the nape of my neck. My second tattoo is still not completely finished but it is by far my favorite to date. The third one is on my left wrist and its of a cross. Fourth would be my roman numerical tattoo of the number 7 on my left wrist. The last one as of now is my infinite symbol tattoo on the side of my pointer finger on my left hand. As far as piercing go just my naval and my ears. Nothing crazy as of yet."
5 Tattoos / 3 Piercings
---
---

Personality
Positive Traits

: Energetic, Optimistic, Straightforward, Loyal, Kind and Big-Hearted
Negative Traits

: Headstrong, Egoistic, Possessive, Dominating, Impatient and Arrogant
The people in her life often make jokes about her having an undiagnosed case of ADHD. She isn't the kind of person who needs a large cup of joe or a couple of shots of 5 hour energy to make through the day. She always seems to be full of energy which is one of reason she got into cheerleading. It gave her constructive way to use up all of that pent up energy she always seems to have, plus the popularity was a great bonus. Always the optimistic, Raquel is the type of person who looks at the glass as half-full instead of empty and always finds the silver lining in everything. Including her mother forcing her to spend an entire summer at Lawton Wood Summer Camp. Not one for mincing words, Raquel is very blunt about the things she thinks and feels. It's not that she tries to be rude or doesn't care, she's brutally honest and without a filter. Some people say her straightforward way of being is a bad thing but Raquel feels otherwise. Part of the reason why Raquel tends to be so brutally honest is because she wants the people in her life to always be honest with her. Honesty is necessary to create trust and we are only loyal to those that we trust. When she truly considers someone to be her friend Raquel can be loyal to a fault which is why loyalty is one thing she demands from the people closest to her. Beneath that tough exterior of hers, Raquel is a sensitive, little girl who treasures every little thing she possesses. Kind hearted and courteous, she is always ready to help the needy, be it friends, family or strangers.

Bullheaded as her mother likes to put it, Raquel and opinionated and as stubborn as can be once her mind is made up about something. While it isn't impossible to change her mind you better be ready to put in some long hard fought hours of endless persuasion. Whether you choose to call it pride or vanity Raquel has quite the ego on her. Huge and fragile, her ego often gets hurt over trivial matters. Raquel knows she has a tendency to be a bit conceited and full of herself, which is why she looks to her friends a lot to help her keep her ego in check. She may hate criticism when it's directed at her but she accepts the fact that sometimes a little criticism can be a good thing. When it coming from the right people at least. Not entirely sure if her being an only child is to blame for it but Raquel has a possessive nature. This possessive nature does extend to her relationships and if she is feeling abandon or neglected by her loved ones she becomes jealous and can turn into quite a bitch. She maybe a giver, but sharing doesn't come easily to her. Somewhat of a dominating control freak she wants to be in control of every giving situation and expects those around her to follow her without questioning. This part of her personality doesn't always go over well with others. Neither does her lack of patience. Raquel is a very driven and ambitious person, however, she tends to become too fast-paced, overconfident or overbearing which may lead to her losing focus. This like her ego is something she tries to keep reined in but it's easier said than done.

Three things that Raquel needs plenty of is – attention, respect and admiration. She may get arrogant and proud at times, but that's just part of who she is. So if you want to have in your life that's just something your going to have to learn to deal with. A fine combination of intellect, humor, wit, strength and feminine charm, Raquel don't have to nor does she try to impress people. Outgoing and confident, Raquel can be self-indulgent, and prone to sulking if things don't go to her expectations or people don't act according to the way she wants them to. If rubbed the wrong way, Raquel can be hot tempered and dramatic. During such times, it's best to just let her calm down in her own way, it will not be all smiles right away, and in fact, she may even distant herself from you. But, if your patient with her, you will see that she will return because in spite of what she may have said or did she will appreciate the fact that you didn't just give up on her.

Likes
~ Shopping
~ Cheerleading
~ Being Her
~ Being Around Attractive People
~ Summer
~ Being in the Limelight
~ Winning
~ Electronics
~ Music
Dislikes
~ Being Stereotyped
~ Lawton Wood Summer Camp
~ Pessimistic People
~ Cold Weather
~ Manual Labor
~ Bugs
~ Failure
~ Snakes
~ Marshmallows
Fears
~ Clowns
~ Flying
~ Dying Young
---
---
Character Back Story
Raquel was raised in a prominent wealthy family, mostly by her mother and a string of step-fathers. Her father was late rocker Raife Pierce, lead Singer of the rock group Purple Venom. The man slept around, did drugs, and was rarely home at all due to his constant touring with his band. Her mother a socialite who is almost never home choosing to travel rather then raise Raquel. Her parents divorced when she was eight years old. She rarely got to see her father outside of special occasions such as her birthday. She has a strained relationship with her mother, a dead father and a long line of step dads. Raquel didn't grow up with a parental figure to idolize or much guidance for that matter.

What little structure she does have in her life is because of cheerleading and her amazing coach who is the only person who Raquel can say genuinely gives a damn about her well-being. Before cheerleading she was a wild child without a care in the world. She was young, wild and free. Living her life much like her deceased father's outside of the touring around the world. After discovering the world of cheer her coach made her get her act and life together. Raquel reasoning for being at Lawton Wood this summer is because of her mother dearest. Her mother is spending the summer in the Caribbean's with step-dad number nine and not wanting to take her teenage daughter with her she decided to spend Raquel to summer camp. Of course Raquel like many if not all the kids spent to the camp protested and bitched about how she didn't want to go, but in the end her mother wasn't taking no for an answer.
Bunked With
Layla Grey
Relationship Status
Single