---
---
---
---

---
---



⌈Name⌋
Lancer McMillion

⌈Nickname⌋
Lan, Lanny, Lance

⌈Age⌋
17

⌈Gender⌋
Male

⌈Race⌋
Caucasian

⌈Sexuality⌋
Bisexual

⌈Role⌋
Light Holder

⌈Face Claim⌋
Austin Butler


---
---
---
---
---
---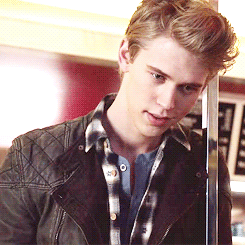 ⌈Hair Color⌋
Golden blonde, almost like honey.

⌈Eye Color⌋
Bright blue, almost silver in the light.

⌈Height⌋
5'7"

⌈Weight⌋
130

⌈Physical Description⌋
Lancer has often been told he is handsome with his soft, golden blonde hair that always shines in the sunlight. His eyes are a bright blue that seem to always glow slightly, even in the night time. His body is lean and fit from sports and his skin was a soft peachy-tan that has a healthy glow. Lancer has a very striking, sharp jaw and smooth angular nose. He is often times seen wearing lighter colors like white and blues and he always keeps his favorite blue jeans with him, though they clung a bit too much to his legs due to growth.


---
---
---
---

---
---


⌈Personality⌋


Athletic | Calm | Creative | Resourceful | Sarcastic



Likes
❖ Sunrise
❖ Daytime
❖ Sports

Dislikes
❖ The dark
❖ Night time
❖ Bad weather



---
---
---
---

---
---


⌈Powers⌋
Illusion Manipulation:
Can create and manipulate illusions with any available light, causing people to see things which do not actually exist or cause them to perceive things differently from what they truly are.

Super Speed:
The ability to move as fast as light itself, though this will easily drain his energy.

Dellumination:
The ability to absorb light and its particle wavelengths faster than regular humans and then use that light to create extra energy.

Invisibility:
Able to bend and shift light particles to make only himself invisible to the naked eye. Since there isn't enough light in the nighttime, this ability can only work in the daytime.

⌈Natural Talents⌋
Endurance, Athletics, Cheering People Up




⌈History⌋
Lancer had been little when he was orphaned. He had been told his parents had been driving in a storm and had crashed their car. Lancer had then been adopted into a family with three little sisters. As he grew up though, Lancer hardly thought about his old parents, he wondered if they had even actually existed. What he didn't know was that he had been in the accident as well. When their car smashed into the rocks there was a long time before anyone found them, and the person who did was Spirit. Being the only one left alive (though barely), Spirit healed Lancer and bestowed upon him the power of Light which then cleared the skies of the storms in which drove his family off the road. Lancer can now hardly remember those memories.

One day Lancer was walking to school in a storm. The winds were horrible and quickly made him lose sight of where he was going. He now remembers something hitting him hard and knocking him unconscious, but when he woke he was surrounded by other kids just as confused as he.