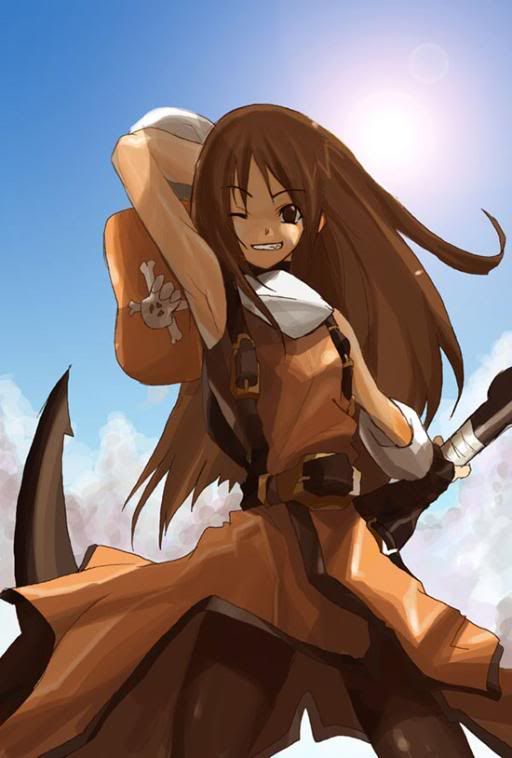 Name: Octavia Eralia
Nickname or known name: Lala, the Bandit's Musician
Age: 20
Gender: Female
Role: Girl 3
Rank: Blacksmith
Appearance: Lala has long rust-red hair that curls inward, bright green eyes and pale skin.
Personality: Lala's a younger version of her elder sister, whom she looks up to a lot. She tends to add the suffix, ahen, to the end of her sentences, meaning she's extremely embarrassed or pissed. When she is pissed, she much like her sister, temper and all. She sees other people as either toys or objects, but friends as the most important thing in the world, which is a little twisted but she was raised by bandits! Whatcha gonna do?
Likes: Music, her sister, dancing, the ocean, friends, family and working with metal.
Dislikes: Eels, falling, her klutziness, eels, fire, firearms and eels.
Fears: Eels and falling to her death. She also fears being abandoned and hated by her sister.
Weapon of choice:
Rapier
Skills: Rapier, blacksmithing, some dagger, scythe and bow skill, musical talent (
flute
and
violin
)
Character history: When she was born, she was stolen at age 4 by a group of bandits, who took the girl under their dastardly wings and tried to corrupt her. But her morals wouldn't be completely destroyed. She still valued friends and family over everything and refused to kill anyone that didn't do something against her and her own. One of the bandits, Beast, who was a former blacksmith, taught her everything he knew about the trade while his wife, Lulu, who renamed her Lala, showed her how to play the violin, flute and rapier, all of which she took to with ease.
Often she would watch her sister in secret, away from the clan. Once, while her sister was gone and sailing, she finally met her mother for the first time. After a bit of talking, she became a part of her real family, even if it was just as her mother's handservant and the continuation of the blacksmithing industry her father started. But that was all she needed. She still visits the bandit clan to see Beast and Lulu and catch up with the rest of the clan.