Juniper Lennon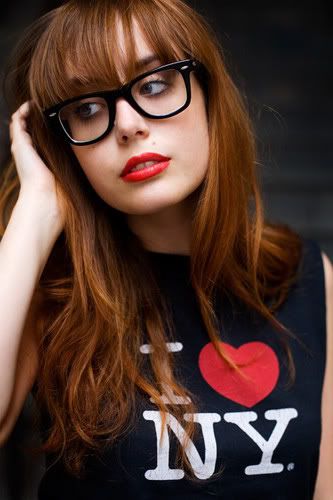 Age:
22
Gender:
Female
Parents:
Born in 1988 to Julian Lennon (eldest son of John Lennon) and Gabriella Merlot. She was an art student that was a childhood friend of Julian. Julian offered to marry her but Gabriella refused not wanting them to end up like his mother and father.
Band:
Legion
Position in Band:
Bassist
Height:
5'2
Weight:
120 lbs
Appearance:
Juniper or Juni as she's called by her friends, is a simple jeans and t-shirt kind of girl. She has long strawberry blonde hair and light brown eyes, her father has commented that she favors his grandmother but he's only ever seen pictures of her. She's been wearing glasses since she was twelve, something she likes to jokingly blame her grandfather for. She wears lipstick and eyeshadow but other then that she doesn't wear much.
Juniper's Everyday Wear
Juniper's typical Stage Wear
Likes:
Music- The Beatles (duh), Janis Joplin, Jimi Hendrix, Metallica, Elvis, Buddy Holly

Tea

Painting
Dislikes:
Drugs

Stuck up people

Meat
Personality/Traits:
Juni is pretty laid back, but a fierce performer she loves music of all types and is always trying to incorporate different styles into her own. She loves art and paints allot especially when she is feeling depressed. Juni wishes she could have had a relationship with her grandfather, and appreciates her fathers involvement in her life. He has always supported her in everything she wanted to do.
Crush:
You'll know when it happens.
History:
Juniper Cynthia Lennon was born March 22, 1988 to Julian Lennon and his then girlfriend Gabriella Merlot. At this time Julian's music career was a little more then riding on his famous Beatle father's coat tails. When Gabi found out she was pregnant Julian insisted on marrying her, Gabriella was a little leery about that. She knew that she and Julian liked each other but not to the extent of spending the rest of their lives together. So all she asked is that Julian accept his child and help take care of her.
As Juni grew up Julian observed his daughters affinity for music, he began to get her lessons in piano. She went back and forth from all different kinds of instruments, and finally settled on the base guitar. When she found the band Legion in need of a bassist when she was in college, she jumped at the chance to be in a band. Even though she had never played heavy metal before the other band members recognized her talent. It wasn't long before she got the hang of the rough sound of metal, and she found that in a way it was her knish.
Theme Song:
Skid Row -18 And Life
Extra:
Even though Juniper loves the heavy metal scene she tries her best not get stuck into the party scene that typically come with rock and roll of any type.