Name: Newton 'Newt' Warner
Age (between 18-25): 21
Gender: Male
Parents: Brian Warner (Marilyn Manson) and Katie Caron
Band: N/A
Position in Band: Drummer
Appearance: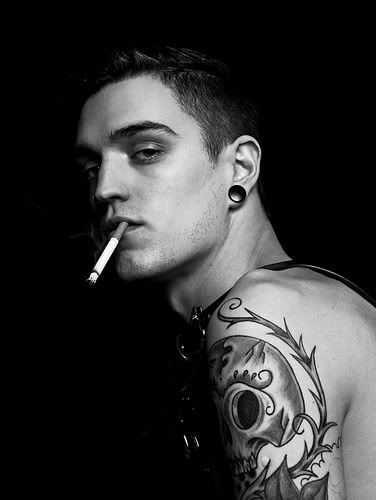 When Newt is on stage he wears only a pair of black cargo pants and black combat boots. When he is offstage he wears a black Manson Tee. He often get comments that he looks like his father. Newt just shrugs it off and ignores them.
Height:5'8"
Weight:165lbs
Personality/Traits: Newt is a calm cool collected indivdual that always keeps thinking. He often is called upon to solve disputes between his band mates and another. He tries to be fair when it comes to solving disputes but it always doesn't work. Unlike his father he doesn't have any interest in singing or looking anything remotely close to a woman. He wants to known as a great drummer and nothing else. Newt also has a slight drinking problem and a smoking habit.
Likes: Newt likes all types of music, he grew up in a house where music is played constantly. He also likes to read almost anything and everything. Newt also likes to keep his hands moving so he is often seen twirling around his drumsticks.
Dislikes: Dudes that dress up as woman, Newt thinks there is something seriously wrong with that. Though chicks that want to act like dudes is another matter. He also dislikes people who push their religion down other peoples throats.
Crush: "Crush? Yeah, I'll take a Crush and make it on the rocks too."
History: Newt grew up in a decent sized house with his mother. She told Brian that he had a son and Brian played an active role in his sons life. He taught him many different things. Though Newt always resented his father for dressing up and trying to be somthing he wasn't. Well that how Newt saw it. Manson made sure that his son had a good education and took music lessons. He was turned off by Newts desion to become a drumm and not a singer like him. Though Marilyn supported him. When Newt landed his first band, Manson was going to jail for conspiracy to commit murder and attempted murder. Newt left for a weekend and visted his father in Jail. Newt promised that day not to be anything like that man.
Theme Song:http://www.youtube.com/watch?v=1OZs7IoWTvc&feature=related (Welcome to the Family By Avenged SevenFold)
Extra: Newt has a black 2004 Mustang GT in his moms garage though he rarely ever drives it.