"I've been doing my best to save others ever since I saw grieving families of my fallen comrades."
Animal I Have Become | Three Days From Grace
||
Hero | Skillet
||
You Be the Anchor That Keeps My Feet on the Ground | Mayday Parade
---
---
Name:
Thorran King

Nicknames:
Thor

Age:
22

Gender:
Male

Sexuality:
Heterosexual

Occupation:
Para-Rescue Soldier/ PJ
---
---
Animal Shapeshifting
- Thorran has the ability to shapeshift into any known existing animal. He currently has no control over his transformations and turns into any kind of animal based on his emotional and mental state of mind. Eventually with training, he will be able to transform into whichever animal he pleases with a thought, and if he is able to focus enough in his mind, he can take on the forms of any mythological creature.
Emotional State: These transformations take on the different forms of animals solely based upon Thorran's surges of emotion, be it fear, anger, courage.
Mental State: If Thorran goes through a shock, stress or maybe a panic attack, he will also take on an animal form based upon his mental state of mind. If knocked unconscious or mentally assaulted by mind-based abilities, this causes Thorran's consciousness to retreat and allow his subconscious to take over with survival instincts, allowing his most primal impulses to run wild, transforming him into a powerful animal that he no longer has control over.
"Oh la la" Factor: Yea... Thorran's clothes do not shift along with his body. So bask in his full glory. *shrugs*
---
---
Likes
Swimming
Food
Helping people
Dogs
Reading
Dislikes
War and Chaos
Innocent bystanders getting hurt
Animal cruelty
Ginger (Never. EVER. Put ginger in his food)
Holding a firearm
Talents
Thorran has a huge appetite for delicious food and has been known to go for multiple rounds, able to sweep through buffets like nobody's business. Must be the lack of good food in the army that makes him appreciate food as a whole.
Thorran is a natural when it comes to training dogs. He trained most of the squadron's dogs when he served in the army and has since trained service dogs during his spare time away from his PJ duties.
Thorran is great at carving wood. He's made a few life-sized busts of different dogs that he displays in his house.
Thorran is well-known in the army for playing the harmonica and flute like a boss.
Thorran has military training that allows him to operate firearms, including but not limited to; dismantling and reassembling a gun, marksmanship, disarming an attacker's firearm, using a sniper, etc. He is also given martial arts training, so he can handle himself with his physical assets when in a pinch. He also has survival training, so he can survive off the land if needed. As a PJ, he is also knowledgeable about medical procedures and is more than capable of performing a minor surgery, such as removing shrapnel, inserting IVs, performing injections, etc.
Weaknesses
Emotional and Mental Trauma caused by the first 3 years of his service in the army and participating in the tour of Afghanistan.
They sometimes call chivalry a weakness; Thorran's pursuit to help the less fortunate will be his bane.
Thorran is not very good at math. It's his WORST subject by far. Never ask him for calculations.
Fears
Failure to save the ones who matter most to him
Losing his composure in front of others, he often feels like breaking down
His abilities
---
---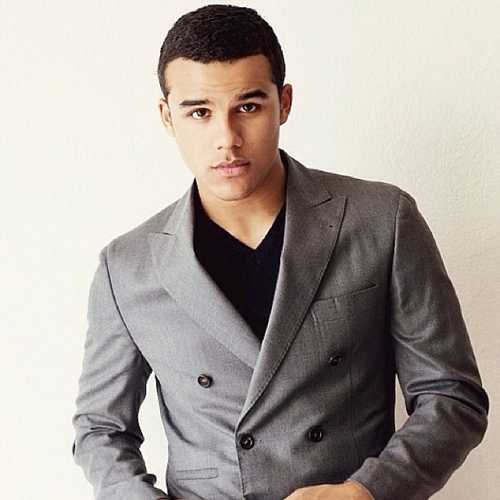 Thorran's always been the guy who always stands on the right path. Call him the poster boy of the army, the Captain America wannabe, the human Blue Boy Scout, whatever. In simpler terms, Thorran's a righteous man. He's strict by his moral codes and believes in doing the right thing, even if it's wrong to others. He can defy an order to do what he deems to be the right course of action. Even before he was a soldier, Thorran always had a more tactical mindset. While others may base their decisions upon calculations or science, Thorran runs his methods by gut feeling. A believer of the 'Human Spirit Triumphs Over All Else' theory. While Thorran is not religious, he is a man with alot of faith. This in turn makes Thorran a reckless person when it comes to decisions that involve a leap of faith. Live or Die, right?

Thorran is a fairly peaceful person, despite what many people might believe. A misconception of his service in the army, they believe the boy scout to have a violent streak. In fact, Thorran is easily disgusted and frightened by the aspect of war itself. He disliked the pain and suffering he saw, horrible testaments to the sheer destructive power that mankind can bestow upon others. He also doesn't believe that killing people is the right thing, but in many kill-or-be-killed situations, Thorran has killed... and deeply regrets it. Thorran suffers from PTSD(Post-Traumatic Stress Disorder) and sometimes freaks out over the littlest of things that remind him of the war he fought in. He has a firm grip over his disorder and tries his best not to freak out in the presence of other people. In this sense, Thorran has a very strong willpower, only shaken and cracked by his terrible ordeals for his service.

He cares deeply for people, even strangers he's never met. He's the type of person to sit down next to the homeless and have a good chat before tipping them a few bucks or so. Thorran seems like a very perfect person, save for his PTSD, but he isn't without his flaws. Everybody knows that Thorran is a natural born leader, Thorran lacks confidence in himself and is uncomfortable with the idea of leading, to the point that he may sometimes snap when the option to lead is constantly thrust upon him. Thorran also dislikes conventional textbook reading to learn and prefers a more hands-on approach in order to learn better.

Thorran also hides many things that he doesn't show to the world. There is a righteous anger locked up inside him. The anger towards racism, bullying, harming of innocents, conspiracies, everything horrible. The only thing preventing him from lashing out is his self-control and morals. He also hides a rather surprising sex beast inside his chivalrous personality, complete with insatiable lust and amazing libido. Despite that, Thorran does make for a very passionate and thoughtful lover for anyone.

He is unusually curious about the concept of destiny, believing that everyone is brought into this world for a reason and he is always on the pursuit of what his life means. What was he meant to do? In this aspect, Thorran has a sense of philosophy, believing that people have a higher calling than just living their everyday boring lives.
Thorran King is the single child born from the union of an African-American man and a Swedish woman. His father met his supermodel wife in Los Angeles, a very unlikely pairing. It started off as a brief but electrically charging encounter, a one night stand, before it transitioned into full-fledged love; a story that Thorran often likes to talk about. Yes, the two were strangers, bedded each other then went their separate ways before his mum returned a few months later with a belly and a positive pregnancy test. Unlike many of the other people who go through one night stands, Thorran's father took responsibility and married the woman, moving to his hometown of Hazelbrook. Thorran often recounts the happy household he was raised in and was surprised that this was a product of two strangers merely meeting by chance, not childhood sweethearts who grew up together.

Thorran grew up in a rather rough society, especially for a child with African-American blood in elementary school. Bullies would pick on him, calling him names and thought he was weird for his curiousity. The bullying intensified in middle school, where the bullies began throwing N bombs at every African-American teen, Thorran included. Not everyone was bad of course, and Thorran grew up with a good group of friends, many whom didn't mind his ethnicity at all nor his curiousity. Once puberty was over, Thorran became a heart throb and became popular in high school. He never once forgot his roots and remained friends with many of his 'geeks', as people may call them.

With his supermodel Swedish mum's blood in him, along with his smashing good looks, he was constantly scouted during high school and during his early college years. Instead, he turned the scouts down, quit college when he was 18 and in a pursuit for justice, and well-being of others, joined the military. In his service, he became one of the many new recruits to be put on tour in Afghanistan along with the veterans. This marked the start of Thorran's traumatizing experience of war. 3 years later, at the age of 21, he was rewarded for his service and relieved of duty. He took a break, worked a normal job, helped with the training of service dogs, and even got his loyal Odin, but nothing could remove the experience of shedding blood, of putting a rifle bullet through another person's head. When it was time for his return, he requested to be placed into the para-rescue unit, a team of elite soldiers meant to enter the warzone to bring back the injured, so 'That Others May Live'. With his standing and his success in the Afghanistan tour, he was placed into the PJs as a rookie. For about a year, he worked with the PJs, bringing back injured people and saving lives, a great contrast to what he originally did, which was to kill or be killed.

Of course, that was until the eclipse began and the asteroid collided outside of Hazelbrook. That was when Thorran had to return from his service to mourn for his dead parents, both whom has mysteriously passed on via unknown circumstances. During his night at their home, as he put his parent's belongings away, his moment of sorrow made him feel so insignificant in this world. On moment he blinked as tears blurred his vision and the next, he was scampering around the floor, making squeaking noises. In his confusion, he panicked and made a huge pandemonium that only mice would have heard, he eventually tired himself out to the point that he fell asleep. The next morning he woke up on the floor, naked. Believing it was just a dream, he turned on the television only to see news of more deaths and the start of people obtaining superhuman abilities, slated as abominations and praised by some as natural evolution.

Now, unsure of his position in all of this, Thorran believes the eclipse and the asteroid may have something to do with the deaths and the gaining of these powers, but there is one thing he can agree on.

This might be his calling, and he's going to get to the bottom of this, so "That Others May Live".
---
---
Other:
He owns a Siberian Husky with a docked tail named Odin, one that Thorran saved when volunteering for animal rescues. The docked tail was a decision made to prevent further damage caused by infection and shattered bones. Now Odin is Thorran's most prized partner; obedient, loyal and fierce.
Face Claim:
Jacob Artist
Hexcode:
#4682B4