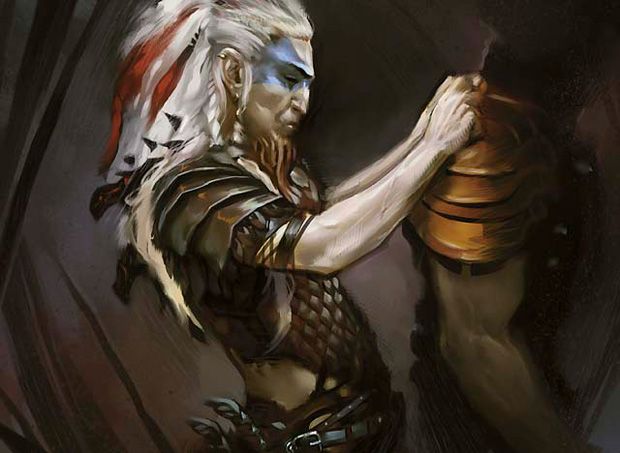 Name: Kor Secret-Fire
Nickname: Drifter
Age: 28
Gender: Male
Race: Ghostfolk. Far from the spectral beings of legend, the flesh and blood Ghostfolk get their name from their bleached white appearance. An indirect result of the bio-weapons which mankind unleashed upon itself in its final days, they were bred to resist even the most deadly of plagues and poisons. This breeding also left them able to endure injury better than most other races. While they might not possess the brute strength or high magic of some races, the nomadic Ghostfolk excel at surviving.
Personality: Slow to anger, quick to laugh, nothing ever seems to knock the smile from Kor Secret-Fire's face. On the surface, he would like nothing more than to take it easy (and frequently tries his best to do so). Look deeper however and the reality is a man who has seen too much of a tired broken, savage world, a man gripped with a hunger for change. The first into a fight and the last one out, Kor hones his blade with the hope to one day lay it down. To many lost friends, too many burned havens, too many dead lovers. The world needs a break. But what's one ghost to do?
Bio: Kor has always had an itch to wander. Not uncommon for one from a race of nomads, but Kor's itch was stronger than most. Leaving the caravan to seek his fortune at 14, Kor quickly established himself as an excellent target for every thief, bandit and marauding beast on the map. In something of a record time, he managed to be captured by slavers, three mishap filled days after leaving home. The two years he spent as a field slave before escaping taught him all he needed to know about the nature of the world and the people within it. He has spent the last dozen years drifting, fighting for whoever'll pay him and playing lackey to various petty kings and warlords. Life hasn't let him act his dreams of a better world but that's not to say he won't lend a hand to make one.
Indepth look at your weaponry:
Scimitar
Three feet of well used steel. The battered looking scabbard and hilt belies an edge kept sharp as a razor. No it doesn't have a name. That's only in stories right?
Fists
Put 'em up. Years of necessity have meant that while Kor's fist fighting might not be elegant, it is damn effective.
Shortbow
You don't survive long in a world full of monsters with some way of dealing with the flying ones.
Dust to dust
As a nomadic people, the Ghostfolk have often been driven into the worst places. Arid plains, steppes and deserts have all be unwelcome homes. Some of the natural magic of these places has rubbed off on Kor's people and as such the Ghostman can summon a whirl of dust if needed.
Apperance:
Lean and wirey, Kor is well muscled if not bulky. Scars crisscross his arms and chest, a resume to potential employers. His white has is braided in the traditional ghost manner by his ears, the rest tumbles down past his shoulders and frequently sports bright feathers woven in. He could almost pass for a human if not for his bleached colouring and the fleshy tendrils which cover his chin like a beard. Before battle, he paints his face in the manner of his people. Those who have seen this paint and lived have a healthy fear of the man.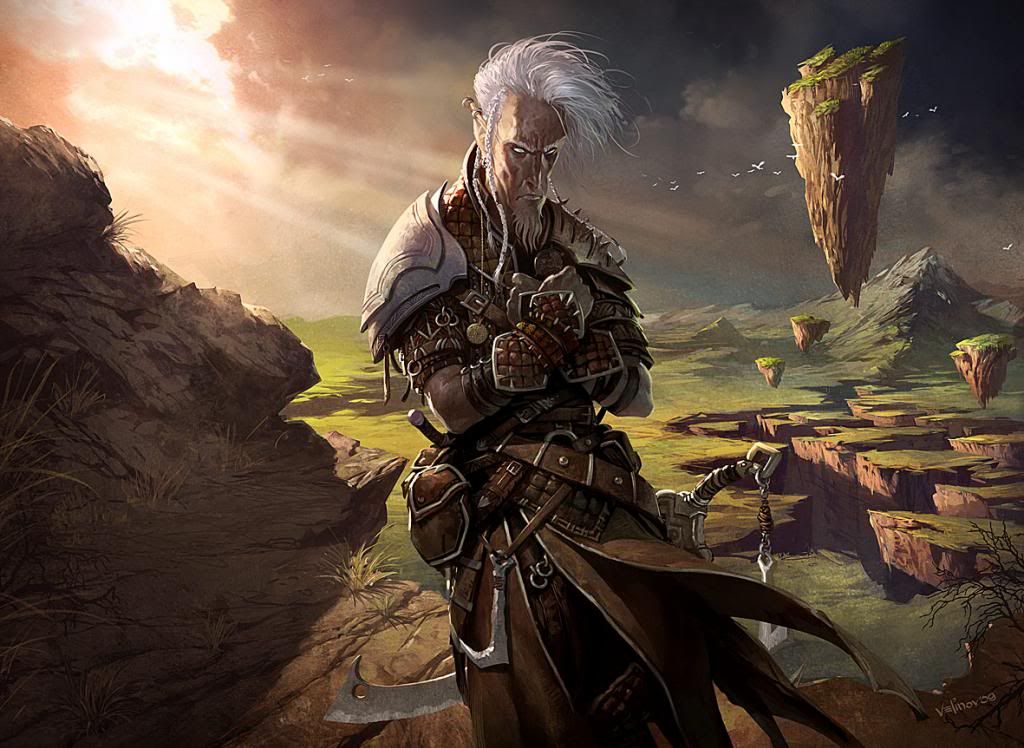 Why are you here at Castle Yuki? Kor's hear because of a rumour. Some new warlord in a old castle trying to forge a lasting peace. If it's true then it's something he could get behind. If it's not, well there's always the chance the pay is good.