Name:
Yuki Tantalis
Nickname:
Lord Yuki
Age:
28
Gender:
Male
Race:
Demon Lord
Personality:
Upon first appearances Yuki can be a quite stoic and cruel character, often not speaking to those he does not know and letting others speak for him. He often regards newcomers with a cool gaze and being quite standoffish, as if trying to figure them out. He at rest looks as if he is thinking to himself constantly. However Yuki is quite a gentle creature when in control, offering funny one liners to his friends and giving small smiles to those he knows. He keeps himself calm and collected for the most part, fearing his demonic side and its eventual control over his mind. He reads and meditates for long spells in his tower when not needed, trying to keep the beast inside him at bay and looking for a cure to his demise.
Demonic Yuki
: The more demonic Yuki comes, the more it craves power and blood. It seeks to be absolute and feared. It enjoys seeing it's enemies in pain and taunting the living. It is an impulsive creature that can barely control itself and fights against returning to normality.
Bio:
Yuki at first lead a peaceful life. Growing up in a peaceful and guarded village of Tantalis where his father, the first elder, ruled with two others, he lived with his mother and his younger brother- Kaito. Life was good playing and training with his brother and his friend Dasin, the daughter of the Minotaur, the second elder. He was taught much in the ways of meditation and controlling his own mind with the promise of how to survive a long life like his father. First, the Magi, the third elder, vanished without a trace. With defenses down significantly everyone had to work harder to defend their village which became a bigger target for attack. 6 months of near misses and long defense, it was not the outside that threatened the peace of Tantalis, but someone on the inside. It was the night they heard that terrible roar emanating from the first elders house. Yuki dashed towards his home, only to find his mother torn to pieces and black dread demon covered in her blood. What happened next was a blur, the demon went for Yuki and manage to tear open his chest with three big claws, and then a white light. Kaito and Melisandra (Dasin's mother) had pulled Yuki to safety. Kaito left in search of Dasin as the demon began to tear the village house by house while the Minotaur elder sealed Yuki's wounds superficially. Dasin came only a few moments later, her head bloodied followed by her father and one of the healers. Kaito was no where to be found. Melisandra promised to find the boy and to stop Yuki's father as Dasin, her father, the healer and Yuki fled into the forest. Yuki never saw his brother again. The healer died a few days later, though luckily Yuki's wounds were almost healed.
And so the three of them fought and survived until they came across an abandoned castle. And where Yuki declared that he would create a new Tantalis, not just for them but for everyone. And his ambition began. It wasn't long before they met Charlan and not long after Dasin's father died during a battle in the castle walls. Consumed by sadness by the sight of his second father's death and seeing Dasin scream with grief and covered in blood, Yuki began to tear the attackers apart as his demonic side began to unleash. He's not quite sure how he returned to his human state. Dasin and Charlan do not speak to him about it and he does not ask. For now he tries to keep himself calm and removed, for he has a goal, to take over the world.
Indepth look at your weaponry: Katana Sword aka Blood Bringer
The sword itself has been made of a strange metal that rarely needs to be sharpened. There is an odd presence about the sword, a dark aura as if it craves blood on it's blade. Yuki will not let anyone, save for himself, touch it unsheathed. In the heat of battle it almost appears to vibrate- could it be enjoying itself?
Demonic Strength and speed
Yuki is stronger than the average creature on this world owning to his parentage. And faster. As with all strength and speed these depend on his stamina.
Demonic Healing
If cut or hurt. Yuki tends to heal faster than those around him
Demonic Magic
All demonic magic has darkness encased in it. And when used, though powerful, uses the host itself to generate that power. His main aspects of the power include Fire and Darkness. How much he uses of this depends on how much he can keep his cool. The demonic race are known to become unstable while using magic- so while powerful Yuki tends to avoid using this instead depending on his sword and strength.
Apperance:
Jet black waist length hair frames his pale face. His eyes are a deep thick red. He stands tall over 6 ft 5inches, towering over most men. His face is sharp but has a gentle quality about him. Muscular on his body he hold himself with a stature of someone meant to rule. The nails on his hand are tinted red. He has three large scars running across his chest.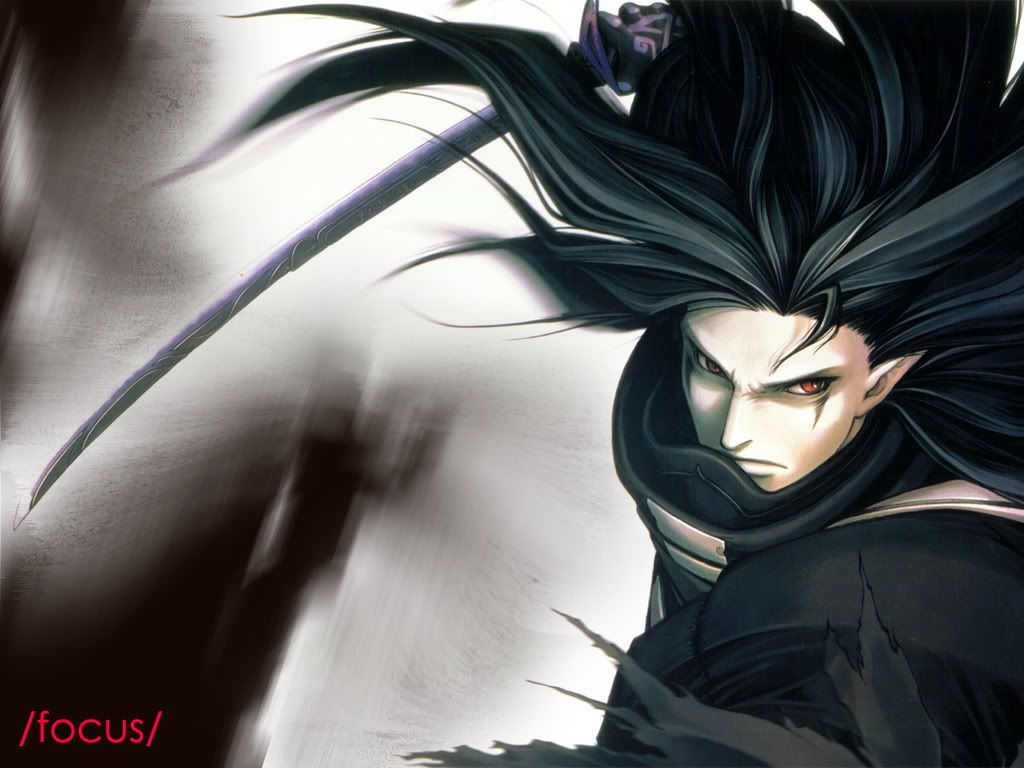 Why are you here at Castle Yuki?
He came here 8 years ago. This is his home.