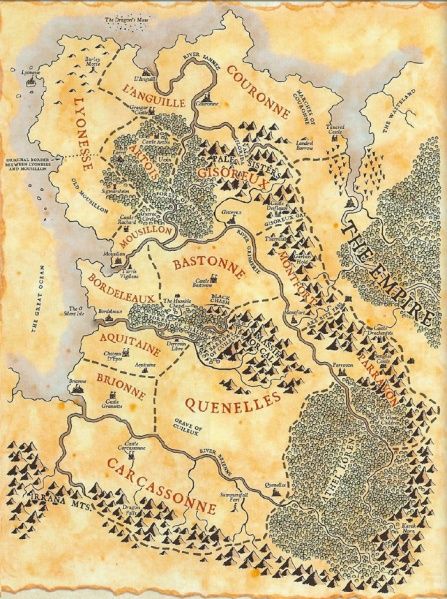 "Bretonnia is a kingdom located in the Old World, west of the Grey Mountains and the Empire. Its current king is Louen Leoncoeur. Carefully protected by its brave and honorable knights, Bretonnia is a land of chivalry and honor. However this is balanced by the poverty and oppression of its peasantry. There are no cities in Bretonnia. Most nobles live in castles in the countryside surrounded by a village. The people of Bretonnia consider the life in towns to be somewhat unnatural, fit only for the most desperate and poor, so the majority of the peasantry live on farms in the rural countryside." - Wiki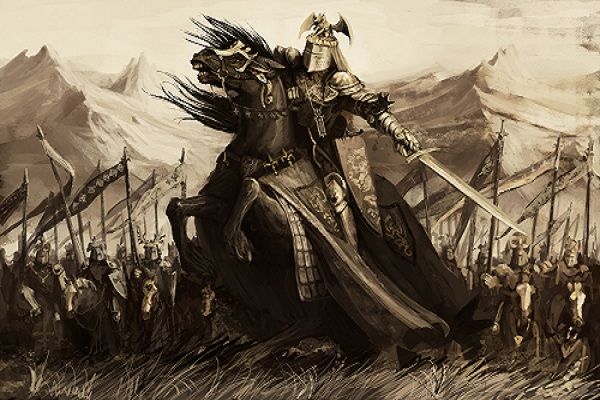 You are one of these brave knights. You have your own small castle surrounded by a small village. Protect your people from barbarian raiders, beastmen, dark elf slavers, rampaging orcs, monstrous undead, and lowly bandits. Build up your family's honor as you expand your treasure and forces, fight in grand tournaments, and vanquish mighty monsters, but be weary, a charismatic leader could have the peasantry rebelling against their rightful rulers, and always keep an eye on your neighbors for greed infects even the most chivalrous of knights.
You do not have to be a stereotypical knight. You can play your knight however you wish, but every choice has a consequence.
Check out OCC for information and the Character Sheet
1: Have fun. Things can happen in this RP that may make you want to facepalm, but understand that if something terrible happens, and you make it through, you will be rewarded.

2: Be bold: Don't be afraid to lose something in this. Its a game! Who cares if someone is doing great? The better someone does the more likely they will get hit by a large, harsh event.

3. I will not be making a character and instead be NPCing, playing fate, and such. My word is almost final. If you do not agree with something I say, you can speak up. If we do not reach an agreement, we can hold a vote in OCC. If the majority of people support your decision over mine, I will revoke whatever it is I did.

4. Be aware, your character can die in this. If you charge into a dragons lair alone, there is a very large chance you won't be coming back out alive. If your character dies, don't panic. You won't lose everything. You can make a family member of your knight and use him/her to take over. No character can come back from the dead. No ghost, spectral forms, or such. Death is final for that character.

5. If you have any questions or concerns, please PM me. It does not bother me in the least, and I can always spare the time.

6. Don't be rude to other people. I can not stand people who are rude, but don't let this stop you from stabbing someone in the back IC.
Taking place in...
Heny found his horse again. After Henry had fallen off, he had continued to run in fear, and eventually returned, a sign of loyalty if you asked Henry. He padded the horse and got back up on it and started to ride back to the battlefield and surveyed the damage. I still can't believe they killed so many. We outnumbered them two to one and yet still they bested us, how could it be?
His attention was then diverted as he saw a man wave for him, Wait, does he expect me to do a squire's job? Henry thought as he looked closer. Yet, I suppose that I could kill some time helping the less fortunate.

He then rode over to the man who had waved, mentally preparing himself for the dirty work he had to get done. "Right, what do you - " Henry said, trailing off as he saw who it was that laid on the ground. "My duke!" Henry called as he realized who it was that was saddled in front of him. "Hell's bells, he needs a healer," Henry said, stating the obvious. "Let me, my horse isn't wounded nor winded. I'll see to it that he's treated." He grabbed hold of the reins and began to lead the horse back towards the tournament, finding a quick, yet safe, pace was hard as he could tell the Duke was in discomfort whenever a bump appeared or his body was forced to move too much.
---
Cralix would see the man off, nodding in appreciation. "Take well of him." he would mutter as the man took the reigns and led the Duke away. He hoped they would find a healer soon and that he would be safe for the time being. The sky was growing darker with the sun sinking. It would be best to start a fire, who knows what beasts would come to this field for a chance at the free weapons and easy kills.

Cralix would sit down, pulling his plate from his body. He'd lay eyes on the wound at his left thigh, it would become infected if he didn't give it true care, quickly. He would pull his equipment up fighting off the pain that stated it's objection, and pull himself to his dead horse. He let his equipment fall pulling his pack from the corpse. It was sad to have seen such a faithful companion, die.

He trifled around inside the pack until he found bandages and his water flask, he'd pull the dirty bandages from the wound, dripping water into the wound. He'd wince at the pain of it, and his leg would quiver slightly in a feeble attempt to dodge the dripping water. He'd then wrap it with delicate care, making sure to pull it tight and taut. He'd then hang his head back taking one large gulp of the warm water inside. Letting out a deep breath.

He piled the dirty cloth that had once kept his wound and some dry grass, he searched for thirty or so minutes before finding a large broken branch in the darkness of the ridge, he pulled it, with much effort to the site of his horse and hacked it into pieces. He pulled the flint from his pack and had a fire by the time it was dark. He hoped it'd be a beacon to survivors. He proceeded to fashion a torch, then fed the fire, making ten minute rounds about the battle site, only stopping to come back and feed his fire.

Soon enough he'd found three wounded men and had them at the fire. He continued, begrudgingly.
---
The beastmen came in the night, wicked creatures. You could hear them on the ridge, but in the dark you couldn't see them, Cralix had pulled seven wounded men to the fire. They moaned for water and he struggled to silence them.

"Quiet, quiet, all of you." He would speak low and calm, his ears perked. He had pulled a great deal of weapons to the fire side and distributed them before sleeking into the darkness. The wounded men would raise their heads, those that could and look about, those that could. They would murmur painful words doing their best to keep attentive.

Cralix felt a pang in his heart at the sound of a shrill scream of pain in the darkness. He saw the silhouette of something in the darkness, he slowly edged closer, sticking low to the ground in a crouch. As he neared he saw that there were atleast three, searching about the ground, he dashed forward suddenly with practiced grace. He buried one of his blades to the hilt in the back of the closest. Stepping forward farther, planting his thigh at the hip of the Beastman, and pulling the sword as he span. It came free and the other two were suddenly aware of what was happening. The dark didn't allow Cralix to see shock on their faces but he presumed it was there. One raised it's large axe above it's head, they were large, oppresive beasts. Cralix jumped up into the attack driving one of the blades between it's ribs. The other had raised it's flail and swung. Cralix looked back, struggling to keep calm, struggling to keep willful.

Hanging on for dear life, Cralix riggled trying to throw the beastman off balance and pull it down. It lowered it's head taking a hand off it's axe to batter the body of it's attacker. But as it did so the flail hit it squarely in the side of the head. It reeled back half dead with the force. He pulled his sword free dropping to ground and releasing a kick at the beast's knee. It buckled making a feeble attempt before falling. Cralix was thrown off guard, though. Suddenly he was battered by the large wooden shield of the beastman behind him, he was thrown forward into a roll. The beastman charged forth and he planted his elbows, crawling back and dragging his swords with him. The ground seemed to shake and as the beastman raised it's flail he struck, stabbing the beastman in the knee. It let out a roar of deep pain.

He would pull the sword away as the flail came down, squirming to the left the ball of the flail would smack into the ground beside his head. Dirt would shower his face and he would reach up gritting his teeth and burying both swords in the armpit of the beast, it would reel back, and he would use the blades as leverage to rise completely to his feet, pulling one sword free and slashing up at it's face, a long slash would open, blood dribbling out and he would pull away hopping up and kicking it in the gut. His boot would create a loud thud. The beast would reel away and fall dead. He would fall to one knee, exhausted, blood fresh on his blades and freshly splattered across his body. His face dirty and a deep pain in his back where he had been shield bashed.
---
Arcs are bundles of posts that you can organize on your own. They're useful for telling a story that might span long periods of time or space.
There are no arcs in this roleplay.
There are no quests in this roleplay.
Here's the current leaderboard.
There are no groups in this roleplay!
Welcome home, Promethean. Here, you can manage your universe.
Arcs are bundles of posts from any location, allowing you to easily capture sub-plots which might be spread out across multiple locations.
You can create Quests with various rewards, encouraging your players to engage with specific plot lines.
Settings are the backdrop for the characters in your universe, giving meaning and context to their existence. By creating a number of well-written locations, you can organize your universe into areas and regions.
Navigation
While not required, locations can be organized onto a map. More information soon!
There are no groups in this roleplay!
By creating Collectibles, you can reward your players with unique items that accentuate their character sheets.
Once an Item has been created, it can be spawned in the IC using /spawn Item Name (case-sensitive, as usual) — this can be followed with /take Item Name to retrieve the item into the current character's inventory.
Give your Universe life by adding a Mob, which are auto-replenishing NPCs your players can interact with. Useful for some quick hack-and-slash fun!
Mobs can be automated spawns, like rats and bats, or full-on NPCs complete with conversation menus. Use them to enhance your player experience!
Current Mobs
No mobs have been created yet.
Locations where Mobs and Items might appear.
You can schedule events for your players to create notifications and schedule times for everyone to plan around.
Add and remove other people from your Universe.
The Forge
Use your INK to craft new artifacts in Life in Bretonnia. Once created, Items cannot be changed, but they can be bought and sold in the marketplace.
Notable Items
No items have been created yet!
The Market
Buy, sell, and even craft your own items in this universe.
Market Data

Market conditions are unknown. Use caution when trading.

Quick Buy (Items Most Recently Listed for Sale)
None
Discussions
Topics

Replies
Views

Last post
Most recent OOC posts in Life in Bretonnia
There have been no posts in the OOC topic for this roleplay!