{You Are Not by Young Guns}
---
---
---
---
B
A
S
I
C

I
N
F
O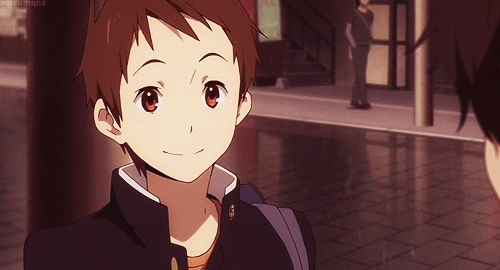 Full Name
Michio Minami
Nickname
Most people call him Michi-Kun but a few close friends call him Michi-Chan whether he likes it or not.
Age
16, almost 17
Family/Role
Oldest Son of the Minami Family
Sexuality
Homosexual
Crush
TBA
Face Claim
Satoshi Fukube || Hyouka
---
---
A
P
P
E
A
R
A
N
C
E
Height
167 cm || 5'5"
Weight
60 kg || 132 lbs.
Eye color
Smokey-Topaz Brown
Hair color
Field-Drab Brown
Skin Tone
Pale Complexion
Build
Average
Other Physical
None.
---
---
M
E
N
T
A
L
I
T
Y
Habits
↳ Hair Fiddling | Whenever he is nervous, he will be pulling on a strand of his hair.
↳ Stare | Michio can often be caught staring out into the distant or on one particular thing. He simply is lost in his thoughts that are projected onto the object or person he is thinking about.
↳ Tapping Fingers | Michio tends to tap his fingers on any surface that is within reach. He has a hard time keeping his hands in one place because of this.
Likes
☑ Video Games
☑ Ramen
☑ People
☑ Sleeping In
☑ Penguins
Dislikes
☒ Arrogance
☒ Stick-In-The-Muds
☒ Reading
☒ Bullies
☒ Spicy Food
Flaws/ Weaknesses/ Fears
✗ Hydrophobia | Ever since an older kid threw him in the deep end of a community pool as a child he hasn't touched even the shallow end of pools since.
✗ Lazy | Michio is extremely lazy, especially when it comes to chores. If it doesn't involve in him having fun then he'll take some convincing.
✗ Feelings | He can't express his true feelings well; often hiding behind his bright smile.
Personality
Michio gives the impression that his general demeanor is cheerful, eccentric and sarcastic. Despite the surface impression, however, he is generally unassuming and is self-deprecating. He has been known to become very envious of other people and their good qualities. Nevertheless, he accepts these qualities to be repellent to other people, thus he has gained a love for humor and smiling, and acts in a spontaneous manner. He likely believes he can not maintain friendships otherwise. Michio is very careful with his application of jokes for he believes that they must be improvised, or else they are just common lies, moreover he fully understands how they can cause misunderstandings. Michio's mood is generally well kept, except when he feels his time has been wasted; then he becomes somewhat depressed. Contrary to his personality, he distances himself when people start getting too close, as he doesn't like to get attached to things. Also, Michio has exceptional memory and therefore is very knowledgeable. He never wants to burden people with his feelings so he tends to tuck them away and wear a smile like every other day. Michio likes to keep his troubles to himself and it takes a lot to get him to talk and once someone starts accusing him of his smiling facade he will deny to the end. All in all, Michio is a boy who is just a little to hard on himself and who keeps most personal things to himself.
Password
Soccer
---
---