Nakamura is by no means a city, but it is actually a pretty large town. It has a high school, a middle school, and a primary school, as well as housing the Nakamura College. It is surrounded by farm land, but also has businesses and convenience stores.
---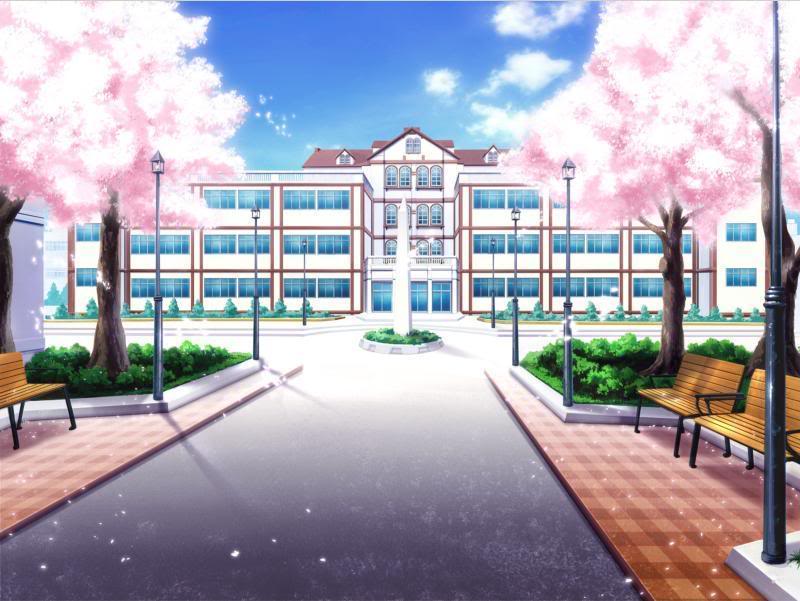 Nakamura High School is one of the top high schools in Japan. Because of this, it houses student in town as well as out of town. However, if out of town, the student must receive an invitation, which gives locals an advantage.



Nakamura Middle School is in a situation similar to that of the high school. However, it is much smaller than the high school and does not have dorms. Students from out of town that attend the school must stay with a host family.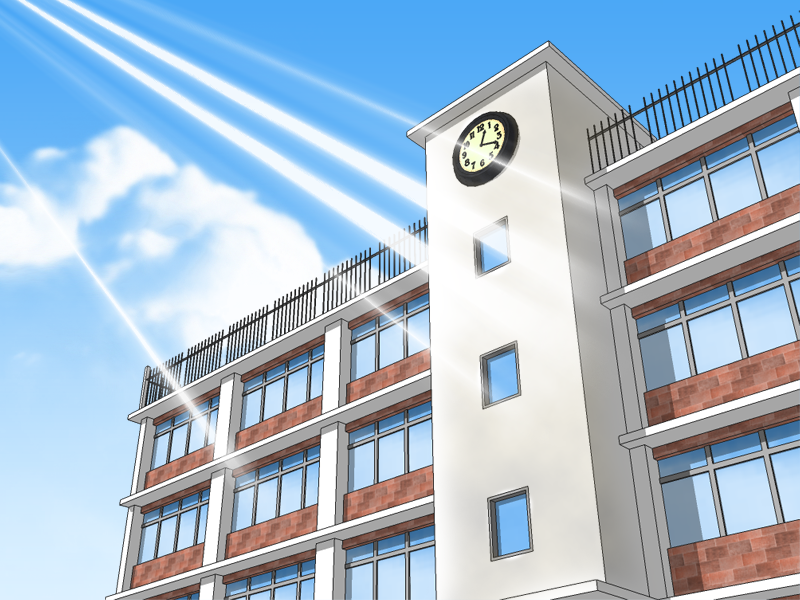 Nakamura Primary School is much smaller than its sister schools. Originally, it was a the middle school and primary school before the newer middle school building was made, which was later converted into a primary school. It only houses children from Nakamura and is a very friendly environment.



Nakamura College is one of the most prestigious colleges in Japan. People come from all over the country to attend this wonderful college.
---
---

The crisp spring air drifted into the small room. The pastel walls danced in the sunlight filtering in from open window as the curtains fluttered softly in the breeze. It was a beautiful morning and outside the world was starting to bustle with activity. Everything in the world seemed to be right, if only for that one moment. The owner of the room was one girl. Her long blonde hair was spread out around as she rested peacefully in her bed, taking deep even breaths. If someone was in her room, looking down at her, they would find the girl to be ordinary and nothing special. Maybe that was why she never let anyone in her room when she was asleep.

RING! RING!

The alarm clock next to her twin bed went off. The girl groaned and rolled over, as if that would make the clock shut off. When it did nothing, she let out an irritable yell, sitting up quickly. She slammed her hand down on the "snooze" button and rubbed her eyes. Her pristine blue eyes slowly opened to star around her room. For a few seconds, her eyes aimlessly roamed until she saw her clock. She let out a small scream, scrambling out from under her purple covers. "

I'm late! Late! Late!

" she glanced back at her clock and sighed in relief when she realized she had read the time wrong. "

Thank god, I'm not late."



The girl we are currently with is known as Megumi Himura, only child of the Himura family. Well, for now, at least. Megumi sighed and ran a hand through her blonde hair. She grabbed the red bow off her nightstand, setting out for the bathroom.

Any sane person would be wondering what she thought she was late for in the first place. It's quite a simple answer, actually. Today was the first day of her second year of senior high school. It was an understatement to say she was excited. Twenty minutes after she entered the bathroom, she exited in her school uniform. It was simple enough: a blue skirt and a white polo shirt. She loved it though. As much as she had enjoyed summer break, she was happy to be going back to school.

She couldn't wait to see Aoi, who had gone away from the summer, and bug the Minami kids. And- and- and- Megumi took a deep breath. She was getting too excited, but she couldn't help it! With a squeal, she jumped into the air. She raced into the kitchen, offering her mom a small greeting a kissing her dad on the cheek. Quickly, she stuffed her food into her face before racing out the door, "

Bye, mom! Bye, dad!

"

After pulling on her shoes and grabbing her school bag, Megumi threw open the door and greeted the day with a smile. This was going to be great year!
---
1 Characters Present
Tag Characters »
Add to Arc »
---
---
"Ay... an..."
A single familiar and soft voice rang in Ayami's ears... however, she wasn't really in the mood to hear it. The sunlight was streaming in from the window and hitting her in the face as she lay tiredly in bed. She had been up all night playing video games... a foolish decision really, but she was so dang close to beating that one level that she couldn't resist playing until she finished it!... and the one after it... and the one after that... gah, she had really messed up.
"Aya-chan... come on honey it's time for school. For both of us. Now get up, you're already terrible in terms of grades so sleeping in won't exactly help you."
Her father was sitting on her bedside then. She grimaced, cheeky old man... who did he think he was? She hated sleeping in anyway, so she hardly ever did it, not to mention the fact that she was very well aware of her falling grade point average... but it's not like she hadn't been trying to improve it at all during the Summer! Sure, she had taken her time to relax like any good, normal high school student would... but it's not like she hadn't opened a book to do some equations... you know, once or twice, or maybe just once... eh she couldn't remember.
"Neh, neh Otōsan... five more minutes. I need my beauty sleep."
Ayami replied to her father dismissively as she snuggled into her pillows and began to flutter her eyes shut once again, however as she did so she swore she saw the glint of a devilish smile on her fathers face.
"Oh Aya-chan... I wouldn't worry, you're plenty beautiful already! Not then... up you get!"
In a cruel move on her fathers part, Ayami felt a pair of warm hands shunt her half-sleeping back. Just like that she was knocked forward, rolling haphazardly out of the bed to hit her wooden bedroom floor with a thud. She lay there for a few moments before smashing the ground with her fist and groaning loudly.
Seemed like it was time to start her first full year as a perfectly normal high school student. To be honest, she would have been lying if she said that the didn't at least excite her a little bit.
***
Sitting at the breakfast table, Ayami and her father, Kosetsu, were both dressed for the day ahead... she in her school uniform and he in his smartest shirt and lab coat... a text book tucked firmly under his arm. Between bites of toast the older man spoke to his daughter.
"Remember that this weekend you're joining my extra classes... I know you didn't have long in school the first time around... I know we've only been here for six months, but you need to get your grades up."
Ayami sighed at her fathers words. She just nodded, she wasn't happy about having her father tutor her, but she knew it was necessary. As the two finished breakfast they rose from the table proceeded to the door and exited outwards to stand on the front porch.
"Ayami... one more thing."
In response to her fathers voice, Ayami stopped moving and listened.
"I know you've been finding it hard adjusting... we both have, but I want you to make a serious effort to make some friends this year alright? Maybe with the neighbor kids? They have a son and daughter around your age... and I'm almost certain that I'm teaching their youngest son this year. I mean we've been here six months, I'm surprised you aren't already close friends with all of them."
Ayami frowned.
"I just haven't ended up in a situation where I've really gotten to talk to them... that's all..."
Kosetsu looked away for a moment as if thinking, before grinning and sprinting to his car, taking Ayami by surprise as he got in and started the engine.
"W...wait! Otōsan! You've always driven me to school! I don't know my way there walking!"
Kosetsu didn't say anything, instead he pointed with a bored expression to the Minami household and drove off, leaving his daughter in the dust.
Ayami's eyes widened as she realized that her father was using this abandonment as a method of forced interaction between the neighbor kids and herself. He had literally left her with no choice but to either rely on them, or be VERY late for her first day of school. With a desperate expression she looked around helplessly before sighing and flopping down to sit and wait for the Minami's on her porch step.
It would seem that no matter where she lived or what happened, her father was always her father. That was comforting in a way... but as she had just realized it could also be incredibly awkward.
---
Haruka Minami
---
'Ow... My neck...'
As consciousness slowly returned to young woman of the Minami house, her first hazy thoughts were of the startling discomfort she felt. Despite this, she didn't feel all that motivated to actually get up, being in the fuzzy half-awake state she was in, sleep took priority over alleviating whatever this discomfort was. Satisfied with this line of thought she resigned herself to a few more minutes of sleep, but as luck would have it a gust of wind swept by nearby and elicited a high-pitched cacophony of windchimes that put an end to the girl's sleepy morning.
With a groan and no small amount of pain Haruka sat up, vision blurry as her eyes blinked open, her vision becoming clearer with each opening and closing of her eyes. It all started to make sense now, why her neck hurt and why she felt so uncomfortable, she had fallen asleep at her desk. With one hand reaching up to rub the back of her neck, the other reached down to flip closed the notebook that had served as her pillow. Apparently a bit of late-night inspiration had struck the girl.
With an exasperated sigh Haruka made for the bathroom to begin the usual morning rituals, hoping to get there before the rest of her large family did. As she returned to her room to get dressed, she remembered,
'Oh yeah... New school year...'
. With a slight grimace she picked up the school uniform that was hanging up in her closet, muttering to herself,
"Ugh... Skirts..."
With another sigh she donned the outfit in preparation for her 2nd year of high school.
Still rubbing at the back of her neck, she made her way downstairs towards the kitchen, giving her parents a wave as she passed by. She hadn't seen any of her siblings up and about yet, and so she went about just preparing a slice of toast for herself before heading out the front door to stretch and take a deep breath of morning air. As her gaze wandered, she spotted the neighbor-girl...
'What was her name again?'
. Pondering this question she reached up and scratched her head, finding herself absent-mindedly staring over in her direction.
'She's pretty cute.'
"Yo!"
She began making her way across the porch and closer to the girl she called out to her with a wave.
"Morning."
With a small but sincere smile she greeted the girl next door, still munching away at the remnants of her toast as she wondered to herself what exactly she was doing sitting alone on her porch.
---
---
---
Tomoyo Wantanabe woke up in a way that wasn't exactly unusual for her. Sure, for others it might have seemed weird, but for her it was completely ordinary. She woke up at her desk, her laptop shining unnatural light onto her pale face. Her cerulean blue eyes popped open before she sat up and leaned back in her chair with a yawn. After taking a quick look about the crop circles popping up all over the place and deeming them a hoax, Tomoyo forced herself off of her chair.
Then, she groaned. Today was the first day of the new school year. Someone kill her now. She flopped onto her bed, hoping to catch a few a few precious moments of much needed sleep. But the world seemed to hate the poor girl and her alarm clock started blaring from some unknown spot she had probably stuffed it to keep it quiet.
With a resigned sigh, Tomoyo pushed herself up and started throwing pillows around to find the blasted clock. Her hands wrapped around it. She shut it off before climbing out of bed.
Tomoyo was not one to dawdle, even if it meant losing peaceful sleep. She started to dress in her school uniform, pushing back the wave of exhaustion rushing over her. It probably wasn't the best idea to stay up all night. Next, came her books. She shoved them into her schoolbag, glad that she hadn't procrastinated on her summer homework. Tomoyo stalked out of her room and into the bathroom, splashing cold water on her face. As she ran a brush through her long blue hair, her mother walked in. "
Morning, mom,
" she greeted as she adjusted her school uniform. It was an ugly thing to be sure, she would have much rather preferred the high school uniform. She glared at her hair, trying to push down a flyaway. It didn't work, of course. To distract herself, she directed her attention to her mother. "
How did you sleep?
"
---
---
It had been another late night, something Mio would probably never get used to despite being on the force for so many years. There was no such thing as a shift end with her, and even on days off she'd usually be called into work anyway. That was tiresome, but it was also one of the things she enjoyed about her job. It wasn't the same 9 to 5 everyday, just sitting at a desk doing the same paperwork over and over again. Her hours were flexible and everyday was a new thing, so she never got bored.
She lumped her way into the hallways bathroom, dragging her bare feet across the wooden floor. She wore nothing more than a black sports bra and a pair of light blue boxers, her short hair sticking up oddly on the right side.
"Morning, mom."
At the sound of her daughters voice she perked up a little, meaning to smile but instead letting out a long yawn as she approached the sink beside Tomoyo.
"How did you sleep?"
She leaned over slightly, turning on the faucet and letting the cold water run over her hands for a moment before filling up her palms and splashing her face.
"Like a rock!"
, she said before letting out a small chuckle and pressing her face against a towel.
"Heh, I wish. Maybe one of these days I'll be able to catch up on some Z's for once."
She made her way to the shower and turned the nobs, the sound of spraying water now filling up the bathroom.
"Your sister still asleep or did she take off already? I never know with that girl."
Once she felt the water was at a good temperature she let her clothes fall to the floor and stepped in, pulling the shower curtain closed behind her.
"Sorry I never get to walk with you girls. Make sure you be careful on your way to school!"
---
||Mood:Energized||Location:Koizumi house||Current Actions:Waking Up||
---
---
6:29 am.
"Ah! I beat the clock again!"
Takeru sighed before pressing the snooze button of his clock. For some reason, he has never been woken up by the sound of the alarm clock no matter how early the time is set and it's been bugging him since his middle school years.
'This is what they call body clock, isn't it
, the boy just realized. After he finished cleaning up his bed and doing his daily morning stretches, Takeru felt a smile etched upon his face as he felt energized and ready to go. However, as soon as Takeru took a step out of his room, he was welcomed by a bunch of junk food wrappers, bottles of half-drank wine, and even a white lacy bra which were all scattered around the floor.
Instead of freaking out or at least be surprised by the amount of garbage in the hallway, Takeru merely went to the kitchen and grabbed a huge, black, garbage bag and started cleaning up the hallway until it was sparkling clean and free from dirt. Seriously, though, what happened here? It's impossible that Takeru's dad would do a get-together with his workmates, considering his work schedule. Plus, even if they did have a get-together, the hallway wouldn't be that messy. So, it leaves him with but one conclusion:
Mom must have been eating chips and drinking wine during the night. Geez, even after making a deal to eat only one pack of chips per day and only a bottle of wine per week. That's really bad for the health! Sheesh…I guess I'll have no choice but to ask father to reduce the amount of junk food and wine we'll buy.
And with that decision, Takeru carried the trash bag outside and threw it inside the big yellow trash bin. Seeing as the sun was just about to rise, Takeru realized that he still had time for a short run. Mornings wouldn't just feel right for him if he didn't. After changing into his sneakers and locking up the gate of their house, Takeru went for a jogging session around the town. As he did, he politely greeted a few people that he passed by with a smile. He ran around and passed by his old school, his new college, and a few of his classmates and friends' houses.
After jogging for about 20 minutes, Takeru headed back to the house. Surprised as his mother hasn't woken up yet even after he's returned, Takeru decided to take a bath. Afterwards, he went to the kitchen to cook breakfast for himself and his mother.
---
6 posts here • Page 1 of 1