---
---
---
---
╔
╗
"The world isn't so bad if people were thankful for the fact that they're alive. Then again, are you really alive? Are we living, or simply surviving?"
[
Snow Song || Hatsune Miku
]
Dɪᴀʟᴏɢᴜᴇ Cᴏʟᴏʀ ✦ #00A99E || Tʜᴏᴜɢʜᴛ Cᴏʟᴏʀ ✧ #0054A5
╚
╝
---
---
█
█
█
█
█
█
█
█
█
█
█
█
█
█
█
█
█
█
█
█
█
█
█
█
X
▌
▌
▌
▌
▌
▌
▌
▌
▌
▌
▌
▌
▌
▌
▌
▌
▌
▌
▌
▌
▌
▌
FULL NAME
NICKNAME(S)
GENDER
AGE
SPECIES
SEXUALITY
NATIONALITY
---
---
"Some things are so obvious even a child can see them."
---
---
█
█
█
█
█
█
█
█
█
█
█
█
█
█
█
█
█
█
█
█
█
█
X
▌
▌
▌
▌
▌
▌
▌
▌
▌
▌
▌
▌
▌
▌
▌
▌
▌
▌
▌
▌
HEIGHT
WEIGHT
HAIR COLOR
EYE COLOR
GENERAL APPEARANCE
Sara is a very small individual. Her height and weight are both under average, much to her disliking, and her lack of a frequent appetite has left her with a bony exterior and little of the body maturity most girls her age possess. Her long hair is a natural black common to Japan, whereas her eyes are a greyish blue, a signature from her American heritage. Sara's skin is pale and unblemished. She does, however, have a small star-shaped birthmark on her collarbone.

Sara's wardrobe is very limited, as she isn't quite a free Human, so she commonly wears the same outfits. She is most commonly seen wearing either her orange and brown uniform-type outfit or a pair of jeans, her favorite teal sweatshirt and a pair of sneakers. Her hair is usually worn in looped ponytails.
---
---
"I don't believe in telling other people my secrets, its how they find what things to use against you."
---
---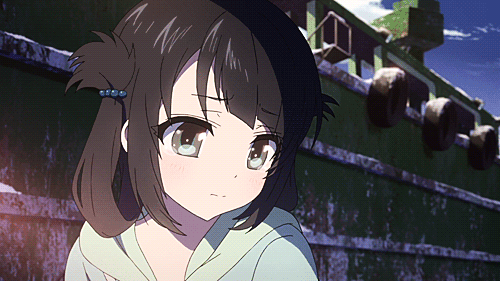 █
█
█
█
█
█
█
█
█
█
█
█
█
█
█
█
█
█
█
█
█
█
█
█
█
X
▌
▌
▌
▌
▌
▌
▌
▌
▌
▌
▌
▌
▌
▌
▌
▌
▌
▌
▌
▌
▌
▌
▌
PERSONALITY
✦ Elusive ✧ Quiet ✦ Shy ✧ Distrustful ✦ Kind ✧

Sara is a very quiet person, withdrawn and elusive towards others unless forced or called upon by her Master. She is completely submissive to him and will do literally anything that is asked of her, no matter what it may be. Because of this, Sara has very little self-esteem and thinks of herself as useless and invaluable. Her quiet and shy nature makes her decently hard to predict, although she would never risk her life by doing something brash and out of context. Silence is her way of avoiding the truth of her world and also (in her mind) signifies a level of privacy from her Master and others. It will take a lot of time and effort for another person to befriend her, and much more for them to find out anything about her.

Deep deep down, however, Sara is a very loving and social person who would do anything to help others, this side of her simply never shows because it's been suppressed for so long by duty and doubt. Sara is a very intelligent person and knows her parents would want her to fight against slavery instead of accepting it, but she greatly doubts her own strength and doesn't believe herself to be strong enough for fighting back. Her submissive and silent nature keeps her from standing up for herself or anyone else, and from going against the wishes of her Master, which she knows is wrong but does nothing to change. Due to this, it is likely that she would be left behind if any of the other enslaved Humans ever tried to escape from their impending doom.

All in all, Sara is a kind person who simply denies that she has the power to change her own fate and destiny. She's the type of person that needs a lot of positive attention and a kind, loving hand to guide her in the right direction. Despite the fact that she doesn't necessarily trust the other Humans she works with, she does care about them to some degree and would do nearly anything to help them, so long as it doesn't endanger her own life.
---
---
"Those little things you tell no one? Well, I have a lot of them..."
---
---
LIKES
✦Water - "

A cold sensation flowing through my skin, the soft medium enveloping my body...I'm not sure why, but I just can't get enough of the feeling.

"
✧Music - "

Simple. Its the one thing that I can still remember about my parents.

"
✦Art - "

I just have a knack for it. Especially painting, even if they're all of either water or snow. I guess its not all that interesting...

"
✧Museums - "

Since most of them have been burned down, its a special place for sure.

"
✦Snow - "

Its so cold. It seems odd, but I really do love the cold. Snow is so silent...

"
---
---
DISLIKES
✦Heat - "

I love the cold. The heat, on the other hand, makes me sweat and want to sleep forever. It also hurts when its too hot.

"
✧Bullies - "

Considering the fact that Humans have been enslaved, you'd think people would be angry towards the Beings instead of other Humans...

"
✦"Beings" - "

My parents were eaten, my sister was taken away them, and now I'm stuck to forever be a slave. Why on Earth should I like a species like them?

"
✧Loud Noises - "

I get scared very easily, so I have a natural hatred for loud noises.

"
---
---
TALENTS
✦Cooking - "

Its one of my strong suits, I guess, and it seems to please the people I work for. I'm not a big fan of it myself but if they like it then I should be grateful.

"
✧Arts & Crafts - "

Drawing, painting, sculpting, crafts, etc. I think its because I'm so level-headed. For those kinds of projects, you need a lot of concentration.

"
✦Sewing - "

It stems from having to make and mend my own clothes as a child. Since I've been doing it for so long, it simply comes naturally to me these days.

"
---
---
FLAWS
✦Timid - "

I don't like talking unless I have to. I get much too scared most times and either stutter or shut myself down.

"
✧Weak Body - "

For some reason, I can't seem to stomach any more than tiny portions of food, and because of that my body has become quit frail and delicate.

"
✦Submissive - "

You can definitely expect that I'll never talk back to you. My mom always said its bad to be too submissive, that you can't let everyone tell you what to do...

"
✧Suicide - "

Despite my quiet exterior, I have tried to kill myself several times.

"
---
---
FEARS
✦Torture - "

My body's so weak, I don't think I'd be able to last more than an hour if someone was continually hurting me.

"
✧Burning - "I think its a horrible way to die. Having to feel all your skin peel away in an unbearable amount of heat, to feel your eyes melt and your bones turn to ash...ugh."
✦Betrayal - "

Considering the fact that I've never had a real friend to trust, it seems like it'd be really hurtful to have someone you love turn their back on you.

"
---
---
"The past is the past. You can't change it, regrettably, but you can always look for a better future."
---
---
█
█
█
█
█
█
█
█
█
█
█
█
█
█
█
█
█
█
█
█
█
█
█
█
█
█
█
█
█
█
█
█
█
█
█
█
X
▌
▌
▌
▌
▌
▌
▌
▌
▌
▌
▌
▌
▌
▌
▌
▌
▌
▌
▌
▌
▌
▌
▌
▌
▌
▌
▌
▌
▌
▌
▌
▌
▌
▌
FAMILY
BIO
Sara was born to a Japanese man, Tokuro Hinamura, and his American wife, Annabeth Jones. They were both hiding out as refugees in and underground city beneath Albany. The underground city was conveniently called Nowhere, constructed completely out of the sewage systems that had been abandoned for years. The streams of waste water were no longer moving and were instead used for boat travel, the stone walkways housing shops and places for rations. Money had long since gone to waste and trading was a way of life. The pipes that branched off the main areas were simply used as homes, sometimes fitting up to three small families in a single pipe. Life wasn't beautiful, but joy still existed, granted it be in the form of broken toys and tiny tokens one would never find even remotely pleasurable.

Sara grew up the same as any other child living in Nowhere. Her parents were kind people, loved by nearly everyone they met, and throughout the years Sara became just as loved. The mothers in Nowhere gathered together to teach the children things like how to read and write, while the men and able boys braved the surface to hunt and steal various things. Every once in a while, they would come back a couple men less than when they'd left. Such was the way of life back then. When Sara grew to be about 4, her younger sister Ayumi was brought into the world on a whim. It was rare for someone to have more than one child, or any children at all, and therefore Sara's parents began to earn more and more praise and helpful gifts.

One night, the men didn't return. Not a single man made his way back to Nowhere. Sadness and mourning swept through the hidden city. But alas, life had to go on, and at that the city quieted with the calling of sleep. No one was to be sleeping that night. One man had returned, and unknowingly led a group of Beings straight to the hidden city. Hundreds of the refugees were kidnapped that night, and many were trampled to death by the fleeing people, including Sara's mother. Sara and Ayumi were ripped apart by the fleeing crowd and to this day Sara knows nothing of her dear sister or her. Nowhere ceased to exist, not a single thing to signify it had ever been there..

Sara was thrown into the slave trade, and for years she was sold again and again and again, making her way to New York City. She was then sold to her current owners and has remained with them since.
---
---
OTHER
Fᴀᴄᴇ Cʟᴀɪᴍ ✦ Miuna Shiodome

Pᴏʀᴛʀᴀʏᴇᴅ Bʏ ✧ Reidy-Reid

ⒸⓄⓅⓎⓇⒾⒼⒽⓉ ⓌⒶⓇⓃⒾⓃⒼ
Character basic form © aurei
Modified by ઽ૮૨α. Please do not take without permission
Modified for this RP by The_Queen {& Reidy-Reid}
---
---