Age:
27
Race:
Demon
Appearance: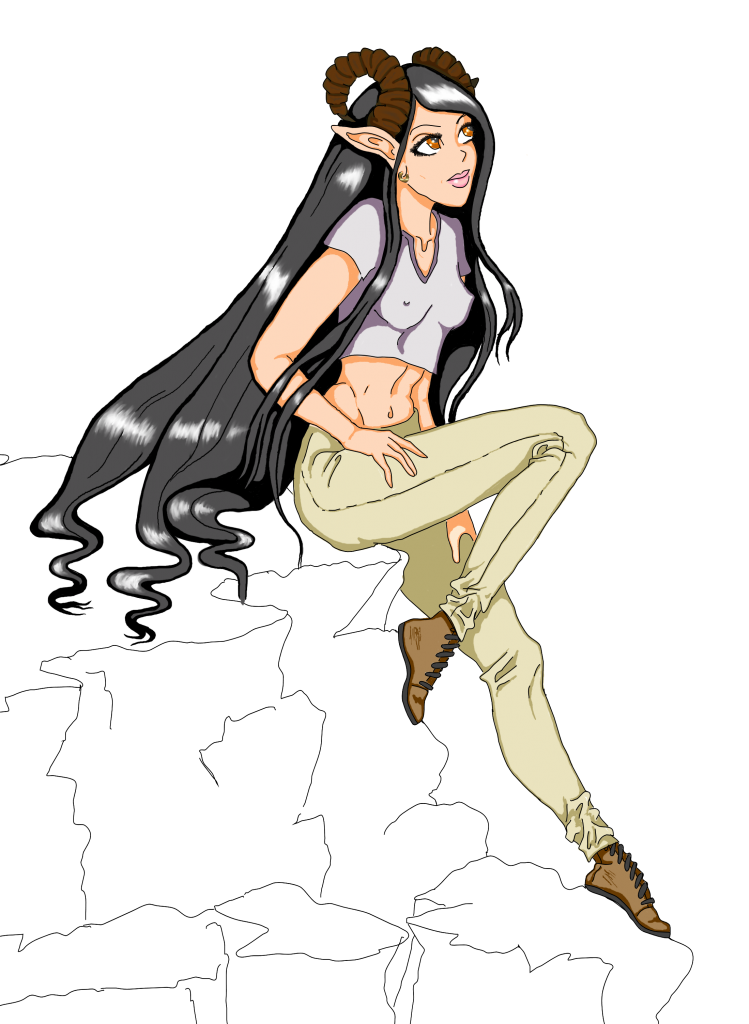 Biography:
Life started out rough for the young demon girl. All around her, her peers were doing as they were born to do, tormenting others because that was their life goal. While this tormenting was enjoyable to Illaria at times, she quickly grew bored of it, wishing for less petty pass times. She began to work for the Ogres around age 26. This got her out of the Demon Realm from time to time which was greatly enjoyed. She could have gone on doing this for a long while, had they been paying her what she were due.
Being the born demon she was, Illaria took it upon herself to take what she felt they owed her. She made her way quietly into the Tribes feast. Thankfully, those that did see her paid her little mind, as she had become a regular sight for the Ogres. She knew that the leader would be using a specific club. She snuck into the leaders quarters and stole the thing. Illaria did not know it, but the large club that she stole was to be an item that this Ogre had acquired for King Yemma. It had magical abilities that were said to be able to help Yemma take over other worlds. Illaria was completely stupid of this.
As she was sneaking away with the weapon a fun idea struck her. Sure, she could have taken the thing and sold it, but her tormenting enjoyment kicked in just then. Turning around, she made her way into the thick of the feast. To her luck, there was a large fire that crackled and jumped. Her agile feet took her through the throng of ogres to the huge pit before which the tribe leader sat. She will never forget the look on his face as she lifted the heavy thing over her head and heaved it into the licking flames. There was a sudden burst of magic and sparks. A sickly smoke filled the area, but Illaria was already gone, leaving the squeals and cries of anger and dismay behind.
For the next few weeks she was tracked by the tribe, but somehow always managed to get away. It was at the end of these few weeks that they cornered her. She was tired, hungry and had nowhere else to run. The brutish leader was standing above her, ready to flay her when there was a sudden bright flash of light. The world spun and twisted around Illaria. She became sick to her stomach and was soon passed out.
When she woke, all she could feel was the softness of grass beneath her and the sun on her back. There was a soft voice calling from somewhere. Illaria could smell her own blood, but she wasn't sure where it was from. The surreal sensation lasted only a short time before she rolled herself over and came face to face with an ancient looking Namekian woman. Illaria's eyes widened in panic and the old woman smiled toothlessly at her. She cooed over the demon woman and soon had her in her old house and covered in the softest blankets Illaria had ever felt.
The next year of Illaria's life was spent helping the old woman she had fondly nick named 'Mams'. It was not because of the old woman's ample...bosom, but because the woman cared for her like she were her own child. She was also graced with time to go out and explore. This life was comfortable for the odd demon, but she soon began to get herself into some mischief. Every time she almost got caught, Mams would give her an alibi. Soon, Mams began to ask for more odd tasks to be completed. Illaria soon found herself roaming farther and farther in search of the things Mams had her stealing. While she performed these tasks, Illaria began to contemplate getting back at the Ogres. Then the thought crossed her mind that perhaps she might want to go bigger than just the Ogres. What about the entire Demon realm? She wondered. Illaria began to put a great deal of thought into this venture. She knew she wouldn't be able to do it alone. Meeting others would require her to leave Mams though... She came to the conclusion that something had to be done, and she was going to do that something.
Late one evening after the old woman had gone to bed, Illaria took her things and moved on. She left behind a letter to the old woman, thanking her for her kindness and explaining why she was leaving. She only hoped the woman would understand. Mams had been like her own mother, and over the few months that Illaria had been there, she had grown to love the woman. Illaria made a promise to herself that she would send the woman letters from time to time. Perhaps with trinkets of things Mams loved. This made it easier to leave. With her face into the cool evening wind, She set off on her journey.