-----
x

x

x

x

x

x

x

x

x

x

x

x

x

x
&that's

irony

..
▬▬▬▬▬▬▬▬▬▬▬ ▬ ▬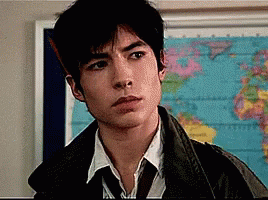 ▬▬▬▬▬▬▬▬▬▬▬▬▬▬▬▬▬▬▬▬
HENRY

GARDNER


▬▬▬▬▬▬▬▬▬▬▬▬▬▬▬▬▬▬▬▬

-
-
-
-
-
-
-
-
-
-
-
-
-
-
-
-
-

------

x

x

x

x

x

x

x

x

x

x

x

x

x

x

x

x

x

x
Partying with supernaturals was not something Henry entirely thought he'd end up doing, or at the very least, having the pleasure of attending alone. Only fifteen minutes in, he was disappointedly ditched by his own brother; something about a friend needing him-- <i>blah blah blah.</i> Sure, he loved the supes just fine. They were a joy and a majority of them were great people, but going solo to his first school event left him vulnerable and he much rather avoid that like the plague. So he filled the beginning half of his time with the monotony of carnival games, only to cheer for himself whenever he managed to hit a goal. There was something therapeutic about the lights that framed the booths, shooting off pistols and flashing bulbs whenever one of the targets were hit. Between the whirring sounds, he could briefly catch the chit-chat from the neighbouring booth, perhaps the games were a little pathetic.

But there's always fun in a bit of stupidity.

p o p, another balloon.

Henry's phone buzzed, half expecting it to be a lukewarm apology from his brother. At first, he chose to ignore it, afterall he was starting to have a little bit of fun by himself. After a few more off-n-on wins, he pulled himself to the side to check the message, surprised to see the text was instead from Anabelle. 'I'm headed to the party, please tell me you're going.' He felt a little guilty now.. It seemed more like a plead for help then then it did an invitation, but he was sure she was just nervous and rightfully so. To be outnumbered by beings far stronger than you, and at times, far more clever, was intimidating to say the least. For a human with minimum interactions, it's a world of possibilities. Good, and bad.

He quickly typed back, 'nah, I think I'm going to pass tonight.' before sending her a bad selfie of him posing in front of the large caricature of a minotaur. He hoped she was alright, overwise that was really some bad timing for a joke. 'Where are u? maybe we can meet up.' At least then, he can say he tried.

✘ ✘

Henry figured while he waited for Belle's response, he might as well get something to eat. It didn't take long for him to locate the destination of nosh-town ad he spotted a small crowd that seemed to migrate around the food tables. I guess the idea was a popular one. After all, sustenance seemed like the bare minimum of what supernaturals and humans shared. It was at least a start... He stepped on his toes to look over the figures in front of him, eyeing the strange arrangement of food splayed on the table. He couldn't recognize half the stuff, or if he did, me much rather had not. Perhaps there was a part of the table that was labeled, 'human friendly', he certainly wouldn't mind that kind of separation.