---
---
---
---
---
Name
Gracie Marie King
"Call me Grace."
Age
17
"My age doesn't stop me from doing what I want."
Gender
Female
"Got the parts and all."
Species
Witch
"Daddy's little witch bitch."
---
---
---
Hair colour
Blonde
"Just because i'm blonde, it doesn't mean I'm dumb."
Eye Colour
Brown
"Black, like my soul. Just kidding its brown."
Height and Weight
5'2" and 117 lbs
"I've always wanted to be a model... Am I skinny enough yet?"
Other
Gracie bears a striking resemblance to Emma Roberts.
"We could be twins!"
---
---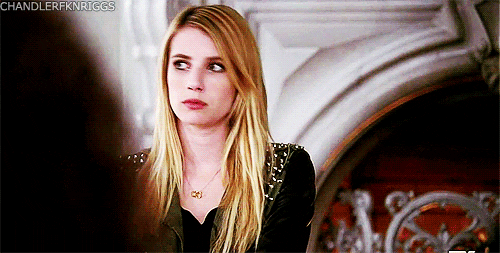 Likes
Parties || Boys || Magic || Social Media || Movies
Dislikes
Snobs || Schedules || School || Boring people || Bugs
Fears
Rape || Death || Being Alone
Personality
Gracie is a very intelligent girl. She openly expressed it but soon hid it, believing people wouldn't like her if she was "too smart". She started acting ditzy and gained a lot of popularity. Gracie has a hot temper. She has a short fuse and she won't hesitate to strike if you catch her on a bad day and upset her. Gracie is sassy and will throw a snarky remark in your face if you argue with her. She tends to talk behind people's back and tends to be enemies with some people.
Deep down, she's fragile and she only wants to impress people. She suffers from panic attacks and anxiety when she's at home/alone. Over time Gracie has grown somewhat numb and detached to people so she doesn't always register if she offends/hurts someone and sometimes she doesn't care at all.
History
Gracie was born to Alan and Marilyn King. Her mother was just 21 years old and her father was 43. Alan was a chronic smoker and suffered from Asthma. From an early age, Gracie knew her parent's relationship wasn't normal. They argued every night but they were too poor to go separate ways. Divorce would make all 3 of them homeless. Gracie often would see men come over to visit her mother when her father wasn't home and later on Gracie realized, her mother was having an affair with multiple men.
Alan found out a couple years later when Gracie was 9. Of course the affair was still happening and Alan was furious. He beat Gracie's mother senseless and she slipped into a coma. Alan made up a cover story and took Gracie away. Gracie's mother died months later although she didn't find out until she was 14. Alan and Gracie traveled around awhile until she was 12 when they settled down in a small town. Gracie, having been bullied all her life, decided to make a fresh start. She started wearing makeup and hanging out with the cool crowd.
She quickly became popular and starter dating a 17 y/o when she was 15. One night, a week before her 16th birthday, she came home and her father was drunk. He tried to force himself on her but out of fear, Gracie quickly found her powers and sent her father falling down the stairs. He passed out and he hit his head but Gracie froze and watched instead of calling 911. He later died and it was deemed an accident since Gracie never laid a finger on him thus making it look he just fell. Gracie subsequently ran away and found Lignum Portum Academy where she decided to learn about what she really is.
---