---
---
Age: 16
Gender: Female
Element/Type of Magic: Shadow: Spirit. Allows user abilities related to ghosts and seeing ghosts. Aberdeen for now can only use her powers to see ghosts and turn invisible for only ten minutes. However, as she develops her abilities she will be able to perform higher magic such as intangibility, aura vision, astral projection, and spirit channeling, her greatest wish. However, if she tries to perform new abilities or remain invisible for more than ten minutes, she will faint from exhaustion and have to sleep for hours in order to recover.
Weapon: fighting knife
Height: 5'0
Weight:105 lbs



Appearance: Aberdeen has long indigo black hair that extends all the way up to her waist line. She has piercing eyes that are dark violet and express emptiness or seriousness. Her light complexion contrasts the dark Lolita dresses with intricate laces, ribbons, and designs she wears. She may also choose to wear Japanese school girl outfits and hoodies, though she prefers they be a dark blue, violet, silver, grey or black. Her favorite footwear is a pair of medium long black boots with crisscrossing laces on the front. Abderdeen never leaves without putting on her favorite pair of boots.
---
---
Personality: Aberdeen is not one to say a lot of words. She would rather be in the background observing other people's action and watching from a distance. If someone were to try and speak to her, depending on the situation she will either just glare, say something very creepy, make a murderous smile and laugh with a small "hehe" or answer back in a serious tone. Abderdeen is really creepy and quiet, always fascinated with the spiritual world, the occult, and death. Because of her serious nature, she can be very harsh on herself and tends to self punish herself when she fails to do something correctly. Sometimes she contemplates death, being jealous of ghosts and figuring that her powers make her resemble a dead person anyway. Her demeanor makes it hard for her to have any friends, even though she secretly wouldn't mind having a few. People have always found her weird and creepy and tend to stay away from her. If someone were to be her friend, Aberdeen would give them the highest loyalty and trust she can possibly give. She loves to sneak out at night to go on her ghosts hunts and talk to the spirits that she finds. She can be somewhat intelligent, and will fight back if necessary.
Likes:
- ghosts/the occult
- death
- night
- Lolita dresses
- Her Magni Demon Luciana
Dislikes:
- sunlight
- Making mistakes
- fainting
- light colors
- heat
Flaws:
- beats herself when she makes mistakes
- faints from trying to perform higher magic
- anti-social
Talents:
TALENTS HERE
- highly observant
- somewhat intelligent
- knowledgeable of the occult
Fears:
- she'll never be able to channel spirits
- she'll always be alone
---
---
Bio:
Aberdeen Andrews is the second child of Mitchell and Madison Andrews. Her older sister, Brooklyn died when Aberdeen was thirteen years old in a car crash on her way home from work. It was a few days after her death that Aberdeen discovered her Spirit powers. Ever since then, Aberdeen had been able to see her sister and communicate with her, though she keeps this from her parents. At times, Aberdeen wishes to die in order to be reunited with Brooklyn but Brooklyn urged her to take care of her parents. It is because of Brooklyn's insistence that Aberdeen continues to move on and learn about her powers and their relation to the occult. [/center]
---
---
Other: Aberdeen has a nickname "Abby" and she calls her sister "Brook." If someone were to be her friend she would prefer to be called "Abby" but she feels that only Brook will ever be the one to call her that name.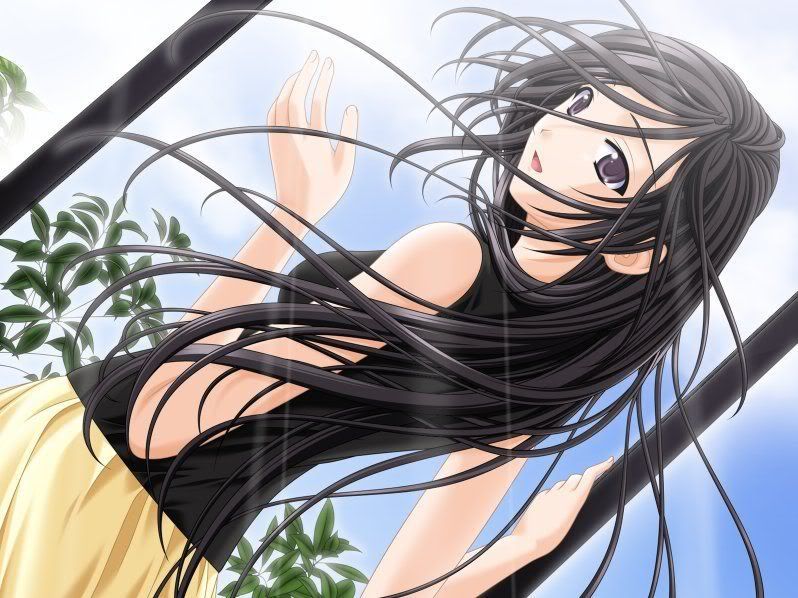 (Aberdeen when she was happier)
---
---
---
---
Age: unknown
Gender:female…or so says "she"
Element/Type of Magic: Shadow: Spirit Although she has more of "sleeping type" powers, with powers like peering into dreams and creating nightmares.


Appearance: Luciana is basically a black blob looking spirit with the only other thing being the mask on her face with purple marks, two eyes, and a mouth, although her real mouth is on her "stomach." The mask has no nose and no other identifying features.
---
---
Personality: Luciana like her Magi is very creepy like and doesn't speak at all, at least verbally. She speaks through her mind only to those she wishes to. She has fun stalking other people and scaring them, especially in their dreams.
Likes:
- stalking others
- peering into dreams
- her Magi
Dislikes:
- sunlight
- speaking verbally
- people making fun of her "face"
Flaws:
- doesn't know when to stop being scary
- insensitive to other people's emotions other than her Magi
- doesn't understand that stalking is a bad thing
Talents:
- observant
- manipulative in dreams and words
Fears:
- that her Magi will kill herself to be with Brooklyn
---
---
Bio:
Most of Luciana's bio is either unknown or secret only to herself, although it is rumored that she is from the underworld and that she was given a chance to be saved by becoming a Magi's partner. The only thing that's confirmed is that Luciana's mask wasn't store bought and it was taken by force… [/center]
---
---
Other: Luciana's nickname is Lucy.