Name Frederick Jameson
Date of Birth (& age): June 1 1680. 33
Place of Birth: Edinburgh, Scotland
Gender: Male
Species/Racial Origin: White Scottish Caucasian
Social Class/Community Status: Middle class, though this is by birth. In the public eye this changes widly. Government officials tend to see him as useful though little more than a pirate himself, whilst some merchants who have hired him see him as a all round well to do person, if a little difficult to hire.
Language: English, Spanish
Family/Friends/Pets/Etc: Father; Joshua Jameson (1640-1692) death by French cannon, body and ship lost at sea. Mother; Emily Jameson(1647-1680) died in childbirth.
Physical Appearance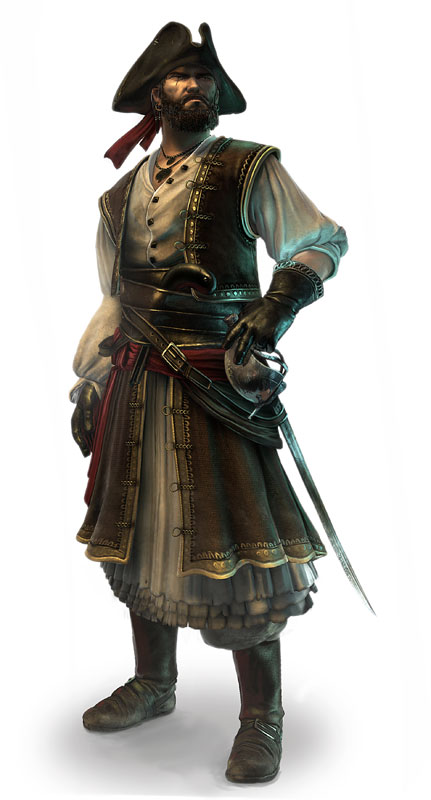 Personality/Attributes
Personality/Attitude: Stern and strict, yet with a mind flexible enough to work in all situations as well as thinking up cunning and unexpected sollutions to problems, though at times greedy and self-centred. He does however pride his ship before himself or others.
Skills/Talents: Experienced sailor, charismatic.
Favourites/Likes: The open sea,
The Marrigold
, wealth.
Most Hated/Dislikes: The French, Being superseded.
Goals/Ambitions: To remove the pirate threat, to form a fleet.
Strengths: Good weather eye, he is also fairly charasmatic, usually using this a his main weapon as he is not a very good swordsman or a very good shot with pistol or musket, he uses this against larger threats that he cannot beat himself or when he wants to sow doubts amongst a pirate force. One notible example of this was during a raid on a Cornish pirate group off of the coast of England, when he managed to track down the captains he told one of them that another captain was a liar and a thief, he knew the captain in question was a heavy gambler and had a large amount of money both gained and lost from this. However the other captain did not know this and after being shown some fake evidence was convinced to fight alongside Frederick when he attacked to fortress base the pirates had set up. After he tracked down the pirate he had framed he told him that his fellow pirate was planning on betraying the rest of the group, this pirate was far more paranoid than his companions and went to the pirate fortress to see for himself. Frederick then sent a fake signul to the turncoat pirate and as the two ships were fighting he snuck his crew into the fortress and sunk both of them mid-battle. The remaining pirates surrendered and were pardoned but left penniless.
Weaknesses: Greed, only an average fighter.
Fears: Snakes, old sea tales such as Davy Jones.
Religion/Beliefs: Christian.
Education/Special Training: Uneducated, trained sailor and officer.
Occupation: Privateer captain.
Place of Work:
The Marrigold
.
Past Occupations: At the age of 12 he joined the royal navy as an able seaman, though most found this odd the captain of
The Princess
found that he was remarkably good at spotting where to sail during battle and how to find the best winds and currants. at age 24 he became the Bosun of
The Princess
, after the last Bosun and a large number of the crew were killed in an engagment with a pair of Spanish schooners, the
The Princess
managed to escape when Frederick told the remaining crew to push the topside cannons overboard, these cannons then fell on one of the schooners sinking it and made
The Princess
light enough to get away, at the age of 30 he won the
Marrigold
in a game of liar from its drunken owner at the time, he outfitted the merchant brig with a larger number of number of cannons and added more room for crewmen before sailing around the south of England, removing the few pirates there before sailing westwards.