---
---
---
---
"If you look into my mind, I WILL kill you"
---
---
---
---
Name:
Kael
Age:
19
Date of Birth:
Unknown
Gender:
Female
Race:
Half-dragon Half-human
Race Traits:
Has the appearance of Human but can change into a smaller dragon if needed (Though she can't at this point in time because she is being punished); Enhanced sight, hearing and smell; As dragons are Magical creatures she can use Magic, however only certain types of magic and it takes her longer to learn; Immunity to old age but tendency to get sick easily; Dragon kin physically age slowly than other races, giving her the appearance of a 19 year old when she is actually a bit older. To avoid confusion she just says she is 19
Height:
5ft 8in
Weight:
135lbs
Body type:
Skinny but fit, not very muscular
---
---
"Never judge someone by what you see, sometimes the strongest people are the weakest looking."
---
---
Human - While in human form her hair is dark purple and long enough to touch her lower back. She usually wears it up in a ponytail. Her eyes change with her mood as she has dragon blood. Her Aura(Magic) is purple.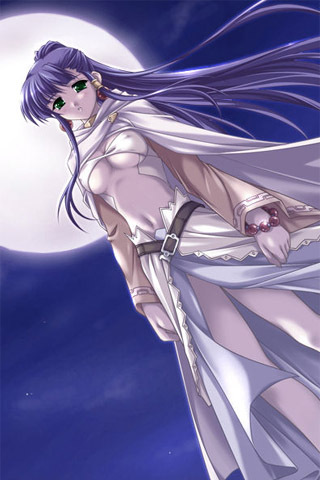 Dragon - When she is in her Dragon form she is half the size and strength of a normal dragon. At this point in her life she will get a little bigger but not by much. Her scales are purple with bits of blue and green, and very hard. No weapon can pierce a Dragons scales. Her belly, however, has very soft and fragile scales lining it. Her wings are thin to touch but very durable and tough.
Kael used to wear a long white cloak and a black outfit with lots of straps and pockets. However, due to a large amount of Dragon blood staining the outfit she had to get rid of it. She lost her cloak in a forest. She has a small bag on her back for the few things she carries with her and a Dagger on her waist which she uses when she can't use Magic.
Her outfit now (without the gloves and with a bit of black, made of silk):
---
---
"Rule one: Never underestimate your enemy. That could get you killed." -Screthin
---
---
Strengths: Stamina is surprisingly large; Magic; Speed, nearly unrivaled.
Weaknesses: Her magic sometimes does not work, for unknown reasons; weak immune system; magic potential is halved due to the curse placed on her; does not trust easily; mental barriers weak - anyone can look into her mind, however, she will know immediately and doesn't take kindly to people who look or connect to her mind without permission
Alignment:
Chaotic Neutral
Class:
Mage
Skills:
Magic to do with the mind/soul, basic dagger,
---
---
Each spell is spoken in Dragon Tongue
---
---
Fright - Sends target into a state of panic, leading them to either flee or to attack wildly and without thinking
Sleep - Sends the target to sleep for a short period of time
Hypnosis - controls the target for a short period of time, whether it's to get them to attack an enemy or to tell information it doesn't matter.
Sooth - Can calm down a being who is enraged or frightened
NightMare - While a target is asleep will force a nightmare on them which will harm them or kill them
Soul absorb - While target is immobilized and/or close to death can take soul to increase power. This spell is dangerous as it has a very high chance to backfire and force out the casters soul instead, effectively killing the person casting the spell.
Mind Rot - A time consuming spell to cast which takes up to a week to be in full effect. This spell makes the target go insane, causing them to do anything really. Most people end up dead.
Fireball - Creates a fireball of varying intensity and size
Lightning Strike - Sends a single lightning bolt towards the target
Ice Prism - A wide reaching area spell that turns targets to ice; ice melts easily and also does not recognize between friendly targets or enemy targets.
Darkness - Covers the area in darkness and only creatures that have enhanced night vision are able to see
Weapons:
~A small Dagger
~A Book of Dragon spells which she studies to increase her knowledge of spells
~A small vial of poison strong enough to kill a fully grown dragon (it is unknown at this point in time as to why she is carrying this around)
Other Equipment:
~A Small bag of coins holding 68 gold, 13 silver, 6 copper
~A few small bottles of health potions.
~A small necklace given to her by her Dragon mentor.
---
---
"The past is exactly that - the past."
---
---
There is a legend of Dragons, stating that they may choose to take human form for a short period of time if their desire is great enough. Kael's father was a dragon who excelled in casting illusions and mind spells, while her mother was a rookie dragon hunter. Her father did not want to kill such a pretty thing and kept her in his lair for a time until one night he desired the human form. He mated with the woman and she killed him while he slept using Dragon toxin she had been keeping hidden. Nine months later she had Kael and ran from the humans to live in hiding. Kael grew fast, quickly becoming stronger than her mother and showing the ability to shift between human and dragon form from an early age.
Whenever Kael entered her dragon form she would be stronger and faster but when she eventually did transform back she would sleep for days at a time, recovering the strength it took to hold the form. Kaels mother was frightened of her child and of the other dragons that would no doubt come to find her. When Kael was 11 and started hunting for larger prey Kaels mother attempted to kill her own daughter. Kael defended herself and ended up killing her instead. Realizing that humans would always kill Dragons and their kin she grew a deep hatred for them.
This started her killing spree. She entered into her Dragon form and began killing off as many humans as she could find. This didn't last very long as where she was killing them was close to a valley of many high dragons. They used their magic together to seal away the young hybrids Dragon form and half her magical power, saying she could only have it back when she learned her Dragon name. Leaving her with this they relocated. Kael made it her goal to find the dragons to convince them to release their seal, and to discover her Dragon name. She does not know how.
Shortly after she was cursed Kael met a large black High Dragon by the name of Screthin. He taught her how to control her rage, how to hide among the humans and how to train to get stronger. He gave her a book full of Dragon spells and studies on different kinds of magics, poisons and cultures. He trained her and cared for her for 6 years before he tested her by having her survive on her own for a year and a half. She passed with flying colours and Screthin determined it was time for her to start on her quest. The day she turned 19 he sent her to a village that was in need of help and there she met Malik. Something about the winged man made her feel like she could trust him and she accepted his proposal to go kill a demon with the group. She also met another half Dragon but has lost contact with her since the demon was slain.
After the demon was killed Kael smelled something familiar and ran to a clearing. There her mentor dropped to the ground, injured and dying, and told her demons had attacked him and were going after the High Dragons. He told her to eat his heart as she would gain all his magic powers and abilities. Crying and cursing the gods, Kael obeyed his last request and became stronger. She then decided that she needed to find out the source of the demons coming back to the world and stop whoever was responsible for it. She went back to the inn and met Valera, Cruth, and Sir Blue.
At first she hated Blue, as she knew his scent to be that from a Dragon Slayers family. But slowly Blue showed her he was different and it got to the point where not only did Kael trust Malik and Blue with her life, but she also felt a very strong desire to protect the both of them.
A necromancer is responsible for raising demons from the grave and for summoning more into the world, for some reason he wishes to use Kael. She suspects it has something to do with the poison she carries, and that he may be plotting to kill the Queen Dragon. She vows to stop him and to reawaken the High Dragons.
Kaels Father:
Kaels Mother:
Kaels Mentor (now deceased)