---
---
If you don't want to hear it, don't ask.
тнємє: All My Friends by Snakehips (ft. Tinashe & Chance The Rapper)

diαlσgυє cσlσя:

#258A5B



тнσυgнт cσlσя:

#44C488



fαcє clαiм: Antonia Thomas
---
---
Basics
иickиαмє(ร):
Addie ~ Common nickname used by those close to her
αgє, biятнdαy αиd zσdiαc:
25 years old // Month and day // Zodiac sign
иαтiσиαliтy αиd єтниiciтy:
50% Jamaican/50% Irish & Mulatto
lαиgυαgєร:
First language: English (Fluent)
gєиdєя:
Cis-Female
รєxυαliтy:
Heteroromantic // Bisexual
яσмαитic iитєяєรт:
TBD
σccυραтiσи:
Elementary School Teacher (grade 5)
яєαѕσи fσя gσιиg σи ςяυιѕє:
On cruise with her parents
---
---

Personality


тяαiтร:


|| Irritable || Stubborn || Outgoing || Caring || Passionate || Affectionate || Strong-willed || Sarcastic || Professional || Anxious || Honest || Deep || Sassy ||



likєร:


♥ Psychology & Real Conversations ♥
♥ Reading & Learning New Things ♥
♥ Nature & Exploring ♥
♥ Romance & Sex ♥
♥ Helping People & Being Influential ♥
♥ Healthy Food & Tea ♥



diรlikєร:


✗ Her Job & Schoolwork ✗
✗ Small Talk & Losing Arguments ✗
✗ Coffee & Soda ✗
✗ Boring People & Small Minded People ✗
✗ Waking Up Early & Staying Up Late ✗
✗ Puking & Nausea ✗



fєαяร:


☠ Atychiphobia - Fear of failure ☠
☠ Monophobia - Fear of loneliness ☠
☠ Emetophobia - Fear of vomiting ☠



รтяєиgтнร:


Good Listener: Although Adelaide's hard headed and stubborn behavior can make it hard to get through to her, she can get through to others very well when she can tell someone needs a shoulder and automatically goes into "professional friend mode".
Deep: Adelaide doesn't concern herself with the little things in life and often thinks bigger than that, making her an interesting person to be around once you get to know her.
Passionate: Adelaide has many dreams and aspirations and once she sets her mind to something, she will fight for it with all she has.



wєαkиєรรєร:


Insomnia: Because of this, Adelaide is often tired and stressed out, making her harder to deal with even on good days and harder to deal with on bad days.
Argumentative: Adelaide has a lot of opinions and beliefs which she truly thinks are right and will passionately argue it for hours on end.
Tough: Adelaide does whatever she can to keep her feelings locked up because she believes that showing sadness for herself is a sign of weakness, which can prove to be unhealthy and really get to her.
Anxiety: Adelaide has an anxiety disorder and has had one for as long as she can remember, which can often interfere with her life and prevent her from doing certain things.


---
---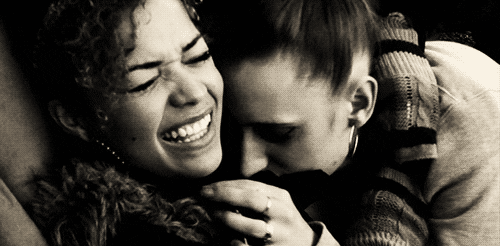 Appearance


нєigнт & wєigнт:


5' 1" & 106lbs.



bσdy тyρє:


Thin, yet not perfectly thin; slightly curvy



єvєяydαy αρρєαяαиcє:


On a normal day, Adelaide dresses in a professional attire, because she is a teacher. She wears things like blouses, button up shirts, tight skirts and dress pants. Her hair is naturally very curly and untamed, so she either clips, gels and ties it back or straightens it. Adelaide wears light makeup everyday and light jewelry, meaning nothing too big or blingy. However, she does know how to be comfortable or dress casually, she prefers not to do it and sticks to professional or formal attire.



รcαяร, biятн мαяkร, тαттσσร, єтc.:


~Matching heart tattoo with her mother on her left wrist
~Scar on her left hip from falling off the bed as a child
~Birthmark on her outer thigh in the shape of a circle


---
---

Background


нiรтσяy:


Before Adelaide was born, both her parents had immigrated to Canada. Her mother from Ireland and her father from Jamaica. Her mom wanted to get away from her heavily religious family so she could start her own life and her father never explained to Adelaide why he left Jamaica. Being immigrants, it took them a while to get on their feet and even longer because Cassandra (Adelaide's mother) had accidentally gotten pregnant, making their financial issues even harder to deal with. So, Adelaide grew up with almost always only one parent at home and when she was ten, they decided that she was old enough to be left alone for longer and so they'd often both be gone. Adelaide understood why her parents were always working and stressing over money, but she did just wish that her parents could be home with her more often.

However, whenever they were home they always spent all the time they could with her and were completely honest with her. She did feel very lonely growing up, but never felt unloved by her parents. Her parents were honest with her about their stress and mental problems that they suffer from and since then, Adelaide decided she wanted to be a psychiatrist. Adelaide also had some mental problems of her own, suffering from anxiety, but that simply gave her more encouragement to chase her dreams of being a psychiatrist. She loved listening to people's lives and problems and helping people made her feel relaxed and happy, something she didn't feel very often.

In high school, Adelaide had a relatively normal time. It wasn't the time of her life but it also wasn't too dreadful, as she did have her group of close friends. However, it was pretty difficult for her to deal with certain social situations in school like presentations for example, because of her anxiety. Both her parents believed in not using medication as something to lean on, but realized that their little girl was struggling so they got her an anxiety prescription, which did help her a lot. She relied on it throughout high school a lot and still takes it to this day, but at a lower dosage. Adelaide kept most of her friends from high school and even went to university with a few of them. She majored in psychology and met her first boyfriend in university. Her years in university were great and she loved every second of it, even the huge amounts of work.

When she graduated, she was very excited to finally start working as a psychiatrist but unfortunately couldn't find a job and wound up working as an elementary school teacher. She tried staying positive in the beginning, but it was very difficult for her to do so as she wasn't comfortable with her job and she wasn't where she wanted to be. Her unhappiness drove her boyfriend away after only a year of teaching. For three years, Adelaide was a teacher and was miserable. She couldn't actually help these kids with their problems, only teach them things that she never liked learning anyways which hurt and haunted her everyday. All of her friends were accomplishing their goals either with marriage, family, careers or travelling and here she was, stuck in a dull job that she hated. Her parents saw that she was very unhappy whenever they saw her, so they decided to surprise her with a cruise.



fαмily:


Cassandra Bailey // Mother // 50 // Unknown
Elliot Bailey // Father // 52 // Unknown
Paternal Grandparents // Alive
Maternal Grandparents // Alive

---
---
ѕнєєт ςяє∂ѕ тσ:
xLevesquex