Name: Tilly Cliff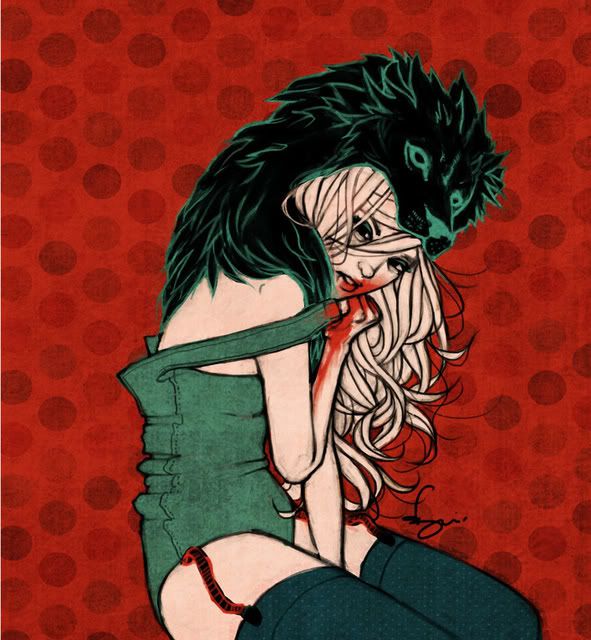 Description:
Tilly usually wears floral/ sweet jumpsuits and stockings/ long socks. You'll always find her either wearing her black fur hood (hat) made from a wolf head or a thin head band of real ivy. Her hair is permanently wild and full. Her voice is husky.
Age:
17
What are you:
Maenad
Personality:
Tilly is a maenad and therefore has to be looked upon with a tolerance. She's a bright creature and a majority of the time she's a playful, friendly girl with an impish smile in store. She's reasonably energetic and enjoys the company of others. However, due to her species things can quickly get out of hand when under the influence of alcohol- even with a dosage as slight as the amount you'd put in the cap of your mouthwash can send her bawling over the edge with wild behaviour, both sexual and savage! Therefore (without realising) Tilly befriend's people larger than her making them more capable of restraining her if she ever gets out of hand. It's also why she must chose her friends wisely, some may take advantage of her while others may not understand that its her nature when intoxicated.
As pleasant as she is sober and not so pleasant when drunk Tilly does have a dark streak that is symbolised by her love for snakes and reptiles as well as the fur hood she wears. Those this streak exists within her (openly displayed when drunk) she's not a dark person overall. (will add more)
Any relationships:
TBA
What would your character do on discovering the true identities of the Lost boys:
Tilly would be intrigued about them but would openly welcome them into her social group...however when drunk..She'd see them as an easy target for sexual harrassment and..tearing apart for dinner?