A little shop on the outskirts of town. Well, maybe not a shop more of which a café, would be better term. It's a humble little place, friendly vibe, nice atmosphere, and two beautiful waitresses. Not to mention the smooth talking man behind the counter always helping those who ask for it.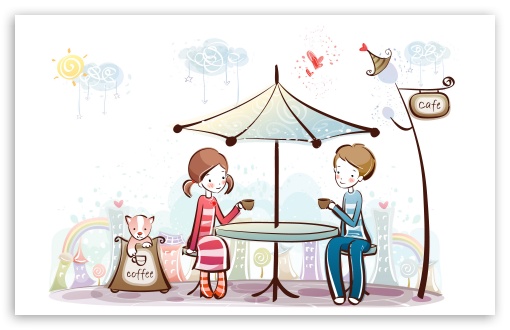 It opened just a few days ago and appeared out of nowhere. It's strange really but no knew has questioned it really. One day you decide to go after school. You walk to the door a sign above it saying 'Slice o' Heaven ' then you walk inside. It looks like a normal café just a bit more colorful and happy. You see three sections. Singles, Couples, and Families. You take a seat in the singles which is simply a stool infront of the counter. A waitress appears out of nowhere "May I take your order? " she says cheerily. You tell her then she disappears behind the counter and through a door. A few seconds later a man in a black shirt walks back with the cake you ordered. You start up a conversation with the guy and laugh a bit, enjoying his company. You finish the cake then reach for your wallet and realized you don't have it. You try to explain then the man waves his hand "No worries" he hands you a piece of paper. "Write down the name of your secret love then come back tomorrow." you do so then walk off happy but nervous of why he asked for that. You go back out and reach for your phone when you feel your wallet. You are stunned but still slightly dumbfounded as to why you couldn't find it. You don't care for now you know you will be coming back here tomorrow.
The man in white was not what it seemed to the very least. He was not truly of this Earth rather a god, more of which THE god of love Cupid. He and his staff are angels all wanting the same thing. To make true love happen to the oddest of matches. Will they succeed or fail miserably?
Angels




Cupid/Owner

-Taken



Senor Angel/Head Waitress

-open



Average Angel/Baker

-Taken



Rookie Angel/Waitress

-Taken



Styx/Anti Cupid

-Taken


Singles



The Nerd

-Taken



The Track Star

-open



The Rich Kid

-Taken



The Misunderstood

-Taken



The Tomboy

-Taken



The foreigner

-Taken



The Prep

-open



The troubled

-taken



The Loner

-taken



The Dancer



Couples of Fake Love



Jock

/

Cheerleader

-open-open



The Player

/

The Shy

-open-open



Naive Pretty Boy

/

The Pop Star

-taken-open


(Will add more if popular. If you have any idea for any characters you think would be cool to have Pm me and we'll see if it's worthy of adding into)
Angel Skelly
Code: Select all


Name-

Age Appearance- (15-21)

Role-

Appearance-(image please anime or real )

Second Animal- (not all angels are birds put in your own animal and one angel per type and you must be able to retract and extract your animal parts ex. Wings retracting and extracting from your body)

Powers- (three and nothing too GMing)

Personality-

Bio-

Favorite
[i]Cake[/i]~
[i]Drink[/i]~

Crush-(anyone can have a crush on anyone)


Human Skelly
Code: Select all


Name-

Age- (15-21)

Role-

Appearance-(image please anime or real )

Personality-

Bio-

Favorite
[i]Cake[/i]~
[i]Drink[/i]~

Crush-(anyone can have a crush on anyone)


Taking place in...
Arcs are bundles of posts that you can organize on your own. They're useful for telling a story that might span long periods of time or space.
There are no arcs in this roleplay.
There are no quests in this roleplay.
Here's the current leaderboard.
There are no groups in this roleplay!
Welcome home, Promethean. Here, you can manage your universe.
Arcs are bundles of posts from any location, allowing you to easily capture sub-plots which might be spread out across multiple locations.
You can create Quests with various rewards, encouraging your players to engage with specific plot lines.
Settings are the backdrop for the characters in your universe, giving meaning and context to their existence. By creating a number of well-written locations, you can organize your universe into areas and regions.
Navigation
While not required, locations can be organized onto a map. More information soon!
There are no groups in this roleplay!
By creating Collectibles, you can reward your players with unique items that accentuate their character sheets.
Once an Item has been created, it can be spawned in the IC using /spawn Item Name (case-sensitive, as usual) — this can be followed with /take Item Name to retrieve the item into the current character's inventory.
Give your Universe life by adding a Mob, which are auto-replenishing NPCs your players can interact with. Useful for some quick hack-and-slash fun!
Mobs can be automated spawns, like rats and bats, or full-on NPCs complete with conversation menus. Use them to enhance your player experience!
Current Mobs
No mobs have been created yet.
Locations where Mobs and Items might appear.
You can schedule events for your players to create notifications and schedule times for everyone to plan around.
Add and remove other people from your Universe.
Orphanage
By marking a character as abandoned, you can offer them to your players as pre-made character sheets.
How can I find love if I am already promised to someone I don't know?
"Trust is the foundation of Love. Without Trust, there is no Love. So why is it I want to love and be loved without being able to trust someone?"
I love to be loved!
The Forge
Use your INK to craft new artifacts in Love Cafe. Once created, Items cannot be changed, but they can be bought and sold in the marketplace.
Notable Items
No items have been created yet!
The Market
Buy, sell, and even craft your own items in this universe.
Market Data

Market conditions are unknown. Use caution when trading.

Quick Buy (Items Most Recently Listed for Sale)
None
Discussions
Most recent OOC posts in Love Cafe