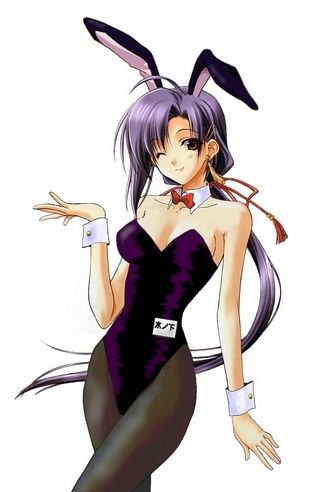 Name:
Corinne Belpin
Age Appearance:
 20
Role:
 Senior Angel/Head Waitress
Second Animal:
 Black Dwarf Rabbit
Powers:
1. Able to shift from rabbit to human form.  She is also able to retain some parts such as bunny ears and tail when in human form if so wished.
2. Sedation: When customers become too rowdy, she can sedate them.  However she only uses it to make them drowsy and less feisty.
3. Telepathy: Able to communicate with others within a short distance. Uses it inside the café when there isn't enough time to run back and forth. Unfortunately, it's a one way telephone line.  The receiver cannot reply.
Appearance:
The senior angel is slim and of medium height.  She reaches about 5'5 and tends to wear heels to increase her apparent height.  Corinne has unusual purple colored hair that she thinks is a physical quality of herself she really likes.  Her hair is long and straight, and is quite easy to take care of.  She has a light complexion and on her face she has a pair of violet eyes.  Many believe that she wears purple circle lenses.   On each of her ears she has a single piercing that is occupied by a silver heart earring. Normally she is seen wearing her waitress uniform inside the café, but she does go out often in casual clothing. 
Personality:
Corinne is an outgoing and friendly angel.  She likes to strike up conversations, but tries to avoid doing so in case customers aren't in the mood to talk.  This particular angel likes to sleep the day away, but at the same time she hates to waste time.  So, in order to enjoy some down time, she takes breaks from the café to take a walk outside or sit under the shade of a tree.  After all, rest is not idleness. She likes simplicity.  Although she works in a Love Café, she wishes that love wasn't so complicated sometimes.  
Bio:
The café in her opinion is an interesting place.  She and Alex get along fine, and she has always seen him as her 'boss'. Because she respects and looks up to him, she only called him 'Boss' in the beginning and not by his name; now it has stuck.  Corinne had a small crush on the café's baker when she first met him, but now she convinces herself it was just a crush.  Furthermore, she focuses on her job as a waitress and takes her occupation seriously.  She actually enjoys her job because she gets to meet so many different kinds of people; humans specifically.  The human race was complicated, exactly what she didn't like, and the perfect environment for her to get used to.  While they were telling her the complications of life and the complexity of it, she tried to show them the simplicity of life and how sometimes, less is really more. 
Favorite
Cake
: Ice-cream Cake
Drink
: Original Milk Tea
Crush:
 TBA ♥