Iris Annabel Thaut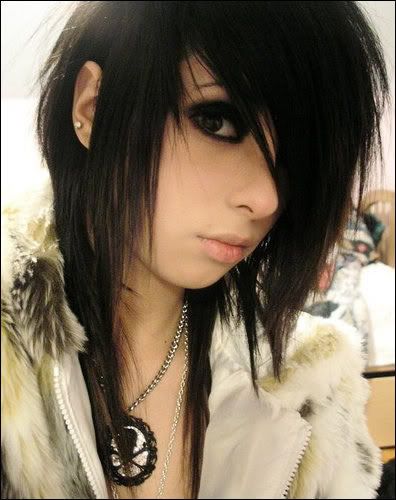 Theme Song:
My immoral by Evenascene
Role:
Emo Teen 3
Gender:
Female
Nickname(s):
Iry
Date of Birth:
2/15/1996
Age:
16
Appearance:
Before Iris's tragic dumping of green slime and her public breakup. She had beautiful flawless skin, no cuts or anything on it at all. She also had light brown hair with her stunning blue eyes. She never looked anything but cute and was a fashionista constantly. She never really knew anything but that style until she was dumped. She never felt tht ugly ever in her life before. After the accident, Iris was completely changed. Her long, light brown hair turned black and short to her shoulder. Her wrists covered in slashes up to her shoulder, her ankles deeply cut with a jagged blade. It was a hard sight for those to sees, and it hurt them worse when she lied about the cuts. She only told them that she was scratched by her cats and a rabid dog, nothing more, nothing less.
Preferred Clothing:
Iris wears simple black outfits with her tight jeans, rarely wearing skirts or anything cheerful as she simply isn't her cute self anymore. She wears a necklace with a black skull and cross bones on it. She tends to wear anything that she thinks will fit her depressed mood each day.
Height:
5'5
Weight:
110 Lbs
Hair Color:
Black
Eye Color:
Blue
Personality:
Iris was once a really caring girl, never wanting anyone to hurt themselves or die. She was always one who would annoy you to the point where you atually would miss her annoying her if she stopped. Never, did any of her siblings think their little Iris would suddenly take a horrid turn to depression. She changed the day her heart was broken, her heart becoming ice with only warmth for her best friend. She couldn't believe that she never took the gentle warnings. To Iris, she was a innocent fool for believing in her fairytale love life.
Nothing would ever happen like that, not for Iris anyway. Iris's cruel and rude way she talked to people made the many people that used to be her friends leave her, yet Iris didn't care at all. She only seemed to show her hurt, still warm heart to Izzie, and only her. Cutting, though, seemed to help Iris to smile around her friend, that was, until she was caught.
Likes:
Iris loves more then anything is the dark and how it seems to hide her from the outside world, never to really be seen. She also seems fairly fond of the flower she was named after, the Iris. She can't help but admire the moon as well, due to it's bright glow and how it seems to light up the night sky. It's something besides dreaming that Iris can look forward too. Besides all that, Iris's favorite thing she loves is nature.
Dislikes:
Oh does Iris hate A LOT of things. Like for one matter, her ex and not football games. A game that used to be her favorite sport. Now, she can only be reminded of the tragic day that pretty much almost made her want to end her life. She also hates fish of all kind, but mainly the kind when you try to cook them. She also hates how she was caught cutting by her little sister and how her sister went running to Izze right away.
Hobbies:
Iris only has about three hobbies that she is currently into. One, being writing due to how Iris can create her own little world and how she can control it. Her second hobbie would be playing the guitar when she's all alone and bored out of her mind. Her third is drawing, though she seems fairly good on it, she tends to rip up her drawings if not correct.
Phobia(s):
Losing her best friend
Falling in love again
Football games
Her ex
Personal History:
Iris always had a wonderful life, being the girl almost everyone liked. Even as a tiny baby she still had that effect on people. It wasn't until she started highschool though, when she made a true and honest friend. Not someone just using her to get popular. It was like a fairy tale come true that made Iris believe that that anything was possible.
Of course, then Iris began going out with the football captain. He seemed perfect in every way. Never did she think that he'd end up crushing her right there and then. She couldn't believe that she was having the football group dump green slime right on her and dump her and 2 boys right on the speaker. She as humiliated, making almost everyone but her best friend look down in her and hurt her in so many ways.
But, she felt terrible for not believing and listening to Izzie. Her best friend never wanted this to happen, and she tried to warn her. Iris just never listened to anyone when they warned her about her ex. She knew she was wrong, but it wasn't him that sent her to cutting herself. It was the death of her little brother the next day that made Iris cut herself.
Her little brother was only 5, he still had a long way to go before he died. Iris couldn't bare anymore, therefore cut herself all throughout her freshman year. When she went back to school for the first day was when she was caught by her little sister. And of course, Iris blames the day she was dumped and originally wanted to die.
Other:
Iris had two siblings, a little brother and a little sister. She's also bi due to her knowing someone some gender will actually love her one day.