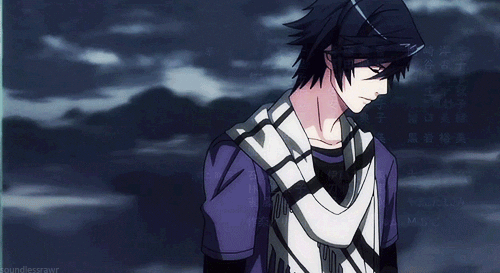 ---
---
Name: Kiro Hiroshima

Age: 21

Grade: Undergraduate Senior

Gender: Male

Role: Male #1

Oddities: If he could, he would survive of junk food, soda and candy. He also is fantastic with puzzles.

Sexuality: Bisexual

Romantic Interest: Female #1 But that could change ...

Nationality: Japanese

Job: Hiroshima Arts Inc., CEO

Ethnicity: Japanese


---
---
---
---

Eye Color: Blue

Hair Color/Length: Black Blue, Neck Length

Height: 6'1"

Weight: 150 lbs.

Scars: A large scar runs across his left bicep from falling out of a tree when he was younger. He is scared of most animals and was being chased by a rabbit at the time, so he climbed a tree and lost his footing.

Tattoos: Kiro has angel wings on his back, covering pretty much the entire thing.

Birthmarks: None

Piercings: None


---
---
---
---

Danger Level: {How dangerous they are to the other characters?}

Dominant Emotion: Optimism

Personality: In one word, Kiro is a prince. In more words, Kiro is kind, compassionate, flirty, suggestive, charming and bold. Everything a 'perfect' man should be. But he has his faults, just as much as the next guy. One of the biggest ones is his ability to let things fly right over his head. Someone could be obviously mad at him, but unless they state the fact, he isn't going to realize it. Kiro is more or less a ... what's the word ... dingbat. Kiro is also an unconscious flirt, making girls swoon and sigh left and right. He doesn't do it on purpose, it just happens. Deep down, Kiro is a very emotional man who gets upset by simple things. If he watches a sad movie with a tragic death scene, it takes a dam of will power and might to not cry.

But when it is needed, Kiro is strong and tough. He knows when to be serious and when to mess around. He is mostly compassionate for his younger half-sister, whom he knows practically everything about. He would go to the ends of the earth to make sure she is happy and well of.

Likes: Female #1 | Soda/Candy/Junk Foods | Singing | Helping Others | Briefcases | Really Thinking | Criminology

Dislikes: Animals | Bugs | Uptight People | Arrogance | Heights

Talents: Singing | Writing | Climbing | Dancing | Being a Prince | Puzzles

Flaws: Can be to kind | Deathly afraid of animals | Somewhat of a clutz

Weaknesses: Crying Girls | Children | Candy | Tough Guys

Hobbies: Singing | Dancing | Being 'A Ninja' | Volunteering | Writing | Puzzles


---
---
---
---

Typical Attire: If he is not in a suit, Kiro is wearing anything from cargo pants to cardigans. He likes to think he is very fashionable and anyone has yet to disagree.

Keepsakes: Kiro has a ring from his mother that he never takes off.

History: As long as Kiro could remember, he had grown up with a wonderful family that he couldn't ask more of. His father and mother adored him and his younger sister was quite the joy. He started to learn about the business he would later inherit and how to become the perfect, proper young man. Even after his mother died, Kiro took it on to make everyone smile despite his own grieving. Ava was the only one to ever see him cry. Kiro was actually completely oblivious to the fact that his sister was only his half-sister until he was about 13 years-old, when he accidentally overheard his parents talking about it. It wasn't like it was a secret, he just never put the pieces together. It all made sense now, the way his father had always treated her, her different look and name. People had asked about his adopted sister before, but he looked at them dumbfound and said, "You mean my real sister?" Yes, at heart, Kiro had always been a blonde.

Years went by and Kiro could feel his emotions and bond with Ava growing stronger, he would question what was going to happen at least three times a day. And not to long after Kiro turned 18, their father passed, leaving them with his company and money. Everyone had thought that since Kiro was only just 18, it would be better to allow one of the other men from the company take over. It would still be their company after all. But Kiro refused, convinced it was his duty and destiny to carry on from where his father left off. Not to long after, Kiro became a student at a local university, going for Criminology. Ever since he was a kid he had been interested in cops and what they did. He even dreamed of working for INTERPOL one day. But it was obvious he wouldn't be able too, so he decided to take the courses for fun. It was around the time Kiro started college that it was obvious that his sister had been feeling the same way he had. And he had no regrets of anything that ever happened between them. All he hoped was that he was doing his job and making her happy.

Other: Kiro isn't a fan of weapons or violence. | Kiro has a best friend that he has known since he was young named Ichirou. They do practically everything together.
---
---