Name:
Bao Yu Chong
________
Age:
15
______
Gender:
Female
______
Class (1-4 with A-F, example 3F):
2C
_________
Appearance: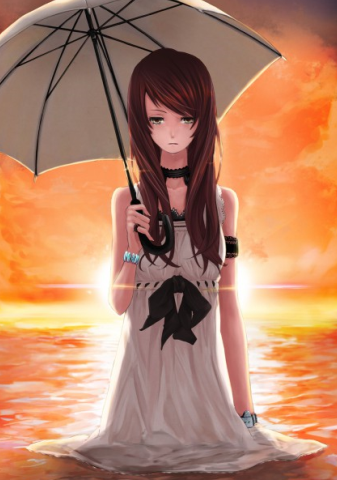 Bao Yu is quite a girl, with sugar brown eyes her radiant reddish brown hair and her prefect angular head. She had a slim figure beautiful and flowling, she was never too thin or too fat just the prefect weight and build. She is incredibly tall coming from a family of such height and intense faces. She's often confused between her and her sister because they look so much alike. Her skin is pale but blushed with a hint of pink making her look exotic, she has freckles splashed across her face and on her little cute nose. Her eyebrows are gentle angled giving the thinking and fun face at the same time.
Free time clothing:
Her attire for free time is usually flirty and fun and childish showing off her personality. She usually wears kiddie accessories mixed with trendy styles.
__________
Likes:
+Butterflies
+Movies
+Water
+Summer
+Reading
+Dancing
+Table Tennis
+Archery
_________
Dislikes:
- Fire
-Knives
-Homework
-Tests
-Soda
-Rice
-Bugs
-Smoke
_________
School clubs (maid cafe, host club, archery, otaku club, whatever, could be anything):
Dance club. She very active and enjoys many sports.
_________
Personality:
Bao Yu is a bipolar girl (or at least it seems). Her mood easily changes, she's fun and childish though.. she loves playing and rarely ever taken serious. She appear younger than she looks and you know what looks are deceiving. Bao Yu is cute and flirty and that's what people like about her, and most times she doesn't have a filter from her brain to her mouth and whatever she's thinking just pops right out. Bao Yu despite everything is quite smart having straight A's in all her classes coming from a very educated family.
Background:
She has both parents still alive, her mother and father are happily married and raising 2 children. Her father is Jefferson Chong and her mother is Xai-Xai Chong. She is the youngest of two children, she has an older sister named Hailey who looks like her the only difference is she has blue eyes. Her father is a well-know lawyer and her mother is a doctor. Her sister Hailey is now in college hoping to become a Criminal Investigator.
(This is an old picture of them when they were kids)
Crush (eventually):
She's not really sure she likes to jump around with guys most often..she actually kind of likes Yuri Matsumoto.