Jasper Crimer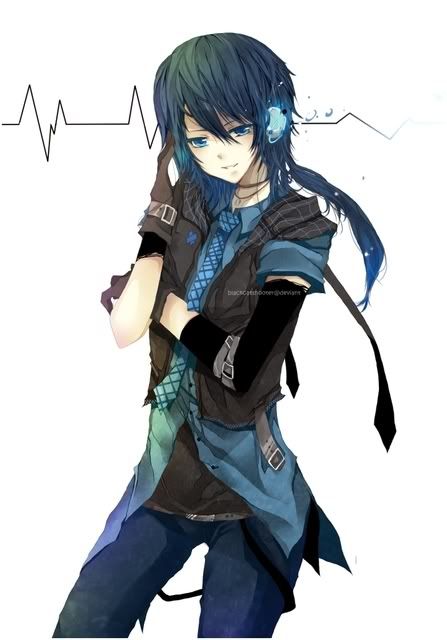 Character
: Crimer, brother 3
Age:
17
Appearance:
Jasper's once blond hair encountered the dark blue dye one fateful day. That fateful day? Jasper's Sweet Sixteen. And yes, he dyed the entire thing. Dark blue. The ends float loosely around his shoulders and just under his earlobe, tickling his chin while the long bit in the back is usually kept in its ponytail shape by a silver and jade band. He has pale skin and is slender, but strong, a lean build lending shape and tone to his entire body. Not much of a bulky fighter, Jasper is more of a musician and this is shown even in his way of acting and his mannerisms.
He has slender fingers and a strong grip from playing the piano and the violin - which is odd, considering he has the appearance of a 'bad-boy/punk/goth' teenager. Not at all looking like he's the third son to a family with millions of dollars. Dark blue eyes, accentuated by colored contacts, finish the ensemble, gazing out rather flirtatiously from under his thin wisps of side bangs. Jasper is tall, standing at exactly 6' and weighing in at a grand total of 143 pounds.
Approximately.
Personality:
Stubborn and headstrong, Jasper is not the type to give up. He's not the type to relinquish what hold he has, what power he has just because he is told that he will never win. Winning has never been Jasper's goal. His goal has always been to prove himself worthy. Despite living in the shadow of both his brothers - them and their IQ's of what, 187? - Jasper knows how to make his own mark.
Sure, he would like to go into the medical business, because doctors made a hell lot of money, but he knew he would never get to medical school the moment he started getting a B+ in AP Biology and nearly fell asleep in Latin. He began to go down a different path from his brothers, taking to the performing arts instead.
He is never one to remain down on the ground, and if someone tries to kick him while he's there, well, he'd just grab their ankle and bring them down with him. "An eye for an eye," is a common phrase that slips from his lips or echoed in his eyes. He has never had a girlfriend, nor has he ever seen the need. All the girls that he begins to show interest in always end up dating one of his older brothers.
Secretly, he still clings to the hope that one day, maybe, one day he'd find the girl who has eyes for him. Not for the successes that have made his family famous.
Romantic Interest:
Open
Hobbies:
- Learning exotic instruments (He already knows how to play the piano, the violin, the flute, the cello, the guitar and the drums. He's still learning more......)
- Collecting art
- Playing on his computer
- Making mix CD's
Likes:
- Classical things (i.e., Shakespeare, Mozart)
- Breaking stereotypes
- Annoying his brothers
- Exotic foods
Dislikes:
- Rap
- Olives
- People who think they're "all that" (read: brothers)
- Being poked in the side
Fears:
He has numerous fears. His most prominent one is that he will leave the world without ever making his own mark on it. Or that he'd die alone...with nothing but a music box and a cardboard hat. Maybe even without the cardboard hat. It's odd. He's always pictured himself dying with a music box winding down the last of its tune....
Desires:
To become a world class performer and for once, to outshine his brothers
Theme Song:
"Billionaire"
- Travic McCoy feat. Bruno Mars