---
---
"I had a dream that my life would be so much different from this hell I'm living."
Akira's voice
1
,
2
Theme: Catch my breath - Kelly Clarkson
|Name|
Akira Miyuu
|Age|
18
|Race|
1/2 British and 1/2
Japanese
|Grade|
Senior
|Prefers|
Boys
|Height|
5'0''
---
---
STATS:
Intellect: 4
Physical/Sporting Ability: 18
Charm: 8
Popularity: 15
Your most important stat:
Charm
Which stat appeals to you most:
Charm
---
---
|Secrets|
She has a severe allergy to..
Chocolate. She can't even eat a tiny piece. It becomes hard for Akira to breathe if she were to consume it. She's had the allergy since as long as she can remember and eating just one Hershey kiss put her in the hospital once when she was little.
Akira gets sick fairly easy.
Despite her low immune system, she never misses a day of school. Often when she's feeling really bad, Akira opts to skip class to rest on the roof of the school when she is feeling ill rather than going to the nurse and admitting she's not feeling well.
She's never had a boyfriend.
This is mostly because Akira never knows how to react around a guy once she's grown to like him as something more. That doesn't mean she's never kissed boys, she's just never had an actual relationship before or been on a real date.
---
---
She has a step-brother.
Akira never talks about her older brother. Their relationship isn't exactly typical, actually it's quite strained. Only those who meet him by chance ever discover their relationship as siblings. They are not blood related, therefore Akira totally denies his existence as her sibling, despite his dad having married her mom before her birth. He is in college so he is rarely at home with Akira or her Grandmother, and can't exactly help support them. However when he is, the house is..quiet, painfully quiet. He cares a lot for Akira, and is quite protective when it comes to boys, but she hardly ever invites anyone over in fear of him humiliating her
---
Her Grandmother wants her marry for money
The relationship is a close, yet distant one. She loves her grandmother and tries to please her, but it never seems good enough, her grandmother constantly insults her. Her grandmother has very little concern for Akira's well being, she just wants someone to take care of her, so she encourages her granddaughter to find a boyfriend with money, causing many arguments between her and her simple grandchild. Akira disagrees with this. Actually, she disagrees with many of her grandmother's beliefs, customs, and supposed health issues, but she never expresses these thoughts out loud for her own benefit.
---
Akira will not talk about her mom Elizabeth or her Stepfather Irashida, no matter what. They died in an misfortunate accident while living in Britain, her dad having left Japan to be with her mother. Akira grew up with them in London, spending her school years there up until the summer before she started high school at Airdalen. Their car went into direct collision with a drunk driver, and only Akira survived. Without a single scratch from the event, she couldn't help but feel guilty. After her parents perished, her anger issues began. Akira quickly became short tempered and socially awkward, distancing herself from all of her prior friends. She would get in fights frequently, with boys and girls alike. She didn't really care, she'd fight anyone who brought up her parents. Though, there was one incident in particular that stands out among the rest.
Not long after she began willingly seeing the school counselor to get a grip on her anger, one boy who used to pick on her decided he was unwilling to let go of their mutual history of violence. He bullied her even before her parents died and refused to let her wash her hands with her aggression. He called her mother a whore one day to piss her off and get her going again, which worked causing Akira to slap him like anyone would if someone called their recently deceased, or even thriving mother such a derogatory term. Well, that was all the excuse he needed. After Akira slapped him and went to walk away, realizing her actions could cause another possible fight, the boy hit her. Akira just endured it, trying to shield herself from him, but eventually she shoved him away from her instinctively after he kept repetitively hitting her. She was getting sore and she couldn't take it anymore. He wasn't showing any signs of stopping, and at the rate he was going he would have beat her to death. She didn't do it intentionally, nor could she even see the direction she'd shoved him through her tears. However, Akira's desperate shove made him lose his footing. The boy fell backwards and hit his head on a jagged point of a nearby fountain in the center of their neighborhood park. The blood began pouring from his wound almost instantly, and Akira stared a few moments in horror. She never meant to hurt him, let alone something of that degree. In fear for the boy's life Akira ran off to get help, but when she returned, she witnessed light in his eyes fade away as they waited for the ambulance.
She had waited with his dead body at least twenty minutes, fifteen with his suffering alive form. He died because the ambulance was too slow, because she got scared and pushed him away from her. No matter what anyone attempted to comfort her with, she'd killed someone. No matter how many times someone used the words self-defense, it didn't bring him back. Sure she just protected herself, fearful that he was going to kill her, but it still felt like murder. He was a bully, and he could have killed her instead, but he didn't deserve to die. She still felt a sense of guilt, so she under no circumstances speaks of her parents, it brings back too many painful memories of them and her catastrophe with that boy.
Now she is awkward, a little abrasive and struggles to make connections with other people. Akira tries too hard at times, and despite having a kind heart, her intentions often are in vain. She has made a lot of enemies due to her issues with anger, and she feels isolated from her classmates and underclassmen. Despite having a very good best friend, her crush on him has caused a bit of emotional distance as of late. Akira does herself very few favors as far as her temper is involved, but she hopes to get herself together and have a senior year that when she's old and gray she can look back on it and smile. She knows she has a long way to go, especially after Devone revealed the case of involuntary manslaughter she'd been charged with in Europe.
---
---
---
---
---
Silas Fuerst: (Best friend/Crush)
"Pervert! My best friend, he knows he's hot and it's annoying sometimes, but he's untradable.."
"My best friend, primary source of my drama, current crush...*sigh* High school is rough.."
".. I guess this could be fun. I guess I'm a masochist."
http://www.youtube.com/watch?v=870PFsoUqWM
http://www.youtube.com/watch?v=hynYXPIUQEs
---
Kei Takeda: (Enemy)
He's really nice but he seems really quiet, he's fun to be around when I've heard him talk though!
"I can't stand him! I thought he was really nice, but he's a really cruel! He can go have a breath-holding contest with the fish for all I care."
"I don't want to talk to him. He can go to hell.."
http://www.youtube.com/watch?v=JtxmraqZPH4
http://www.youtube.com/watch?v=0BsLd4Y060Q
---
Devone Kim: (Enemy)
"She's a manipulative bitch... who totally enjoys my suffering."
"She's not controling me anymore! I HATE HER!! She's a little bloody cruel, unemotional, conniving little- ah, overlook me... >.> "
"Your favorite toy is out on vacation. Sorry Miss Kim."
http://www.youtube.com/watch?v=zpqjC9Rz8Co
http://www.youtube.com/watch?v=vEZDP_NVklc
---
Aeon Shirokami: (Acquainted)
He's really attractive, like a model or something... though he's kind of intimidatingly serious. I don't see how a guy like him and a girl like Cassiopeia are supposed to get married..
---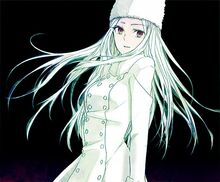 Cassiopeia Elegy Argyris: (Acquainted)
She's really nice and outgoing. I like talking to her, but she makes me feel a bit awkward. She's so young to be engaged... but I guess that's hierarchy for you.
---
Natsu Tanaka: (Unacquainted)
---
Raiden Kon: (Unacquainted)
---
Ryou Giou: (Unacquainted)
---
---
---
Momo Yakamoto:
(It's Complicated)
"That pink cotton candy poodle..."
"I should probably apologize. She seems like a nice girl when she's on your team. "
"No matter what I do or say It doesn't get through to her."
http://www.youtube.com/watch?v=kdvbD3vyMdA
http://www.youtube.com/watch?v=T4kpYZf9QwQ
---
Bishop Trander: (Acquaintance)
"He's a pervert! He totally took advantage of me!"
"I should probably apologize, the whole incident with him actually was kind of my fault, less than Maya, but more than Bishop at least..I didn't treat him very fairly. He's probably a nice guy."
"I guess we're cool now. I apologized and he did too."
http://www.youtube.com/watch?v=_3F3ulhG_Yk
http://www.youtube.com/watch?v=VTaImfzO6jo
---
Sera Katoshida: (Rival)
"She's okay, a bit too easygoing in bad situations, but a nice person.."
"You know what? Fuck that abnormally fried giant. She'll be a leather bag in the long run."
"Screw it, I'm not wasting energy hating her. Let's just consider this a healthy competition."
http://www.youtube.com/watch?v=fTqQcNPE41Q
http://www.youtube.com/watch?v=SqPAdIHQWcA
---
Kaoru Inoue: Acquaintance
He's goofy and doesn't seem to take anything seriously. That or he doesn't like to show he does.
http://www.youtube.com/watch?v=DdzS1llp4xI
---
Yumi Lee: Acquaintance
"She seems like a sweet girl.. I'd like to try into a friendship. God knows I need them.."
---
Keiko Misao: (Acquainted)
She's a little weird... and her speech can be odd, but she seems to be really nice.
---
Daniel Trist: (Unacquainted)
---
Johnathan Fenix: Acquaintance
So far I think he thinks way too much. He made a major misunderstanding about me. Kaoru mentioned orgies! Not me!
---
Arietta Hakushiro: (Unacquainted)
---
Mai Kon: (Unacquainted)