• Name: Sera Katoshida
• Grade: Junior
• Gender: Female
• Nationality: Japanese and English
• Appearance: Sera has an athletic build; long legs and standing at 5'10" she is much taller than most females, at least back in England.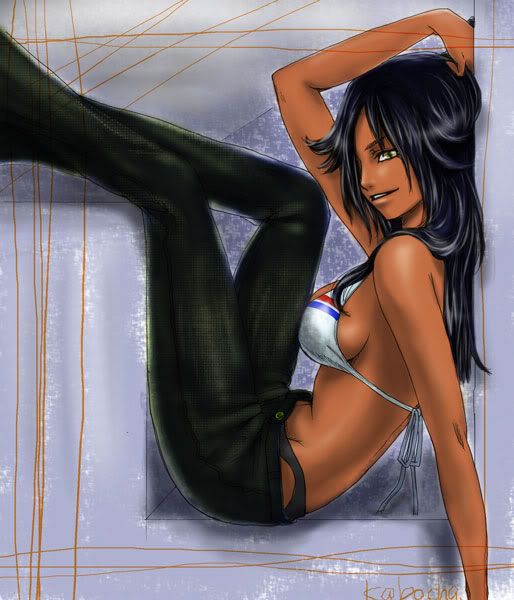 • STATS:
-Intellect: 13
-Physical/Sporting Ability: 13
-Charm: 11
-Popularity: 29
• Your most important stat: Intellect
• Which stat appeals to you most: Charm
• Secrets: (Elaborated and then added a few minor secrets)
-Sera comes from an extremely wealthy family, her parents having quite the influence back in England. She doesn't like people to know and rarely speaks about it to anyone, even those close to her. She has certain obligations because of it and often feels trapped on a certain path.
-Even though her sister is the eldest, and would normally be the heir to their family business, she declined, dropping the responsibility down to Sera even though she never wanted any of it.
-Has a serious dislike for bitter things.
-Adores anything cute, especially children and small animals.
• Family members and your relationship with them/Who you live with:
Sera currently lives alone, sent off on her own to attend Airdalen High and gain the skills she needs to be the Katoshida Groups successor.
Saigura Katoshida:
Sera's father and the one who believed it was a good idea to send Sera over to Japan and to Airdalen High. While he loves his family he often makes major decisions without consulting them, thinking he knows what is best. He is the head of the Katoshida Group and a very serious individual.
Camilla Katoshida:
Sera's mother and an extremely talented woman. She often finds herself buried in work and forgetting about everything else, including family matters. While she does love her children she has always been a career woman and shows no real sign of change. Sera takes after her in a lot of ways though, her mother being quite wild when she was young as well.
Azura & Haruka Katoshida:
Sera's grandparents from her father's side. They are both retired and like to spend time doting on their grandchildren, especially Sera now that she is in Japan with them. They visit whenever they get a chance, though they are steadfast on not disturbing her during the busy school week and not getting in the way of their granddaughter's new life.
Isabelle Katoshida:
Sera's older sister and best friend. The separation has been hard on Sera and while she knows it isn't possible to be as close or spend as much time together with the vast distance between them, it is hard for her to accept completely.
Time for school!
Relationship Statuses:
Momo Yakamoto:
Friend
"She is cute but I am not really sure what kind of person she is yet."
-
"First real female friend I think I have had. She is awesome in all aspects though and if possible I don't want to screw it up. Hope she feels the same."
-
"Absolutely adorable."
Bishop Trander:
Acquaintance
"Cute but he seems just so innocent and well... I'm not."
-
"Seems to be not only cute but nice, although shy. Could be good friends in the future, we'll see."
-
"Still haven't spent that much time getting to know him, it will happen though."
Silas Fuerst:
Crush
"I think I really like him... Why did he have to go and be all brave and sexy?"
-
"I can't help but think my life is going to get a lot more difficult with him in it. Even still, can't help but flirt... I want him."
-
"I want to see more of his wild side. It seems like I have competitors though."
Akira Miyuu:
Rival
"She really dislikes me and it pisses me off, she doesn't have the right to judge me. Hard to avoid her since she seems attached to Silas. I won't fight though."
-
"I think she is actively trying to make me angry. I am doing my best to ignore it but I think I will have to confront her eventually. Some people..."
-
"Looks like she likes Silas, that or I am imagining things. Wonder how she liked our kiss, ha..."
Kei Takeda:
Acquaintance
"Nice body but a bit intimidating, I think he is probably just quiet and a bit shy, can never tell."
-
"Seems to stick up for his friends even if his crush dislikes him, I admire that. Not sure but maybe Momo has a crush on him, hell not that I blame her."
-
"He is more laid back than I figured, perhaps he is finally warming up to all of us. Hope so, a talkative and relaxed Kei is something I want to see."
Varthur Laurence:
Acquaintance
"He is cute but I don't like how he handles himself. Maybe he isn't a bad guy but stumbling over yourself is only cute on occasion."
-
"Yeah... Not a big fan of the drunk and disorderly bit, at least not the way he pulled it off."
Devone Kim:
Acquaintance
"She is a very sexy woman, kind of get the feeling she doesn't like anyone."
-
"Manipulative and I like it. Not that I like having my friends messed with or anything but back in England I knew a few like her... And they were... Fun."
-
"She plays dirty, even if I'm not the biggest Akira fan she had no right. I will have to watch out for her."
Mizuki Takizawa:
Acquaintance
"Only sat behind her on the bus. Silas got his hands on her and she seems to be law enforcement. Doesn't makes sense to me for her to be here but screw it."
Kaoru Inoue:
Acquaintance
"He is an awfully cute little thing, his stature and personality like some mischievous child. I want to squeeze him tight and eat him up."
Yumi Lee:Jonathan Fenix:Aeon Shirokami:Keiko Misao: