♫ Age:♫
18
♬ Height:♬
6'0" Feet
♪Weight:♪
141 Pounds
♩Personality:♩
He bases his life around his music. He takes inspiration from everything and every body. If you inspire him, he will stick himself near you. He enjoys the music side of life and nothing could change his mind about it. He doesn't wish to be a rock star or anything,not that he will turn it down if opportunity comes. He just enjoys playing and isn't looking for fame.
Is also very laid back and has a relaxing air about him. If it were to ever be disturbed by something he dislikes, well his cool guy air about him will turn cold and threatening. He can become violent if it were ever needed, but he tends to try and not use his hands for anything other than his guitars. Could be very blunt and straight forward with his words. He also listens when people talk to him and will wait until he can make his response, but mostly he just would rather listen to someone talk than to talk himself. Quietness is more his expertise that and naps.
♯History:♯
Ever sense he was born, he loved music and just after that he slowly started to get even more into it. When he first got his hands on a guitar, he was never able to let it go. His first guitar was at a yard sale. Some old lady was giving it away at a very low price, so he bought it, fixed it up and self taught his own self how to play. It started to become more of addiction and he even started to make his own songs by memory and not written. Half the time he will mess around and make some something up beat up, depending on his mood. Thing is, he loves music, it's his passion. He was born to be a Music Muse.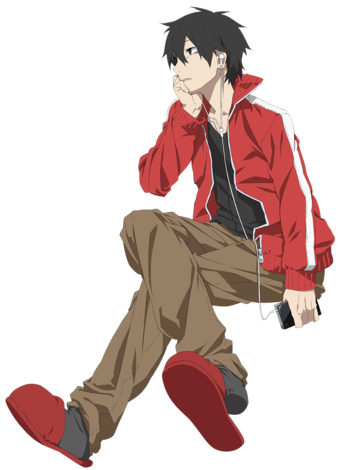 He never really dates, but whenever he does, it never lasts. They always say he never seems to care. Sure it seemed that way and might have been true mostly. That mostly tends to be because they would bore him quickly and he'd lose interest. His words are for that are, 'They're all the same.' So for now he is just waiting on the one who can pull him away or catch him off guard.
♮Likes:♮
| Quiet Surroundings | Left Alone | Music | Napping / Relaxing | Outdoors | Curry Bread / Japanese Curry |
☠Dislikes:☠
| Rudeness | All Talk People / Tough Guys | Loud Mouths | Gossip | Filthy Soundings | Fake People |
♭Hobbies:♭
| Sports : Is Athletic | Guitar :
Bass
,
Acoustic
| Muse : Music |