Name:Artaxes Cleave.
Nick-names: The lion, The peoples shield, the living gallow, Axe.
Age:22
Role:Rebel leader
Appearance: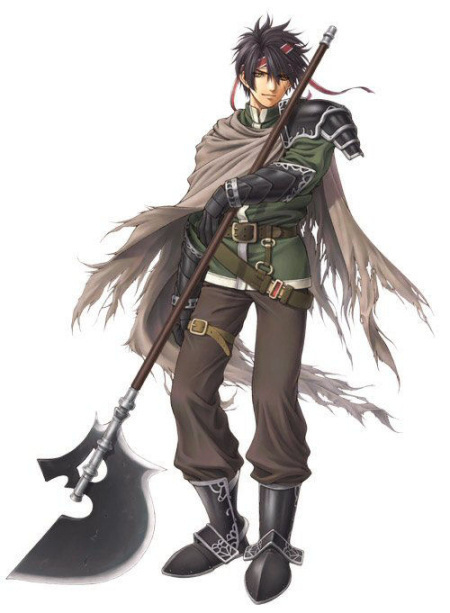 Axe stands at 5,5 somewhat short for his age but is handsome none the less (even though he almost never smiles in front of others). Axe has raven black hair and scare on his left cheek and back. He has dark brown eyes and is rarely seen without any of his gear.Axe wheres half plate armor and a what appears to be a ragged clock but is really his wings when they are down and folded , when seen take flight most people become shocked because they look like they are cloth.
Weapons:A large black steel war axe that is 6 foot in length. Axe uses light elemental magic and draws his power from surrounding lights (the brighter the better.) Light is one of the hardest magics to master, and no he has not mastered it. There are only a few ability's that Axe can use in combat, the first is one he activates almost subconsciously. Axe focuses light around him into his body and uses it as a full source to empower his speed and strength to advanced levels. The second Power is that Axe creates a high powered, very fine light beam and waves it onto his Axes blade making it able to cut/burn though most substances (dost not cut though everything very fast but can be as well. Ability three crates barriers of light able to defect light blocks and can slow medium attacks. power three Axe charges energy for his most powerful attack. The longer Axe charges the more powerful it becomes. Once at the level of power required he releases it all in a burst stream of light causing devastating damage but leavening him drained of most of his energy and leave him defenseless so it is only used as a last resort (aka a finisher).
A magical flying talking cat named Happy.
Skills, Abilities, and Hobbies: A skilled smith, Writing, drawing, blending in with the normal crowd to escape form his duties, dancing, playing on his guitar, when annoyed Axe tapes his right index finger on his leg when annoyed. Very charismatic
Personality: To the masses Axe seems to be a cold sturdy reliable man who will uphold his duties, but when he is in his private champers Axe puts off his face card to reveal that he is more childish then he seemed to appear. Axe wants nothing more then for this war to be over so that he can sit back and relax, I mean he cant even play any games because he would as the sages put it "dishonor the people with your unworthy actions" Yes Axe and the sages tend not to like each other for many reasons the largest being is there beliefs are on completely different sides. The Sages put all of there belief into the chosen ones and praise them as gods. Axe on the other hand does not like the chosen ones because he has no faith in there power, at one time the people believed in them to protect them from the Demons but they failed so Axe belies its the duties of his fellow men and of himself to put an end to this threat and to free there land forevermore. But in the end Axe is still a kid inside and will ultimately do what he wants if his duties would not be inhibited for his actions but he also is rather alone and wishes for friends. There are several parts of Axe's personality that show's were or not he has his more official face on or not such as his kindness: Axe has often shown kindness that is....unbecoming of a leader but god dame it that kitten looked so cute he just had to give it some food(he likes cats). Another trait that is clear is his overwhelming need to see the "Demons" purged from the land.
History:Axe was a simple young lad who was an apprentice smith to his father whom he loved dearly for his mother had died giving birth to him. Axe was going to live a simple life but one day the the village he was living in was attacked by the "Demons" and the village was destroyed. The only building left standing was a half collapsed forge were Axe and his father hid. Axe had made it out with only a scratch on his left cheek were his father had been mortally wounded, having been stabbed three times and having his left arm cut off. Axe implored his father to get medical attentions but he would not lesion. Instead Axes father was determined to give him final lesson as a smith. for the last day of his life he helped Axe make his black Axe sweat tears and poring his blood that was slowly oozing out of his body into the weapon. After it was done Axe's father told him to take good care of the Axe and to see that this never happened. Axe proceeded to find the the sages and learned magic from them. During this time period Axe keep his personal thoughts about the chosen ones to himself. After Axe had finished his training told them of his plan to fight back the demons, at fist they were agents the plan, thinking it was best for the chosen ones to awaken before them fought back but as the "Demons" keep getting closer to the holy land that protected there gods they finally gave into the plan and gave there blessing in the form of a cat, Happy. using the sages influence Axe united the people under his banner and have fought the "Demons" from that day foreword. Though they have gained group the two forces have reached a stalemate. The demons did not wish to wounder into Axe's territory for fear of there ambushes and Axe did not Attack the Demons because there bases are to heavily fortified to take. Even now Axe is making planes in hopes of braking this line but to no avail, at least so far.