Age: 110 years old (appears 60)
Role: Evil ruler of the IDD.
Appearance: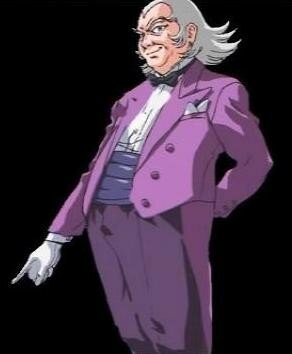 Although Brendan has just turned 110, he looks the same as when he first entered the dimension. This is because the method he used to enter the dimension has made his body resistant to aging.
Weapons: He doesn't need weapons. He has hundreds of guards who take care of that stuff.
Skills, Abilities, and Hobbies: Brendan is rich, and so using money to get whatever he wants isn't a problem. Brendan is also very smart, and so he is great at hacking, mechanics, engineering, piloting, and many other things. His hobbies include golf, gambling, going to parties, traveling, and many more things.
Personality:Brendan is a greedy man who only cares about himself. He is willing to do whatever it takes to get what he wants. He isn't sensitive at all, and he is very stubborn. He considers himself the most powerful man in the world, and is always bragging about himself. He treats his servants like dirt, and never supplies them with enough food or water. Brendan has other people do everything for him like cook, clean, and transport him. He is friends with the rich and is an enemy to the poor. He feels the need to have more than one of everything, such as cars, airplanes, and ESPECIALLY mansions.
Brendan has 3 mansions alone. (not including skyscrapers in the city and vacation homes by the shore.)
History: Brendan was born to Maria and William Getsus, who were already extremely rich when he was born. His parents didn't raise him very well, and he ended up turning into the classic wealthy snob. He got married to Samantha Airan, a lucid dreamer, and had a child named Jason. Samantha eventually told him that she was a lucid dreamer, and she could visit the IDD. Brendan took an interest into the Interactive Dream Dimension, and used his money to fund a project that would be able to send him, his child, and his agents there. Once they finally made it, Brendan built a secret mansion on top of the mountains of the IDD. He told his four agents to conquer the land using dark, shadowy-hybrid monsters known as 'shadow bugs'. The shadow bugs could create twisters and black holes, and they used sharp teeth to attack. With the help of his best agent, Noah Ryuuzaki, and his other 3 agents, Getsus finally took control over the land. He lost his wife in the process, but the self-centered man didn't care. Once the land was cleared all of the creatures' cities, villages, forests, and monuments, Getsus transferred more people to the IDD and hired them to build his new land, 'Getsus Paradise'. After building the main attractions, Getsus's workers built 3 bases that patrolled the land, making sure no slaves or prisoners escaped. However, after getting everything built, Getsus found out about the small group of creatures living in the farthest corner of the dimension, the sacred realm.Not considering these creatures an immediate threat, Brendan had his workers build a huge wall seperating his territory from the sacred realm. Supposedly, guards patrol this border, killing those who try to come in or out.