| NAME |
Lucero Ivers ("Lou-sair-oh")
| NICK |
He prefers "Luca". He's also been called "Cero", though he doesn't like it as much.
| AGE |
Twenty Three
| GENDER |
Male
| PACK & RANK |
Alpha of the Blue pack
| APPEARANCE |
HUMAN: Height: 6'2" ; Weight: 167 Lbs ; Hair: Black ; Eyes: A vivid Blue



WOLF: Height: 92cm ; Weight: 43Kg ; Hair: A mixture of Silver, Black and White. Silver being the predominant color ; Eyes: A light grey.
| MARKINGS |
Black color covers his hears and tail, and he has a small scar on his nose. Any other marks aren't really visible through his thick fur coat.
| LIKES |
Leading his pack - Luca is the type of person who loves to lead, and loves to command. He likes being in control and keeping peace.
Hunting - He likes hunting, and sees a sport in it. He especially likes larger hunts so he can take a big animal down with his pack mates.
Hamburgers - As much as he enjoys the warm, fresh meat that they take from their kills, Luca can't help but love the human hamburger. Hunting beef is difficult for a wolf, considering there aren't many free-roaming cows around.

| DISLIKES |
Prideful beings - In Lucero's opinion, if someone's pride is larger than their mind, they are stupid. To be too prideful is to be foolish.
Geese - A while back, he had a bad encounter with one of these feathered animals, leaving him with a nasty scar on his nose.
Humans - Sure, he himself and the rest of his pack are all partially human, yes. However, he finds that the majority of the human race is ignorant. They are blind to so many important things in the world, only focusing on themselves and their problems.

| QUIRKS |
Has a habit of sighing or huffing over small things.
He tends to zone out, or become so immersed in a task that it makes it seem like he is ignoring others. In reality, he's only lost in thought.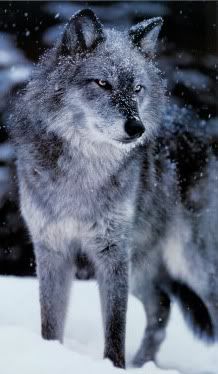 | PERSONA |
Internally, he has a large sense of humor, and loves the idea of love. As an adolescent he was always one to joke around. He would be caught pulling pranks and curiously venturing about. He carried his curiosity and humor all the way to his current age of twenty three, and though curiosity may have killed the cat, it didn't stop him. His curiosity led him to be knowledgeable and witty. Luca attempts to hide this childishness beneath charm and a mature facade. However, he knows when to be focused and serious.

He is patient and reasonable, hating to see others argue (this doesn't necessarily mean he doesn't enjoy a good fair-matched duel now and then). He doesn't tolerate fighting within the pack, yet he is all for dominance against other outsider wolves (those who aren't in his pack). Admittedly, he's not the nicest person, doing anything to protect his pack. If someone or something needs to be put down for the sake of them, he will not hesitate to tear them apart. If a compromise can be made, he will try his best to make that compromise. Lucero is intelligent and is led by reason, rather than passion, tending to follow a plan more often than a feeling. He is determined and over-working he often wears himself out long before needed. Though personally he's very disorganized, for the sake of his pack he tries to keep it orderly.

However, an easy flaw of his is over-thinking things, causing him stress and worry. Another being that he acts ruthlessly when it comes to protecting something.
| MISC. |