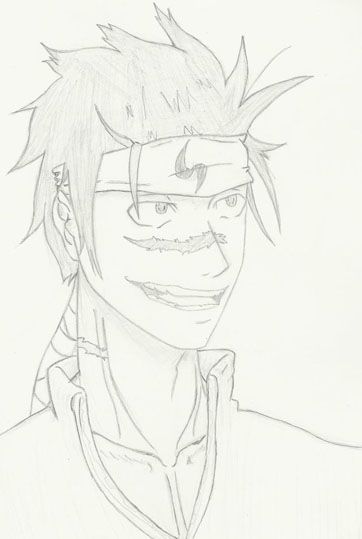 Gender:

Male.



Name:

Adair "Sock" Ravensdale.



Nickname(s):

Naturally, he prefers to be called Captain, but given the familiar treatment he encourages in his ship, many people just call him by his name. The ship veterans also tend to use his middle name "Sock" at times, and the really brave ones have dared to call him Addie in the past, which yes, is a female name, and no, he does't appreciate it.



Age:

26.



Occupation:

Adair is the founder of the sky pirates crew and has been the captain ever since its birth 7 years ago. As the highest authority in the ship, he is in charge of administration of funds, supervision of the ship's status, general planning and setting destinations; however, other than the last one, most of the time he will simply find a way to drop these duties on other people. In theory, taking responsibility and ensuring the well-being of the ship and its cargo is also his duty, but he would tell you a different thing. He spends the majority of his time trying to find new ways to entertain himself and researching things that will catch his interest in newspapers and even books, which often are the factors that decide the next course of the ship.



Personality:

In a nutshell, it can be said that Adair is a man easy to see through once you get to know him, yet with a mind-work hard to keep up with. He is constantly in the search of entertainment by travelling the skies, always hoping to discover something fresh and new, be it land, treasure, a new ship or just anything that will catch his attention. Since he also tends to get bored of things very quickly, he always charges straight into his newest interests before his motivation begins to fade, usually disregarding his other duties entirely. As exciting as it would sound at first, his complete lack of sense of danger has more than once placed the crew in a precarious situation; whether this is a show of bravery or stupidity is a never-ending debate (though people lean on the latter). Be it gambling, trade or stealing, he has taken part and cheated in all of them, which has earned him many enemies not only among the government, but also from other pirate organizations. He usually tries to appear as a calm and collected kind of leader, especially to new people he meets, but due to his expressive and overreacting nature, this proves to be ultimately impossible for him. This is also the reason why it is easy to tell what he is thinking, especially for the members of his crew. Although he sometimes seems like a man with strong morals, his second greatest passion in life is money, and there is always a number that will be able to persuade him of doing something

He considers his crew family and prefers to keep an informal bond with them instead of what would be expected of a captain and his underlings; hence, he drinks with them, plays games with them and even slacks off with them. In fact, it is quite common to see his crew mock him regularly. However, there are times when business is business and at those times he demands the respect he deserves. Being an extroverted person, he doesn't have problems when talking to people regardless of their gender and usually acts the same way with both; that said, he finds it hard to truly understand women and is prone to making insensitive comments once in awhile. Much in the same way, social rank doesn't matter to him much either. His ship is his country and no duke, princess or king has any authority in it; unless of course they offer him money, in which case, rising through the ranks of the ship will prove surprisingly easy. His greatest fear is losing his ship, though he doesn't usually show much concern about it. He dislikes fighting as he isn't good at it and will usually only bluff and run away should the first option prove inefficient. Even when backed into a corner, he will only retaliate once he has confirmed climbing the walls is impossible.

Despite his usual lack of proper judgement and excessive impulsiveness, Adair has a natural charisma he himself isn't aware of and his free and noble spirit usually earns him respect from people eventually. Besides, his initially preposterous ideas have more than once allowed them to pull off impossible stunts before. While he does jump at the slightest provocation, it is hard to truly anger him. However, he does have a dark and serious side to him he only rarely shows. At the end of the day, and even if some of his newest acquaintances tend to forget about it, he is no less guilty than the rest of pirates.



Appearance:

Adair has what could very well be summed up as a wild appearance that would be expected from a pirate. He stands relatively tall at 6'1'' and weights a (surprisingly) healthy 77kg. While not being especially strong-looking, he has a capable body with wide shoulders as a result of doing manual labor all of his life. He has long, dark brown hair he quite obviously has never brushed since he was born; while apparently being only long enough to reach a bit further than his wide eyebrows, he has kept growing the central-back part of his hair into a ponytail that goes as far as the middle of his back. Normally, he also likes to wear a hat to mark his position as captain, but a recurring issue he encounters is that ALWAYS without exception, he will lose his current hat at some point of each new expedition one way or another. He has big, dark green eyes that usually have a menacing look to them, mainly due to the shadow his low-wearing hat casts on them. Living on a boat and being constantly exposed to sunlight, his skin is tanned, albeit not to the point it would particularly call one's attention.

His clothes are also centered around the appearance of an old-fashioned pirate, consisting on a long coat of an almost black shade of gray and yellow but discolored lines around the the shoulder, neck and pocket areas. While clearly old, the coat is well taken care of and actually has a quite classy appearance thanks to its big, metal buttons, high neck and folded sleeves. Since he usually wears it open, one can see an unimpressive white shirt beneath it, accompanied by a pants of the same color as the coat. He has three noteworthy scars: one that extends from the left side of his nose horizontally until slightly past his right eye (made when he tripped by himself and landed face-first on the corner of the ship's rail), another circular one on the right side of his chest (made when he was saving his pistol and didn't set the safe appropriately, hence shooting himself) and a diagonal one on the left side of his stomach (made during a confrontation when taking over the ship).
Equipment:

While obviously not carrying them around at all times, Adair has a lot of equipment befitting his role as a pirate, whether he even knows how to use it properly is a completely different story. He owns a cutlass sword he usually forgets to take proper care of and has more than once taken into battle without realizing its poor state; the one he currently owns is the eleventh one he has had since he became a pirate. He also has two pistols modified to fire bullets almost three times larger than the original ones, albeit with the evident disadvantages of being larger and heavier along with requiring much more gunpowder in order to fire properly. He is also known to hide many explosives under his clothes and no one has ever seen him run out of them.

It should be noted that, despite owning a wide variety of weaponry, Adair is only an average-level fighter without any kind of particularly impressive skills in fencing or the use of firearms. However, he is a quick and creative thinker who always tries to find a way out of a situation by using any kind of underhanded tactics and unorthodox tricks, making it hard for others to predict... well, anything.



History:

Adair was born as the son of a prostitute and was abandoned before even receiving a name from his mother. For reasons he has yet to figure out (not like he actually tries to do so at the present point) the only thing left with him by his parent was a pair of socks. Thanks to his constant newborn crying, he was found out by a group of merchants who would take him in along with many other children under similar circumstances as his with the intention of eventually selling them as slaves. As cruel as it might sound at first, his new caretakers actually treated him quite properly, even if only for the purpose of making him a healthy slave in the future, and even gave him the name Sock since he wouldn't let go of the pair of socks his mother left him with.

Adair was finally sold at the age of 8 to a group of pirates who lacked both entertainment and the will to clean the ship themselves; it was the first time he had direct contact with the world of piracy, but, evidently, he didn't enjoy it. He was forced to clean the deck of the ship everyday even if there was a scorching sun burning him from the sky, and if he ever showed signs of slowing down, he would receive punishment from his new masters right away in the form of physical beating or being tied to the mast; anything more than that would be too much for his little body to survive, after all. Practically every night, he was forced to fight other children for food while the crew bet on who the winner would be, and it also became a common form of entertainment to get the loser to drink large quantities of alcohol until passing out; having never been a particularly skilled fighter, Adair had his good share of starving nights and often lost track of time due to heavy drinking. Since he wasn't the only child on board nor was he the only slave working there, he never even considered the possibility of him ~or any other kid, for that matter~ to have a different lifestyle and never questioned his masters about it. Hence, he grew barbaric and violent, adapting himself to the life of a pirate.

The ship he lived in was raided three years after his arrival there by a warship directly under the command of the King going by the name of Goldwing. In a completely one-sided encounter, all pirates aboard the ship were either killed in the battle or captured and turned in to the government, while Adair and the rest of the underage slaves were taken under custody. Even though he had technically been saved, the now 11 years old child had been taught to treat anything related to order as an enemy and became rebellious towards the ship's crew. While the original plan was to give the unfortunate children to an orphanage that could afford to take them in, the captain of the ship, Sir Edgar Lowsley, entertained by Adair's behavior and partly out of a whim, decided to make an exception of him and kept him aboard the Goldwing to continue to perform labor. However, unlike when he was in the pirate ship, he received good treatment, even being allowed to have his own room and his work being not nearly as demanding and inhuman. With time, he began to open up to the crew and understand the notion that life wasn't as violent and rough as he had initially thought. The crew also grew fond of him quick enough and began imparting him with basic teachings, such as how to read, write, talk properly and even some history lessons. Receiving the teachings that "one should live how he wants while accepting the responsibilities and consequences of his actions", he eventually became an official member of the Goldwing at the age of 14 and was rechristened as Adair by Captain Lowsley himself, who explained it was a variation of his own name.

By the time he turned 19, Adair was still a member of the Goldwing crew and, while he didn't have any kind of proper rank among them, being something along the lines of everyone's errand boy, he enjoyed his time there and had grown fond of the ship. However, his loyalty to Captain Lowsley would waver for the first time in many years after the government issued a command to look for a famous pirate at the time named Edward Howsham. Howsham was a man with few resources but a cunning mind who always managed to remain one step ahead of the Goldwing and, even though he left mountains of eyewitnesses and clues behind, he always found a way to leave a place just before the warship arrived. The situation turned sour when the government's impatience forced the crew to begin questioning and arresting anyone who had had contact with Howsman. While the majority of the members of the Goldwing didn't approve of their orders, the only one who actually defied them and confronted Captain Lowsley was Adair. Claiming that it was in these situations when one should show responsibility, the captain ignored Adair time and again until one day their discussion escalated into a fistfight. Due to growing tensions on the boat, Adair isolated himself for a few days in his cabin, pondering about his conflict of ideologies until he came up with a plan he felt he could make peace with. He waited until the ship was forced to spend a night in a city dock while it replenished and his night shift came up. While everyone else slept, he placed several explosive barrels in strategic places of the ship and lighted them up at the same time, effectively forcing practically all of the crew to leave in a rush, fearing the ship would fall. The only one who remained on board other than him was Captain Lowsley, who saw through Adair's intentions of stealing the Goldwing and confronted him to stop his underhanded machination. Although vastly overpowered in terms of fighting skill, Adair managed to trick the captain and ended up throwing him onto the dock along with the rest of the crew, albeit receiving severe injuries during the encounter. As the Goldwing flew away, its new owner climbed up to the top of the mast and gave his final words of farewell to his former colleagues:

"Responsibility and consequences are the names ye've given to yer chains! I shall borrow this fine jewel 'till the day ye understand. With that said, godspeed to us both, and may we meet again in the vast skies, Monsieur Lowsley!".

He would've sounded much more convincing if he hadn't passed out from his injuries seconds after breaking into laughter. He awakened after a day and through some miracle managed to dock the ship in a small town, where he switched names in an infirmary's waiting list with an old man (who incidentally was named Ravensdale, a surname he would keep since he liked the sound of it) and recovered from his injuries. Only then did he realize his plan didn't go any further than that; since he would probably be treated as a wanted fugitive from that point on, he figured he might as well become a pirate. Finding an unexpected love for sailing the skies with no ties and searching for the unknown, he founded his own group of pirates which had no long-term objectives and simply flied seeking the next thing that caught their interest. The ship suffered so many blows from the takeover that it has yet to be repaired fully despite the passing of 7 years (partially due to a constant issue with lack of a steady income) and it can no longer be considered a full-force warship. To this day, the boat has yet to receive a new name despite Adair's claim that it lost its old one along with its old master; some people still refer to it as the Goldwing, while others have nicknamed it the Nameless. However, officially it is, as Adair would put it, "just an accursed ship!"