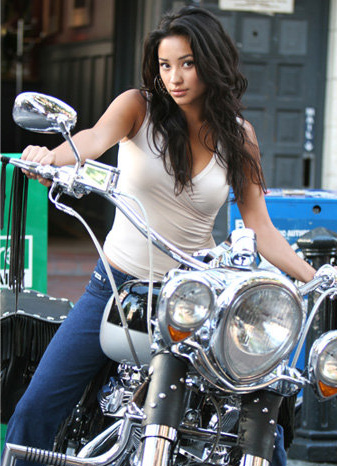 Name: Aaliyah "Leah" Marino
Age: 17
Gender: Female
Role: Female Bassist
Personality: Aaliyah is a true rebel and wild child. She has never let anyone stand in here way of getting what she wants and if anyone ever tired she made sure they regretted crossing her. If you were to read her record you would think that she was a self-centered bitch that cared about no one and belong in prison, but then again do you know her father. Aaliyah a lot of people joke around saying could be possible bipolar, but of course in a "good" way. They don't say that because she crazy or anything or at least she hopes that not why they say it, people say that because she has so many different personalities and moods and her moods can always change without warning. Aaliyah naturally has a boldness to her, she is determined, devoted, and loyal when it comes to her "family". But lately since she had begun playing the bass she has been becoming very secretive and distant from her "family" which she hates, but she just fears how her father would react and althought it feels her with guilt when ever she plays behind her father's back she is happiest when just alone with her bass.
History: I will wait until who ever plays her father makes their sheet and take it from there.
Weapon(such as guns):
Beretta 92fs
,
Pocket Knife
RP Sample: After watching her father walk out of her bedroom she rolled out of her bed and ran to the door, she turned the lock on her door and sighed a heavily sigh of relief.
That was a close one
she thought to herself before slowly walking back over to her bed and sitting down she had to start remembering to lock her room door when she was planning on placing her bass. Luckily for her she had heard her father approaching from down the hall and had enough time to sweep the guitar under her bed. She laid back on her bed staring up at the egg white painted ceiling, she hated this. She hated the lieing, the hiding, the keeping secrets from her father her whole "family". She just couldn't see why this was all so hard like who cared if she liked and played the bass what could possible happening. She sighed again. Now not only was lying to her family but she was lying to herself, she knew the problem wasn't the instrument she was playing but the people she was playing with, she couldn't let her family know ..... she wouldn't let them know. "Aaliyah be back in an hour I have some business to attend to" she heard her father yell from downstairs she got out of bed and unlocked then opened her room door "Okay daddy see you soon". She stood in her doorway and listened intensity until she heard a door close, she smiled happily and raced over to her bed pulling her guitar out from under it. She hopped onto her bed and sat back, after positioning her instrument on her lap she started strumming some chords not playing a particular song in the process. Just playing from her heart.