---
"Every family's got a black sheep...trust me the irony's not lost here."
---
---
╔
╗
╚
╝
---
---
---

FULL NAME:
Torrence Julian Hollingsworth

NICKNAME:
Toric (common // liked)
TJ (common // disliked)
Tori (close friends)

AGE:
19

SPECIES:
Wizard

SOCIETAL POSITION:
Purus Sanguinus

GENDER:
Male

SEXUAL ORIENTATION:
Heterosexual

ETHNICITY:
American of British and Irish lineage

DOB:
October 23rd

HEX CODE
#
---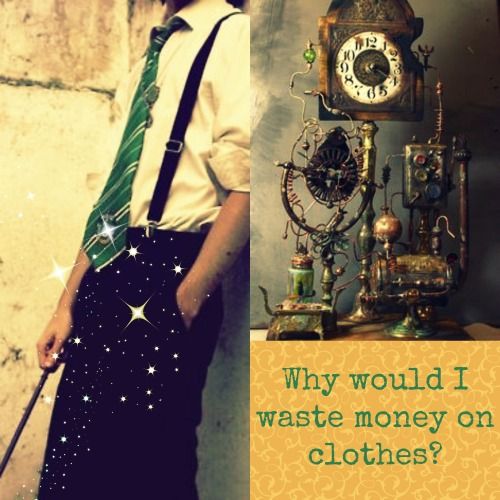 BLOOD STATUS:
Pure Blood

HEIGHT:
6'1

WEIGHT:
186 lbs

APPEARANCE:
Unlike many of the other purebloods at Remington, clothing is a very low priority for Toric. Generally walking around in nothing but a rumpled white shirt, black slacks, suspenders, and a crooked house Chandra tie, Toric has a disheveled air to him that is not helped by his never ending battle with ginger whiskers. Toric can clean up pretty well when he wants to, but finding that desire or motivation from him usually takes quite a bit of prodding. All in all, Toric looks the part of the obsessive eccentric living in their own bubble.
---
---
---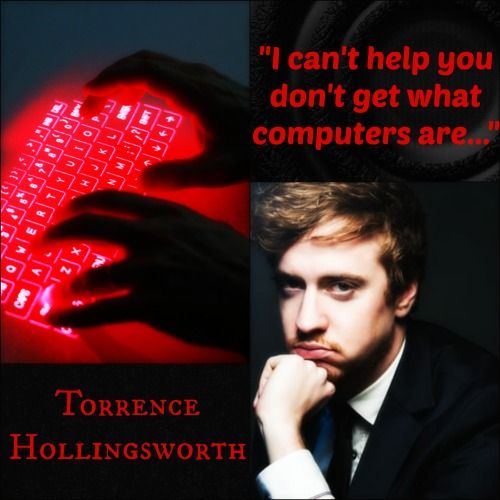 Obsessive ❖ Sarcastic ❖ Grumpy ❖ Laid back
Indecisive ❖ Kind ❖ Quirky ❖ Solitary




Toric is somewhat of a grousy odd ball, and a genius in a field of magic (magitech) that's still struggling to be defined and really accepted. While he comes from a prestigious pure blood family, Toric is pretty apathetic to the whole business, and would rather just be left alone in his workshop tinkering than deal with dark magic or the like. Because of this, he's used to people either avoiding him, voicing outright disapproval, or being pretty two faced, especially if they're trying to make nice to buy connections to the Hollingsworth family. Because of this, he has a sarcastic outer shell that acts as his defense mechanism, and he usually acts pretty disinterested around people unless they have something related to muggle tech he's interested in. In that case you may have a slight stalker on your hands. Toric has a few close friends, but he won't be winning any popularity contests, and he tends to be suspicious of people randomly showing interest in him.

Toric is also allergic to responsibility, avoiding it and the hard decisions that come with it, like the plague. The thought of leadership or joining into organizations leave him with a gnawing sense of dread, that some could easily interpreter as cowardice. Toric is not a bold person, nor particularly ambitious, but it would be a mistake to think of him as passive. When it comes to the projects and people he cares about, Toric commits with an obsessive devotion, and is capable of both grand gestures, and quiet kindness. For those who make it onto his shit list, Toric does not mince words, preferring a straightforward approach with such people when expressing his dislike. Toric can also be a viciously creative enemy if provoked. While normally possessing a very mellow, somewhat bored, demeanor, Toric has a temper that can be ferocious when riled. Toric was raised in an environment rife with violence that encouraged the infliction of pain upon those deemed inferior. While he never enjoyed, or fully engaged with these practices, he damn well knows how to use some dark and painful magic. One should not mistake the choice to abstain with ignorance where Toric is concerned.



The noble house of Hollingsworth has been a prominent pureblood family for centuries, with the rather large American branch of the family establishing themselves as the premier broom makers in North America. Indeed, Hollingsworth brooms tend to be synonymous with speed, luxury, and status, and their price reflects it. Because of this, Hollingsworth brooms and gear have also garnered a reputation of exclusivity, as only professionals and those from the wealthiest pure-blood families can afford them. The Hollingsworths, American or otherwise, are also hardline blood supremacists, with Deatheaters amongst their ranks since the rise of the dark lord. The Hollingsworths are also known for their excessive usage of slave labor, and their high rates of turn around regarding this resource. It is not uncommon to see slaves used as training targets on the manor's parameter, and unconfirmed rumors claim children as young as twelve practice the cruciatus curse.

It was in this environment that Torrence was raised, and from the beginning, he never quite fit. Torrance's mother was also from a pureblood family of good standing, but she had always abhorred the very idea of the class system. As a Hollingsworth, she spent years smuggling out young muggle born slaves who showed magical promise into safe keeping for Remington Academy. His father by contrast, was a reluctant Deatheater, joining the ranks more out of familial duty than any real desire for the work. Indeed, kind hearted Henry Hollingsworth had little stomach for the kind of brutality inherent to the job, and drunk himself into an early grave because of it. Torrence inherited his father's apathy for dark magic, and in general showed little interest in the brutalization of the House slaves outside quiet discomfort.

Despite Torrence's official rank as the heir of Hollingsworth, it was his older cousin Sebastian that showed the real promise as a future Deatheater. Sebastian had always reveled in dark magic, but he was particularly cruel to the household slaves, especially the young ones. Their 'playmates', for lack of a better word, were often the test subjects for Sebastian's latest curses, and as they grew older, his games grew more twisted. Torrence usually served as an uncomfortable witness, finding an excuse to slink off back to his room given the first opportunity. While he had inherited none of the Hollingsworth propensity for the dark arts, he had their inventiveness in spades. The only problem however, was that his interests lied in a wholly inappropriate direction. Torrence had always been fascinated by muggle technology, hoarding any scrap he could get his hands on. Electricity, radios, computers, it all fascinated him, and soon he unknowingly found himself tinkering in the burgeoning field of magitech.

Combining magic with muggle technology is a science that has gained traction amongst certain circles in recent years, but it is still, at best, highly controversial within the pureblood community. Torrence's oddities were tolerated with an air of disdain, with the adults encouraging a closer relation with Sebastian in hopes that Torrence's passions were a passing phase. If anything, this caused the rift with his family to deepen, as Torrence grew to truly dislike his cousin, and develop feelings of guilt for the victims he could do little to help. As they approached adolescence, Torrence was quietly relieved to not be joining Sebastian at Durmstrang, and attend Remington like his mother instead. This gave him a degree of distance from his family, but his summers still belonged to their passive aggressive re-education.

The summer after his first year at Remington proved a turning point of sorts for Torrence, as the most recent batch of slaves brought with them a girl who would become one of his closest friends. Born from muggles, yet possessing obvious magical ability, the young girl became an integral part of his daily routine. McKenna proved a treasure trove of information about the muggle world and all its technology, and they would spend hours together going through and explaining everything in his collection. Unfortunately, his new friend has also caught the eye of Sebastian, whose intentions were far less innocent. At the time, Torrence hadn't understood the ferociousness of Sebastian's attacks, assuming his treatment of her was some kind of punishment for their friendship. Partly, Torrence still believes this to be the case, but at nineteen, a few truths have made themselves apparent. Sebastian's desire to torment McKenna has less to do with her friendships, and everything to do with the fact she was a pretty girl with dirty blood, and Sebastian (as a perfect pureblood son) shouldn't have noticed.

Helping his mother smuggle McKenna out of Hollingsworth house was Torrence's first true act of defiance against his family, and he still helps discreetly in this endeavor when the opportunity presents itself. Never having been particularly bold by nature, Torrence shows his defiance in small, slow building gestures that, while irksome to his family, never quite crosses the line enough to make them do something about it. For years, Torrence has lived in this kind of limbo, neither fully accepted or rejected by his family, but he knows the time to commit to a side is near. His cousin has already begun his initiation to become a Deatheater, and once Torrence graduates at the end of the year, he'll be expected to do the same. To choose anything else would be to break with his family, and the idea of taking that plunge fills him with a sense of both terror and relief.
---
---
QUIRKS
*Insomniac

*Ambidextrous

*Often Sits in Trees


LIKES
Tacos // Broccoli // The Smell of Wood // Technology // Muggle Music // Cinnamon // Sitting in Trees // Anything with Strawberries // Chicken // Cats // Spicy Food // Working on Brooms
DISLIKES
Apricots // Beans // Pickles // Necromancy // Users // Being Submerged in Water // Compliments from Strangers // Making Decisions // Responsibility // Seafood // Random Acts of Cruelty // Large Social Gatherings
---
---
---
HOUSE:
Chandra
GRADE:
12th
WAND:
13 1/4" | Swishy | Hazel | Phoenix Feather
QUODPOT:
Toric is a Beater for the Chandra Quodpot team, which plays to his strengths as a defensive player. While never particularly flashy, he does ride the newest model of the Hollingswoth Ebony line, as its speed and quality is undeniable. Toric also uses Hollingsworth beater's gear, though had been known to tinker with the equipment to better model his own tastes, a move that routinely incurs the ire of his uncle.
PATRONUS:
Red Panda
BOGGART:
Himself, dressed as a Deatheater.
STRENGTHS
Wandless/Nonverbal Magic
Alchemy
Charms
Elemental Magic
Muggle Studies
Magitech
Herbology
WEAKNESSES
Voodoo
Astronomy
History of Magic
Shamanism
Ancient Ruins
Divination
---
AFFILIATIONS:
The Hollingsworth family is completely aligned with the dark lord, many members of the family being Deatheaters themselves. Toric however, wants nothing to do with it, and had spent the past ten years trying to bury his head in the sand regarding the subject. Enormously indecisive, and truly hating change, Toric is about to hit a crossroads in his life, where he can no longer keep a foothold in both camps. He's going to have to make a commitment one way or the other, and it's a reality he dreads.
MISCELLANEOUS:
(Anything else? Special Items? Relationships? Anything at all?)
---
---
FACE CLAIM
Will Bowes

USERNAME
Kohananinja
---