Victor Calza
Basic Info
Name:
Victor Calza
Age:
17, Seventh Year
Gender:
Male
House:
Vulpes
Pet:
A dark, Great Horned Owl named Tarvixio. The bird has a quiet, proud, superior attitude. He's just as cunning as Victor is, and he rarely bothers to pay attention to anyone other than his owner.
Birthplace:
Worcester, Massachusetts
Patronus:
A Kraken. Sort of like a giant squid/octopus. Only it's about as tall as he is.
Likes
Intelligence
Subtlety
Loyalty to family
Control
His old Muggle books (He's taken a liking to Machiavelli's work.)
Dislikes
Stupidity and Incompetence
Those who can't shut up.
Idealism
Quodpot
Toads
Personality
Victor is typically a calm, quiet, serious person. He's not shy in the slightest, he just doesn't open his mouth unless he feels he has something worthwhile to say. He does have a sense of humor, but it tends to come out slightly acidic. Victor is almost hyper-intelligent, certainly the reason for his placement in Vulpes House. His family has seen members enter all the four Houses at Magus Grex, although more have gone to Arietem than the others, and very few end up at Cervus. The importance of being a member of the long line of Calzas was stressed on Victor from a very early age, by everyone around him. As a result, Victor is extremely loyal to his family, and he respects others who go to great efforts to aid theirs. Even though his family is pureblooded as far back as it can be traced, Victor doesn't view half-bloods or even the Muggleborn in a negative light. Not many in his family feel this way, but Victor feels that one is a fool to turn away a potential advantage based on one's blood alone. You won't hear the word "Mudblood" from his lips. He even studies the work of some Muggles, mainly Machiavelli. He keeps these books more or less hidden, though, as he doesn't wish to receive the negative attention for being a "Muggle lover" or something.
In his last three years, Victor has changed a good deal. Unlike many of the people at Magus Grex, he chooses to concern himself with what lies ahead for him. He cares little for things like Quodpot, and the rivalries between houses, things he used to pay much more attention to. Now in his last year, Victor seeks only to prepare himself for what lies ahead. He ravenously devours knowledge presented to him in his classes, regardless of subject, and few are as good of students. He turns away nothing that can be turned to his advantage. The Dark Arts included. His family has something of a dark history, and though Victor has not yet involved himself too heavily in such practices, he remains open-minded to them. Victor has little regard for the rules at Magus Grex, should they get in his way, but he understands the value of subtlety. He doesn't overstep his bounds without a reason to do so, and when he does, he doesn't broadcast it to the world like some of the prank-loving students he knows.
As far as relationships go, Victor searches for allies before he searches for companions. He doesn't really need someone he can dump his feelings on, but rather someone that's just as smart as he is, and willing to work with towards a mutual gain. He is attracted to intelligence, cunning, deceptiveness, and subtlety. His is put off by arrogance, stupidity, frivolousness, loudness, and idealism. And toads, he hates toads. He's got nothing against the people who own them, he just doesn't like toads.
History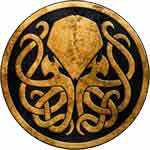 The Kraken, sigil of the Calza family.
The Calzas go back a long, long way. They can clearly trace their ancestry back to nobility of the Venetian Republic, in the Medieval Ages. It goes back further still, but the record keeping starts to get poor. The point is that the Calza family has always been powerful, and has always been pure. There were rumors of a Squib in the family somewhere around the seventeenth century, but the family denies the claim. The man in question disappeared shortly into his twenties, and can't be found in any records. The Calzas were masters of the sea, and accrued masses of wealth through the sea trade and shipping business. They were not afraid to meddle in Muggle affairs if it meant greater wealth, and varying accounts site Calzas being partially responsible for the sack of Constantinople, and the failed fourth Crusade. In short, the Calzas are one of the longest and most prestigious lines in the wizarding world.
Victor himself was born in Worcester, Massachusetts. The Calzas developed a very strong influence throughout much of the northeast, having established themselves there during the colonies era before the American Revolution. They have many, many friends among wizarding families, and very few enemies, as those who wish to oppose them are either too scared or too weak to do so. Victor grew up as the middle child in a privileged family, with a brother, Tomas, 3 years his elder, and a sister, Luca, seven years his junior. Victor initially had a poor relationship with his brother, who viewed him as immature and naive, but as Victor aged, he came to understand and eventually embrace his brother's ideals, and the two became closer. The age difference between Victor and his sister was a hindrance to their relationship, but Victor became quite protective of her. Tomas was a powerhouse within Arietem house, having most of the students there dancing to his tune by his fifth year, but two years have gone by since he left, and much of his influence in Magus Grex disappeared with it.
Victor was never the natural leader his older brother was, who could bend people to his will through speech and force alone. Instead, Victor excelled in such skills as subtlety, cunning, deceptiveness, and sheer intelligence. Few students could boast the kinds of marks Victor achieved his first six years at Magus Grex, and few students knew the school as well. Victor prided himself on knowing literally everything that was worth knowing, and using it to his advantage. It paid off, in a sense, in the summer before his final year at Magus Grex. His father approached him with a request, saying that it was time he began contributing to the family in a more real sense. He was asked to gather information on the Sanuto family, a line just as pure as the Calzas, albeit not as old. Occasional Calza shipments, valuable ones, would go missing, with little to no explanation. Victor's father suspected foul play, and wanted to put his son's intelligence and resourcefulness to the test. The Sanutos had a history of practicing the Dark Arts (as did the Calzas), so Victor suspected something sinister was at play here.
Long story short, Victor managed to acquire proof that the eldest of the four Sanuto daughters had been organizing thefts of specific Calza shipments, ones containing ingredients involved in the creation of powerful (and some illegal) potions. The deed involved a large amount of planning, and then personally sneaking into the Sanuto mansion in upstate New York, with a highly skilled application of charms, hexes, distractions, and stealth. It implied not only that the Sanutos were up to something dark, but that his own family was as well. He returned the evidence to his father, and his brother Tomas left the next day. Days after he returned, the Sanuto girl was reported missing. Victor questioned his father, his brother, and his mother who the shipments had been meant for, but they all gave him the same answer: some secrets were safer not to know.
Victor now enters his seventh and final year of school at Magus Grex, uncertain of his family's intention. But he knows it's something dark. However, Victor knows where his loyalties lie, and he knows he's ready to contribute, whatever that means. His goal at school is to acquire all the knowledge he can, to better prepare himself for the future, and to finally determine who he wants standing at his side moving forward, and who needs to simply get out of his way.
OOC
Do you know much about the Harry Potter Universe?:
As much as all the books and all the movies could teach me.
How often do you get online?:
Every. Freakin. Day.
How often can we expect you to be able to post?:
See above.
Password:
Coppah Cahldrun.