---
"Iiieeeeee" *Momo Trips and nearly falls* x.x
---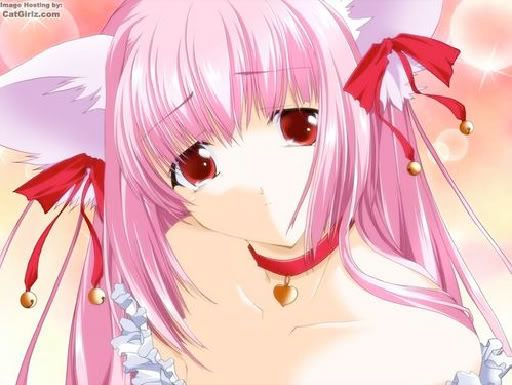 Gender
- Female
Age:
22
Role
– Maid
---
---
Maid Types

Maid Type 1:
Sexy – Charming, Coquettish, Womanly Body, Glamorous - (Cunning + 1 and Will -1)
Maid Type 2:
Pure – Pure, Maidenly, Clean, Fragile – (Affection + 1 and Cunning -1)
Attributes

Athletics:
3
Affection:
3
Skill:
3
Cunning:
1
Luck:
2
Will:
2
My Maid Colors

Clothing
: Green
Eye color
: Vermillion
Hair Color
: Pink
Special Qualities
This will define your maid even further... You're going to do the same thing as you did with Maid Colors...
1. Neko Mimi - This varies a bit depending on the setting, but you're a catgirl, with the ears and possibly tail of a cat.
2.Vampire - You are a vampire, with long fangs. Be sure to act . . . vampiric.
3. Shy - You're very shy. Don't forget to remain silent when encountering NPCs you haven't met before.
4. Symbols (Card Suit) - Your headdress, apron, necktie, forehead, or chest is marked with one of the four suits from playing cards (heart, diamond, club, spade).
Physical Complex – Big Butt - You have a voluptuous figure, and I cannot lie; Your thighs and buttocks are especially pronounced. This is in no way unpleasant to look at, but to you it's very far removed from what you want to look like.
Mental Complex – Clumsy - Everything you do is laces with failures and backfires. You wish so much you could do things properly.
Maid Roots:
Mistress - Although you appear to be a maid, it would be more accurate to call you the master's lover.
Stress Explosion
: Rampage - You use anything you can lay your hands on to run around destroying things around the mansion.
Maid Weapon/Fighting Style
: A Boomerang
Maid's Power:
Windows Of Souls - You understand the master's feelings better than anyone, and can offer careful help.
---
---
Momo has a very unique appearance among the world our story takes part in. Unlike many of those anime's you watch with the Neko being cutesy little girls, it's known and shown that Momo is definitely grown out of that stage. That's right she's a neko "woman". Her hair is long, going down to the base of her ass and very pink as her eyes glow a bright vermillion red. This only brings us to her other features which represents her cream skin, obviously well taken care of. Our neko here has a body to die for. She herself looks glamrous and sexy despite nearly any outfit she is to wear. Other then her bright pink cat ears and medium length tail, one of her most notable features is her butt. You know the phrase that many people say now in days "Dat Azz!" this is where Momo comes in. Although she doesn't like it usally saying that Neko's aren't suppose to have this or saying in a general sense that its too big, many people enjoy the sight or others maids may seem jealous of such a feature!
A feature that she tries to hide are her fangs, and this is because she is secretly a vampire. She tries to keep her fangs concealed the best she can which is why she tends to be shy or eat away from people. This is the only thing she tries to hide excluding her complaints of her ass which she claims to wish she could hide as well.
For layers Momo's attire is also unique... the base of her outfit is green yet resembles playing cards. Her head-dress contains the "hearts" symbol, The chest has a "diamonds" symbol, Neck Tie wears the "Clubs" symbol and interestingly upon her forehead rests a "spade" symbol as if it was tattooed. Many people among the house assumes she is a great card player and other often wonder why that theme at all. That aside Momo has a belt in which holds a wrapped boomerang on her side.
Momo's standing is very polite and maidenly when she is still. Often she can lose balance because she doesn't always pay attention when she is walking. She stands often with her arms crossed or one hand on her hip. Her tone is often calm and soft without an accent however when stressed out she could sound quite pissed off and demonic (via being vampiric) and throws her maidenly side away for awhile.
Generally Momo is a sweet person with some humor. She is typically clumsy and often seen to be very fragile. Aside from those traits our Neko – Vampy has a very charming and pure personality that seems to brighten almost anyone's she is close to or knows. A small problem she has though with interactions is that she is shy. This often makes her keep quiet when in the presence of those she doesn't know and if she is acknowledged her clumsiness is increased which adds stress to her. When stressed and in the presence of others she will go to a further part of the area in a rampage cursing about how she is too shy for no reason. Aside from a little bit of a temper and inner rage, she is one of the most caring people towards the master and nearly understands him the most out of all the other maids. She often can give the best advice when need be depending on the situation.
When it comes to fighting, Momo is rather skilled in this unique fighting style of boomerangs her accuracy is nearly 90% even though she is clumsy. Sometimes her clumsiness helps her with this accuracy and often when she battles she can miss a target hit a tree, not knowing it'll bounce passed the target with possibilites of hitting her team mate or unexpected target and finally redirecting itself with a critical hit on her original target. This neko – vampire dislikes fighting as a whole but knows it is part of the job.
In the two paragraphs above we have mentioned Momo's Neko and Vampirism yet we haven't described it. Being mostly a neko – She has a lot of agility and speed when it comes to climbing and running. Her cat like instincts often allow her to land on her feet or hands and feet when she falls. In addition to her physical nature, as a neko she has a playful attitude at times and often tries her best to not speak in Neko tongue (Nyan!). In addition her playful cat like attitude sometimes rolls in when yarn balls are left on the ground. She herself can pick it up but there is always that temptation. Often when around others she does her best to not fit the original idea of a Neko. The only thing that is revealed is her tail, ears, and hair color... to her.
At the very end, she is a night walker. There are times where if she wears a special sun net she is able to walk outside yet if out in the open without it... she will have to go back inside shortly after. This is often why many of the other maids take care of the outside duties. I guess in a way she works the night shifts because of it. When it comes to blood, Momo hates to admit it and tries her best to say differently but enjoys the taste of fresh blood from a body. There are pacts in the mansion in which she shares with the master and other creatures whom may drink blood. She doesn't drink it in front of others and rather doesn't want people to know she is a vampire feeling as though its just another thing to feel ashamed of.
Momo, born a Neko lived upon a mountain near the enchanted wilderness in which our beloved master calls home. This mountain was known as Nekogi. Although the world, populated with very few nekos roamed this mountain was seen as capital and interestingly has a city inside the mountain with artificial sunlight. The city itself was nature scene because the Neko's were tribal. There was one Neko male who decided it was time to live among the higher society this man was name Kyo Okame. He was always a ambitious Neko who always wondered of the top side and decided to move out of his home with his beloved wife Moko. Moko was sweet gal whom followed Kyo until the end. She and him built a house on the outside of the same mountain and enjoyed their lives. This continued when their pride and joy came which of course was Momo.
Age 1-10
Momo was a rather sweet girl with no worries, although she was picked on in school because she was different this never stopped her. By the age of 5 was when her father noticed she was shy which notably was a trait from her mother. Yet when she opened up to her friends she was always cheerful and understanding. The neko was quite happy until a sudden shock hit her. Her mother fell ill and eventually died. This caused Momo a great deal of grief but she didn't let it get to her too much. Before her mother died she gave Momo a gift which was a boomerang. Momo constantly practiced and got unimaginably good especially in accuracy. This later showed upon when she would go out into the wild and fight monkey for fun.
Age 11-15
Momo's father was suprising adventuring leaving Momo to care for herself using what her mother taught her. She was amazing and something that she wasn't expect hit. She went to the mirror one day and saw she had nice booty like her mama. She didn't like it at all but kept it going.. This only became even more of a problem when boys at school spanked more. Another thing she began to develop was her father's notable trait of being clumsy. This developed slowly yet it wasn't too much of a bother... At the age of 12 her father, one day came home claiming they owed a large sum of money to a rich family (the master's) He didn't say why but this became hard on the Neko family until her father suddenly met a random angel who was drunk off her ass at a bar and took her home one night... Bright lights for some reason shined from the bed room. That night but lucky for Momo she decided to sleep outside because of it. Kyo never spoke of that night as if it never happened.
Age 16-20
Upon the age of 18 for while Momo was playing with a yarn ball and her dad was doing the kitty's grass. A knock at the door was made... When answered she noticed a small neko boy at the age of 5/.. for some reason he had angel wings... and telepathically the female angel spoke to Kyo saying "its your baby... my angelic order wont allow it... and I didn't know what do with it... In addition I don't even really want him... soooo... this is the last time I speak to you good luck! Her father was stunned but none the less treated the child with care who was very shy at first and didn't really speak to them. Momo always tried to get the child to play with her none-the-less.. The next day while her father was carrying a box of bananas up a mountain a random monkey screamed (Hooha!!!) and threw a banana right in front of him making him trip and fall down a mountain where suddenly there was no edge and he fell into a river where tribal amazons chased him and suddenly managing to escape only to be eatten by a T-Rex that lived in the wilderness... It was unknown to Momo but she figured out what happened through the angel who dropped the child off. Momo was sad but took it upon herself to keep going once more. She continued to love and train her brother until one day a knock at the door was made. It was the current master who came saying her family owed them. The master was familiar and took it upon himself to say that at the age of when the boy was able to speak he would start working as Momo will now. It was a explanation that went on and turns out that her father was being given enhanced catnip for a better high which was illegal to the Neko nation. At this point she didn't feel sorry for her father anymore. That night before she moved in to the master's home a mysterious blood sucking vampire bit her she immediately woke up and fought it off with her boomerang skills. Yet she didn't feel to well...
The next day they were moved to the master's mansion where they were explained the rules. She was made head maid and preformed the duties yet her mark often made her begin craving blood. One night while preforming duties she noticed she was wide awake yet craved blood even further... her fangs began to grow in pain and this lasted until she noticed blood packs... she drank one hoping no one was awake and suddenly realized that her master may be the same type as her vampire wise.
Age 21-22
Over the two years she has met many new friends and even made her brother whom she did not expect to become this way a made. She cheerfully has made a strong relationship with her master which allows her to understand him more and feels she could wish for no other life. She still to this day hides the fact she is vampire from even her brother and the master.