____________________
Karena Schneider
____________________
Master Gunner/bodyguard
____________________

____________________
Personal Information
____________________


Full Name
Karena Schneider

Description
5'. Her most defining feature are her pigtails. Most of the time she wears clothes befitting
a boy so she does not attract unwanted attention. She has a petite figure and when in
expected combat she is ways seen wearing her battle uniform. She never leaves without a pistol.

Age:
16

Gender:
Female

Race:
Human

Occupation
Mercenary known as Giftschlange/Venom/Serpent

Sexual Orientation:
Heterosexual

Birthplace:
Germany

Marking|Tattoos|Piercings:
Only slight scars from years of fighting


---
---

Height:
5'

Weight
100 lb.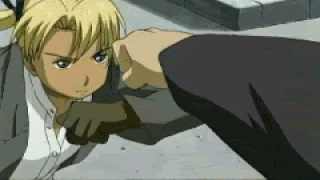 Physical Condition:
Her muscles don't show much due to her petite figure but what she lacks in
physical strength she makes up for in speed, easily.

Former Residence
Royal Navy Academy in England

Family/Relatives:
All immediately family except older sister deceased.
Father: Nicolai Schneider
Mother: Lara Schneider
Sister: Hilde Schneider

Friends/Comrades:
Cpt. Nathaniel 'Black Nate' Sellars

Enemies
The captain's enemies are Karena's enemies.

Rivals
TBA

Disabilities:
Her loyalty and being protective of the captain is sometimes dangerous for
others. If she even feels that he is in any danger she will act on it. This
can often lead to innocent people getting hurt if they aren't careful how
they approach the Captain.

---
---
---
---

Personality:
Karena's world is often only seen as black and white. There are no grey areas. This
way of thinking makes all the choices she must make much easier and without
hesitation. When on the ship with the familiar crew, Karena seems to act at ease
and can be pleasant to be around. She very friendly and also mature for her age.
When she steps onto land and into a city her attitude changes completely. She
becomes silent, cold, and calculating. She does everything in her power to assure
her Captain is safe as well as the crew she is with. Although, she is only a cabin-
girl she thinks of herself more as a bodyguard when she's not on the ship.

Likes:
Combat/fighting so far.

Dislikes:
The unknown.

Psychological Condition:
She seems normal but people worry at how itchy her trigger finger can be. She
also has a short temper.


____________________


Equipment


____________________
:Attire:
:Weapon(s):
Windbüchse (Girandoni air rifle)
Side Arm
Bayonet/melee weapon
:Accessories/Misc:
Accouterments Bag
____________________
Current History
____________________
Karena Schneider was saved by Captain Nathanial when she decided to hunt for a bounty. She
got into a disagreement with some sailors and miscalculated their numbers. Since that day
Karena insist that her life is in his hands and offers her skills to work on his ship and protect
his life with hers.
---
---
____________________
Past History
____________________
Karena was always the sister that was into what her father liked. Her father, Nicolai,
was ex-military and loved telling her about his assignments and what he did.
She vowed that she would be like her father and join the military. To prep her Nicolai
taught her everything he knew. And even trained her in physical combat and took
her to shooting ranges. Karena's mother, Lara, didn't like the fact that her youngest
daughter was taking into the military lifestyle but knew that she couldn't change the
girl's mind. Never the less, Lara tried teaching her daughter the way of potions and elixirs,
since it ran in the female side of the family. Karena never took to it like her sister,
Hilde. Karena struggled with learning the fundamentals and only learned a little by the
time it was time for her to go to the Royal Navy Academy she yearned to go to.
It was during her stay at the military academy that the attack on her parents happened.
She didn't know if their deaths were because of her father's past or something more.
Right after the funeral of her parents Hilde disappeared and Karena fled for fear she would
be next. It was then that she used her skills taught by her father and the Academy
to become a mercenary. Two years passed with her only getting better at her profession
and becoming well known as Giftschlange in her homeland, Germany, and as Venom in
other places. The reason for her name was because of the weapon she used. She used
a
Windbüchse
rifle that could fire poison ammunition. Karena uses a toxin that's rare
and carries the antidote on her for interrogation purposes. But if her target is to be assassinated
then if the bullet doesn't kill them the poison would within a day's time.
Word went around of a nice bounty walking around at one of the coast towns.
And Karena couldn't help but take up mission to secure it.
©2011 Wolven[OC] (BBC Coding/Design) - Roleplay Gateway. All Rights Reserved
dat password here: escargot