Its 2025 and the human race have done it, they have cured cancer but in the process they have also made a deadly virus. The virus feeds on the brain turning the host into cranks: crazed maniacs they are extremely violent and kill anyone in their way, the virus only seems to infect adults and thus teenagers and children who have managed to survive have to fend for themselves.

A group of teenagers first took refuge in Redbrook Mall in a bid to escape the cranks and slowly built its defenses to keep them out. However more and more children and teenagers keep arriving and soon the mall becomes a community working together to survive
Everyone has to work together its the only way to survive and thus jobs are allocated and rooms a designated, the layout of the mall is as below: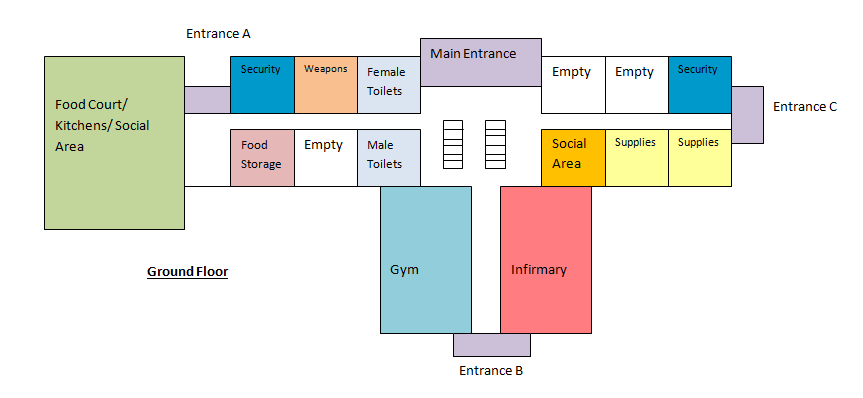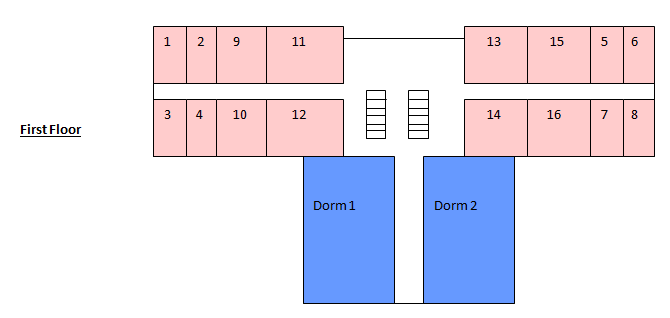 Character Sheets must inclu
de:
Name:
Gender:
Age:
Job:
Room:
Appearance:
Personality:
History:
Possessions:
Any other info:
Rooms
Room 1 (Max 2): Desmea Oakford and Warren Morgen
Room 2 (Max 2): Mikayla Mastioni and Haze Jihain
Room 3 (Max 2): Sophie Wilde and Jack Altrade
Room 4 (Max 2): Hazel King and Elsy Tran
Room 5 (Max 2):
Room 6 (Max 2):
Room 7 (Max 2): Snow and Ashley Stoke
Room 8 (Max 2):
Room 9 (Max 3): and Adelaide Ruperts
Room 10 (Max 3): Quincey Coyote
Room 11 (Max 6):
Room 12 (Max 6):
Room 13 (Max 4): Flynn Eddington and Christopher Jones
Room 14 (Max 4):
Room 15 (Max 4):
Room 16 (Max 4):
Dorm 1(Max 10):
Dorm 2 (Max 10):
Jobs
Please send me request for jobs and I will allocate them (
Everyone must have a job
) if there are too many people wanting the same job i will have to allocate you something else sorry!
Security:
Leader
- Ashley Stoke
- Snow
-
-
Food services:
Leader
- Hazel King
-
-
-
Infirmary:
Leader
- Sophie Wilde
- Adelaide Ruperts
- Quincey Coyote
-
Carers (for younger children):
Leader
-
- Desmea Oakford
-
-
Supplies services:
Leader -
Elsy Tran
-
-
-
Odd jobs:
Leader -
Jack Altrade
- Warren Morgen
-
-
Cleaners:
Leader -
- Mikayla Mastioni
- Christopher Jones
-
Feel free to send me your own ideas!!
1. Do not god-mod. This includes:
Forging characters that are perfect.
Controlling characters of other players without their consent.
Using outside knowledge that your character does not know/wasn't taught in the story.
2. No one liners! Be creative!
3. Swearing is aloud but don't go over the top
4. If you are inactive for a week i will PM you if you dont reply within 2 days your out!
5. You must request a room and a job from me!
6. No special powers etc
Arcs are bundles of posts that you can organize on your own. They're useful for telling a story that might span long periods of time or space.
There are no arcs in this roleplay.
There are no quests in this roleplay.
Here's the current leaderboard.
There are no groups in this roleplay!
Welcome home, Promethean. Here, you can manage your universe.
Arcs are bundles of posts from any location, allowing you to easily capture sub-plots which might be spread out across multiple locations.
You can create Quests with various rewards, encouraging your players to engage with specific plot lines.
Settings are the backdrop for the characters in your universe, giving meaning and context to their existence. By creating a number of well-written locations, you can organize your universe into areas and regions.
Navigation
While not required, locations can be organized onto a map. More information soon!
There are no groups in this roleplay!
By creating Collectibles, you can reward your players with unique items that accentuate their character sheets.
Once an Item has been created, it can be spawned in the IC using /spawn Item Name (case-sensitive, as usual) — this can be followed with /take Item Name to retrieve the item into the current character's inventory.
Give your Universe life by adding a Mob, which are auto-replenishing NPCs your players can interact with. Useful for some quick hack-and-slash fun!
Mobs can be automated spawns, like rats and bats, or full-on NPCs complete with conversation menus. Use them to enhance your player experience!
Current Mobs
No mobs have been created yet.
Locations where Mobs and Items might appear.
You can schedule events for your players to create notifications and schedule times for everyone to plan around.
Add and remove other people from your Universe.
Orphanage
By marking a character as abandoned, you can offer them to your players as pre-made character sheets.
The Forge
Use your INK to craft new artifacts in Mall Life. Once created, Items cannot be changed, but they can be bought and sold in the marketplace.
Notable Items
No items have been created yet!
The Market
Buy, sell, and even craft your own items in this universe.
Market Data

Market conditions are unknown. Use caution when trading.

Quick Buy (Items Most Recently Listed for Sale)
Discussions
Most recent OOC posts in Mall Life