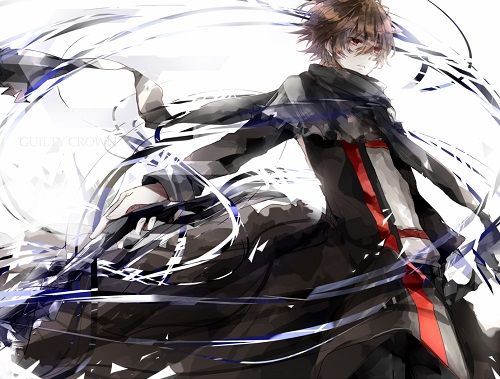 ---
---
FULL NAME
Vincent Vermillion

NICKNAME
Vince

AGE
22

GENDER
Male

MANA
Mana of Void

EQUIPMENTS
Vince doesn't have a mana weapon of his own. Reason being he is affiliated with the rarest yet at the same time with the highest price mana of them all - the Void. Its powers never meets a horizon. It is capable of world destruction depending on the user yet at the same time, it can do nothing. It's dangerous yet safe. Vince is able to solidify his own mana dispersion and create a weapon out of pure mana on his own and while there are countless of shapes he can form, he only goes for a blade or a katana.

Vince is both the Dispersion type and the Extraction type. For that reason, he is able to both store other types of mana and charge up an essence concentrator with other manas. He is, however, unable to charge an essence concentrator with his own mana. There is a theory that specifies the reason being because his mana essence is like the void; it's a blank and does not has its own existence. That is also another reason why he can absorb other types of mana and store it inside him.
---
Behind the façade
---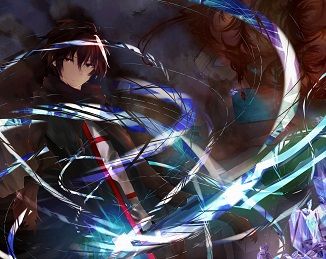 PERSONALITY
For everyone else, Vince is a loner. If you placed him in a crowd, no matter what it is, he will be isolated. Or at least, he chooses to be. It's really not that he hates crowds or anything like that; it's just that he don't feel right being in a crowd. He's a social awkward guy when it comes to conversing with people he doesn't know and immediately he becomes no more than an idiot. He can be very quiet and even when he needs to make a decision, he'll just nod for a yes or shake his head for a no.
However, once he gets comfortable with someone, there will be a change. He can still be little quiet, but that's only when he has nothing to say. He starts to speak up more and reveals his kind nature. Overall speaking, he is a kind guy and keeps a cool and composed head. He usually analyzes a problem before solving it with a peaceful solution. When push comes to shove, he resorts to crazy things that he would never do.
QUIRKS
While he conceals it well, he sometimes talks to himself. It is because that the Mana of Void resides within him. It constantly provides analyzed information and in case Vince screws up, it forcefully take over his body and tries escape whatever bad situation he is in.
LIKES
HATES
+Animals+
-Mana eaters-
+Music+
-Blood-
+Mana+
-Betrayal-
+Flowing rivers+
-Sewers-
+Laying on the fields+
-Rats-
+Sleeping+
-Bully-
STRENGTH
Mana expertise
- Even while he is on the offside when it comes to dueling with mana weapons, his expertise on controlling mana usually makes up for that. If you threw him an essence concentrator, there is about a 60% percent that he will fail you if you placed way too much hope on him. Usually and even by today's standards, he would be looked down upon and will be told that he wouldn't survive out in the fields full of mana-eaters. Because Vince doesn't like to brag about everything and even if he is underestimated, he doesn't mind. The fact that he can utilize his own Void weapon more efficiently than an essence concentrator is there.
Endurance
- Another aspect of his abilities in a battle. Even without his weapons and is unable to use mana, he has a large endurance level that terrifies just about any normal person; if there were any to witness him have something like this, anyway. Most of the people that knows about him are all strange in a way and that includes Vince himself.
Lack of presence
- While it may not be a strength at all, there are times where when it may become useful. He can slip away without anyone noticing and unless they directly saw him walking away, it'll be as if he was never there. Or maybe when he enters a conversation but no one noticed him being there. There are a lot of times where his lack of presence kicks in, but it helps majorly when he is a battle.
WEAKNESSStubborn
- Yes, Vince is one stubborn bastard. But he's not the type that decides on something and stays by that decision. He's stubborn only when it comes to someone helping him. He refuses any help from anyone as he believes that it won't display his true strength. He had been fighting against life itself by himself after all.
Void
- This is not what it is. Vince is prone to loneliness and the void is a scary place where everything and nothing exists. He feels that if he succumbs into the powers that the Mana of Void feeds him, his consciousness will be trapped forever into the void. He couldn't even thought of the pain he will go through then.
---
The past
---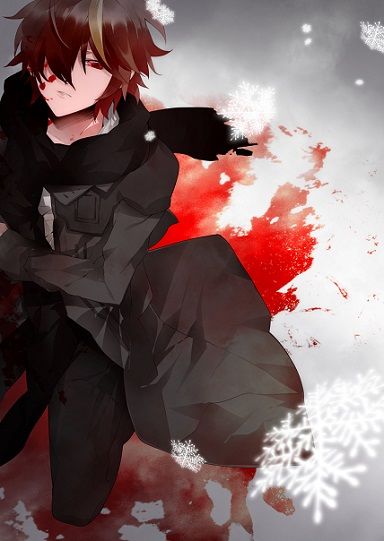 HISTORY
22 years ago, a child was born. However, it was no normal child. Unlike the other humans, where they all possessed mana essence, this child does not. It was brought into this world without the blessings of mana, yet a certain scientist had gave the child hope, only to be disguised by a sense of curiosity and a need to experiment of the child. He decided to take in the child and become the parent of this child for the sake of his experiments.
The child was named Vince later on, and for the next 15 years of his life, he had experienced everything the world had to offer. He was an active young kid and his naive optimism was something everyone looks forward to. When Vince was 10, he had met a boy called Hilgart and his sister, Eleina. They were both orphans abandoned by their parents for reasons they do not know, but they managed to find joy in life so far. Together, with the sibling, Vince had met what he thought to be the best of friend.
They hung out together frequently ever since. Somewhere along the lines of 4 years after their meeting, Hilgart had made an 'organization' that takes in orphans such as themselves. He feels that every child on Felna should be treated equally as human beings and not some items discarded off the ground. It was a lot harder than it was, but before they knew it, they had managed. However, there was something that Hilgart did not notice and that was the potential of the kids he had picked up.
From then, he had did all he can to raise the young children into potential powerful fighters that might aid in the predicament of what Felna was in now. Vince was of course, a rather useless individual, but his bright attitude and even though he can't use mana, he had taught the children more better than Hilgart could. Along with his sister Eleina, the trio became the leaders of the organization. Their schedules were tight, but there were always times where Hilgart, Eleina and Vince to hang out somewhere like they used too. Everything seemed hopeful and bright to them.
But everything changed when Vince fainted one day.
He had an extremely high fever and there was nothing that can cure him. That was when Hilgart suggested that they should send Vince to his parent, a scientist dedicated to mana technology. They all had knew the truth about him not having mana essence at all, and they were worried that
that
might be the cause. The scientist was surprised to find Vince in a cruel suffering. He wanted to do all he can to save the child that he picked up in the street. However, that was only the disguise.
The scientist had knew it. He knew that Vince would fall into a high fever somewhere around of 15 years, and Vince was around the age already, Immediately, he had started his experiment that he waited for years to start on; Project Artificial Mana. Just like its name, the project was to research whether they can create artificial mana, so that they could fight against even Bahamut itself just in case it awakens. But Vince tried to stop them. He didn't want to be some guinea pig for some random project where they couldn't guarantee his lives.
He tried to escape, but it was futile. He had pressed some kind of button that made the building go self-destruct and he was crushed in debris. There was no one there to save him and just as he wanted to live, he quickly cut off his right arm. He was very desperate. But the act also came with a great consequence. He was losing blood fast and any minute he will lose conscious and die under the debris about to fall on him. It was then that before him stood a dark figure. It offered to save his life, in exchange for its wish to be granted. He quickly accepted it and loses conscious soon after.
For the next seven years of his life, he had been on a journey. He didn't dared to go back to the Guardians ever since he had became one with the Mana of Void. He was afraid that they would reject him. He didn't know why he was so afraid of it. He believed that Hilgart and the others wouldn't reject him just because of this be something had stopped him from going back. But, there was something else that he needed to finish up first before actually going back. To fulfill the wish of the Mana of Void. The wish? It was very simple. Save the world from the impending doom that is about befall on them. He didn't trust it at first, but again, something in his soul that told him to believe it. At least, only until its gone.
One day, he had heard the disappearance of Hilgart Fey from one of the members of the Guardian of Felna. He immediately changed his mind about going back later. He departed for the same city he had met his best friend in and gathered info about it. He discovered that Eleina was still in the city so he thought he could find her and ask her what happened to Hilgart, only to find her going into the same place Hilgart had went to. Vince quickly made his way to the abandoned ruins of Ashenhale to meet up with Eleina but he was stopped by the beast of the city, something Vince himself couldn't stop.