❝ Being loyal means you may not get to do everything you wanna, but at least you do what you can not alone. ❞
|| Nickname ||
Frankie

|| Gender & Age ||
Male, 17, almost 18

|| Race ||
Human

|| Voice ||
Franklin's voice.

|| Face Claim ||
Syo Kurusu
|| Hair Color ||
Blonde

|| Eye Color ||
Turquoise

|| Skin Tone ||
Pale

|| Height ||
5'3'' (161 cm)

|| Weight ||
52 kg (115 lbs)
❝ Well, you know what they say, right? Start from the bottom, there's nowhere to fall. ❞
||

Potential Interest

||
potential here

He's an amateur, but not anyone can say they can do what he does. He was an apprentice before he made the decision to become a butler to the vampires. His body is littered with many burns that have scarred over the years from the training. He has no means to practice his craft now, but he wanted to overtake his master's craft. It was the only thing he began to show patience with.


From leaping from roof to roof, to having a conversation while hanging upside down to flipping down a corridor simply because no one is watching, Frankie takes pride in his agility and enjoys stretching the limits to what his body can do. He's been gifted with it, after all, so why not push it to its full potential?


As his mother put it, music was free. It could be made from everything and even the poor could make it from nothing but their own lungs. Singing along with his mother and sisters was just another past time, and he picked up drumming just to keep them in time. He just picked up two sticks and tapped. His drumming became more advanced as he practiced and now he can make a beat from anything, anywhere. It was a good way to let out some pent up frustration, and he can laugh off most things probably thanks to this hobby.


❝ - not to mention when he feeds, he sounds like he's slurping soup! What's so incredible about soup, anyway?! The hell are the nobles drinking that sludge for?! You know that dumping crap in water is how peasants like me were FORCED to eat everything, right? There are a billion things wrong with this! One, no matter how fast you try and eat it, it will always, ALWAYS be cold in the last few mouthfuls! Two - ❞
Frankie writhes in his sleep, but he'll never remember what he was dreaming of. Also, he becomes irritated and sometimes lashes out at the touch of a man, particularly if they go anywhere near the face region.
❖ Slob ||
Cleaning may be what is supposed to be Frankie's area of expertise, but one look at his living quarters and you'll find that his lifestyle suggests anything but that.

❖ Making anything and everything a game ||
Making the mundane exciting just takes a little bit of imagination, spirit and a scoreboard.

❖ RANTS ||
People deal with their anger in different ways. Some seethe, others hit things, some take it out on others and others vent. Frankie is a vent-er, but his rants go off topic from the thing that triggered him to what he can't stand about soup. They're loud and lengthy and end when he's forgotten what he was mad at to begin with. He feels much better afterwards.

❖ Naps ||
If you're bored, eat. If there's no food, nap. Frankie is the master of falling asleep anywhere and in any position.
||
Likes
||
♥ Magic ||
♥ Presents ||
♥ Sweets ||
♥ Anything cuddly ||
♥ Warm drinks ||
♥ Games (board games to ones with physical activity) ||
♥ Creepy crawlies ||
♥ Justice ||
♥ Hair ||
♥ Glassware/Glassblowing ||
♥ Company ||
||
Dislikes
||
✘ Bullies, big and small - particularly those who sexually harass ||
✘ Sewing ||
✘ Soup ||
✘ Humorless people ||
✘ Ghost stories ||
✘ Cleaning ||
✘ Men touching him in any vaguely affectionate manner ||
✘ Smooth-talkers ||


Frankie may explode in a rage or mope about in the corner from time to time, but at the end of the day, the stress can be brushed off with an, "Oh well." or "You'll do better tomorrow." He holds true to the ideal that laughter is the best medicine. He can recover from almost anything as long as there's still something to laugh at and people to laugh with.


He's always been the kind to stand up for the little fella, being the little guy himself. He's taken more beatings from not minding his own business then he can count, but they have only taught him how to fight back and not take it. He takes risks and will face any danger when spurred by what he knows is right. If his bravery earns him anything, it's self satisfaction.


Having to compete over the voices of his sisters, he can quite easily get out in front of a crowd without getting embarrassed. Even if he may be lacking in some social departments, he carries himself with confidence.

As someone coming from nothing now so close to everything, Frankie is quick to shut up by having a cake or more comfy bedspread shoved in his direction. Sneaking him extra dessert is a sure fire way to get in his favor, and if you have recently wronged him, giving him a new hat or fancy shoes will erase any grudge. Despite being aware that people use this flaw to get him to do things for them, he often goes through with what they want of him because he now feels like he owes them.


Frankie adores people, the attention of people in particular. Growing up as the youngest child and living under the roof with several talkative sisters, Frankie gets lonely and homesick if he's had no friendly interaction with anyone for too long. He strives to make as many friendly relations as possible, but... the blunt side of him won't turn down the opportunity to tell someone they're being a dick. Which is another thing...


Frankie does not know how to shut up and be a servant. He's struggling to put his flippant nature aside and shut his big mouth, take his job seriously and keep a cap on that temper - but it's hard. He's a stubborn brat by nature. He forgets his manners, is accident prone, and fails to reach his bed after a big day and collapses on the stairs. He's low key concerned that if he doesn't grow up soon, his body will turn up on his family's doorstep.
❝ Tears and frustration are great and all, but if you don't come out the other side laughing, they've won.❞
||
Personality
||
Flippant
|
Playful
|
Self-indulgent
|
Temperamental
l
Sincere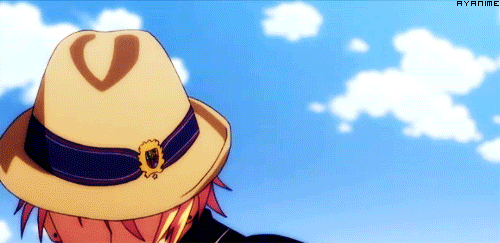 Frankie is a typically cheerful and seemingly happy-go-lucky figure, right up until you flip his tiny triggers and send him off on a tantrum or slumped against the wall, wallowing in self-pity. His mood swings aren't only negative and he can spring right back up to his usual self, though when he's on a rant you'll have to wait much longer. He hates boredom and often does things in unconventional methods to avoid the monotonousness of his job. Miranda made the speculation that he keeps moving and talking just so that he can't slow down for the bad things to catch him.
On the topic of falling in love, he's never seen it, therefore he's not sure it exists. He never saw his mother in a proper relationship, only saw his sisters have negative experiences with men and has only felt platonic love for his family. All that he is sure of is that love and sex must exist on different planes, with nothing to do with one another.
He's not one for being serious and his sincerity delves into the realm of bluntness. He's whimsical in his actions and is seemingly spurred forward by his own amusement. If anyone would assume that his grin is a facade, they'd probably be right. Other than that, he is easy to make open up. Just be nice or have cake. You could compare his behavior to a child and the likenesses would be stunning.
❝ I'm not proud of what I've done in my past to live, but I'll never be ashamed of who gave me this life. ❞
❝ You remind me of everything I hated about Eskye. ❞
Franklin never knew his father. His sisters never knew their fathers either, and it wasn't until he was older that her came to learn that a woman of his mother's profession would not have much luck remembering.

He was born into poverty in a city of Eskye, practically living on the streets and begging (or sometimes fishing through pockets) for coin. Though he was the youngest of four big sisters (Miranda, Tatiana, Lilly and Laurel) he was the only boy, and by pressure from his mother he decidedly became the 'man of the house'. He was the one hope for the family, his mother reminded him often.

He and his sisters were once snatched from their mother's arms, routed out by a rich man who promised he could take them to Asmaria. Franklin felt too loyal to his mother and urged his sisters not to go. It would have been an easier life, with opportunity for greater things, if he had gone. His mother had even urged him, saying that she would send them with him herself. She did. He escaped with three of his sisters, however, one stayed. Lilly refused to budge and did not show any hesitation in shutting the door on them. After the second escape, Franklin made a deal with his mother that the sisters would go, to remove them from her work environment in case they fall into the same profession she did (he had seen and heard enough of the way men objectified them that he harvested a great dislike for his own gender throughout his childhood), as long as he could stay to look out for her. Dragging his drugged sisters to the docks was emotionally exhausting, especially when they woke up. The looks on their faces when they realized there was no escape that time were haunting.

Soon after, during his early adolescent years, his mother fell ill and could no longer work. He took up an apprenticeship to a glassblower, which is how he supported her. They made money selling their work to nobility. Years passed and Franklin was showing promise as a glassblower. His mother wasn't getting any better, but she wasn't getting worse, either. It was then that they were sent a letter from Lilly, which held the addresses of where his sisters were. He threw away the life he was going to build and stole his master's finest vase, sold it, and used that money combined with his savings to pay a smuggler to take him and his mother to Asmaria.

He first met Lilly, the adopted daughter and mistress of the same man who took them. She was engaged to a man who owned a dairy farm, and claimed she could not be happier and wished to see her mother and earn her blessing. Franklin could barely recognize the superficial shell of a proper person she had become.

Next he found Miranda, a nun who lived in the capital. She had turned to God to protect her and had become a devote follower. She forgave Franklin for sending her away, for it was in her darkest moment that she found Him. She led him to the orphanage, to Laurel and Tatiana.

It was Laurel who despised him. Stuck in an cruelly maintained orphanage, she refused to speak to Franklin or her mother. Tatiana worked at the orphanage, helping the children wherever she could. She told Franklin that she wished to marry someone with a profitable lifestyle, not for love, but so she would eligible to adopt. She understood why Franklin did what he did and comforted him when Laurel rejected him. Tatiana was overjoyed to see her mother still alive.

Franklin looked for work while he was there and became a cherry picker on a farm just outside of the capital, putting his agility to good use. His mother and him were allowed to stay there until the end of the season. When the news got around that the princess of Asmaria required a butler, and what families would be paid for their child's services, Franklin took no time going up to the castle himself to apply for the job. He felt like he owed it to his sisters, especially Laurel. With the money he made, she could leave the orphanage and she and their mother could have a house of their own. He had to repent for "selling" her to the man against her will all those years ago. He was making it up to her now, by selling himself in her place.

Out of the other possible butlers, even the ones from proper families that had written to Maleah for the job, he was chosen. He still has no idea how that happened.
❝ Go through life with no expectations, and the unexpected will always come to you! ❞
Pillows, stuffed full to almost bursting with the feathers of young geese. Furs, ripped from the corpse of some majestic beast. Silk, stripped from the dead bodies of worms boiled before their wings could unfurl. Frankie had never been surrounded by so much death...

And he was loving it.

The young man let out a soft moan as he snuggled in deeper into the mound of dead things on his bed, trying to escape the sunlight that was shouting at him to move. It was simply too warm to even fathom getting up. Warmth and luxury sapped away ambition and strength, it was no wonder why so many nobles he saw were fat and complacent. He could easily lie there forever, forgetting everything... but he couldn't. Such luxuries as warm bedding did not come without a price, and he had a job to do.



"Mmff... Mum?"

Frankie murmured weakly, feeling around for a familiar shape in the blank space next to him.

"How... Mmm, how are you feeling today?"

His clutching hand grasped onto nothing and the only thing that answered was a branch scraping against his window. Frankie's turquoise eyes pried themselves open and he perched himself up on his side on one elbow, yawning.

"Ma?"

As his sleep crusted vision focused and he found himself staring at his new living quarters, it dawned on him that he was an idiot. His face flushed red and he smacked his hand over it to hide from whatever could be watching. How much a homesick baby was he?

He would get used to sleeping alone, he was old enough that he should. He had gone through a similar dilemma before as a child, when he cried into his mother because their mat felt too lonely. He had been so used to sleeping in a pile with sisters that with them gone, he felt unprotected. He was now the protector, and that terrified him. It was then that the weight of his actions came plummeting down to crush him. But they didn't. And so he found himself here, filled with the same loneliness as before, but at least this time knowing for certain that his family was safe. His nose began leaking and he wiped it on his sleeve, scoffing at himself. This was why he didn't like to laze about. That bed was a cushy prison, something that lured you in with comfort and trapped you in your own thoughts.

"Alright, time to get up. Definitely time to get up now," he groaned as he threw off the covers and left them in crumpled mess at the foot of his bed. As soon as his bare feet slapped down on the cold wooden floorboards a shiver ran through his entire body and he shook it off in an exaggerated fashion. There wasn't anything to enjoy about the cold. The cold was a curse and suffering to it was a cruel reminder that you had no means to warm yourself. Being warm, in Frankie's honest opinion, was just another symbol of status.

He spent perhaps a little too long preening in front of the mirror. He couldn't help it - the clothes supplied for him were unlike anything he'd experienced, and his face not covered in dirt was pleasing to look at. He felt a sense of pride in his appearance, something he never deemed important before. He spent five minutes tipping his hat to the perfect angle before heading out for breakfast.

The kitchen was surprisingly empty, which was OK. It gave him time to accustom himself to it without any of the girls hovering over his shoulder judging him for being so amazed at the apparently mundane things. What had once impressed him now struck a nerve, such as - who even needs an entire draw dedicated to forks, anyway?! Sure, he was probably just getting mad out of spite. He could see that the forks were different shapes and sizes, but he was too embarrassed to ask his employers why. They kinda freaked him out. He whipped his head around to see if any of the maids had arrived so he could rage about forks, but still, nobody was there. Whatever. He'd save it for later.

The sound of an egg sizzling was strangling hypnotic. Frankie absent-mindlessly tapped his spatula against the oven as it cook in a simple 4/4 fashion, whistling some whimsical tune. It wasn't long before his foot started tapping to the beat, then stomping, and his spatula tried out a more difficult beat. His other hand snatched up a wooden spoon and joined in, and before long he was doing a dumb solo off the oven, wall and anything else near him. It got faster and faster and more intense and ended in a big fanfare - with him throwing his sweat prickled arms up in triumph. Instead of thunderous applause he got alarmed beeping. He glanced down with one open eye to see his egg, blackening and stuck to the pan.



"Shite!"

he yelped and picked the pan up by its handle, furiously scraping its bottom to save his breakfast.

"Franklin."

He nearly launched the pan into the air upon hearing that. The pan was dumped into the sink and he swung around to meet the eyes of his unforgiving mistress.

"Yeah - Yes, Princess? What can I do for you?"

He replied, trying to come of as casual as possible. She merely beckoned him forward with a slender finger before disappearing around the corner, leaving Frankie to slump over in a panic. Holy shit, holy shit, holy shit! I'm screwed! She's going to eat me alive! That thought was truer than he was aware. He composed himself with a deep breath and bounded of the kitchen after her smiling, like some loyal puppy. Eh, I'm probably just gonna get some extra chores. At least I'll be busy.

Five minutes later and the kid was flailing on the floor with a mouth full of fangs clamped down on his neck.
I swear this is the last time I will edit this! Anyway, say hi to Frankie, I hope you like him, and he can be pursued by both male and female characters. He'd just be much more resistant to male company. Cabbage out!