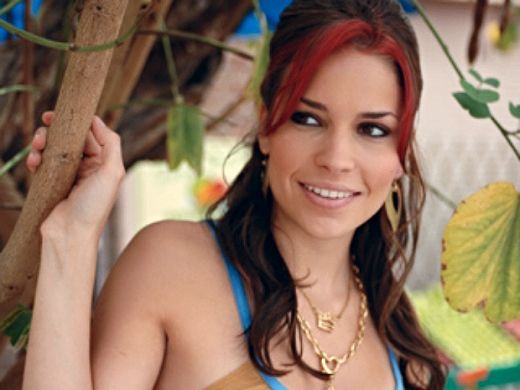 ---
---
Name
"My friends call me Ash."
Ashley Daniels

Age


"Only one more year till am legal. At least legal to do all the boring stuff."


Seventeen

Gender


"Am a man trapped in woman's body. What do I look like to you?!"


Female

Grade


"Am just counting down the days till I graduation."


Senior

Sexual Orientation
"I'm not into labels."
Ashley doesn't label herself. So as far as she is concerned, she's not gay, she's not straight. Whoever she sees love in, she falls for that person. She's isn't going for a physical package; she's looks and is attracted to a person's inner beauty. Ashley is not worried about finding her sexual identity; it's found. And she is the 'no label girl.
---
---
Likes

∆ My Dad's Music

∆ When My Mom Isn't Home

∆ The Beach

∆ Skipping Class

∆ Singing

∆ Being Understood

∆ Feeling Loved

∆ Animals

∆ Spicy Food

∆ Chocolate

∆ Sentimental Gifts

∆ Real Friends

∆ Illegal Activities

∆ Thoughts of Graduation

∆ Thoughts of 18th Birthday

∆ Her Jeep

∆ Movies
Dislikes

• Cheerleaders

• Sweet Candy

• Labels

• Backstabers

• Bananas

• School

• Her Mother

• Stepdads

• Nasty Weather

• Judgmental People

• Dead Dad

• Black & White TV

• Coffee

• Being Alone

• Not bring in Control

• Being Replaced

• Heartbreak
Savvy, self-confident, and kind of a bad-ass. Ashley's unpredictable, and she gets a kick out of breaking rules, but there's one thing she's never reckless about - the people she loves. Once she cares about you, you'll become very familiar with her overprotective side.

Ashley put up a front that's sarcastic, tough, and a little bit bitter. She's had to grow up fast and wears a tough exterior, but she's not as jaded as she seems – she also has a soft very sensitive and loving side to her.

Although Ashley's sure to stick by you if you're in trouble, she'll probably push you away if things get rough for her. It's usually an effort to protect her from pain. She might claim she wants to be alone to deal with personal stuff, but once you get to know her, you'll realize those are the times she needs your love and support the most.

Her life can be intense and unpredictable at times, but she's determined to take control and figure out what really makes her truly happy.
---
---
Relationships
My dad is dead and my mother might as well be. Between all of my father's touring around the world I rarely ever saw him. Despite that somehow he was a better parent to me than my mother ever was. Although that's not saying a lot it does say something. What I can't be sure. I've had five stepdads .... wait .. make that six. Stepdad numero six and mommy dearest just tied the knot a week or so ago. So yeah that makes one dead dad, one gold digging whore, and stepdad number six. No pets. No siblings. That is my family."
Clique
"What clique would I just so happen to be in? Well as far as this whole school is concerned Ashley Daniels is an outcast. Not that it was always this way. I mean I use to among the populars but we all know how that tale goes. Long story short being one popular girl dates a popular guy. Popular girl's suppose to be best friend steals popular girl's guy in a scheme of backstabbing and sabotage. Popular girl becomes outcast and ex-bestie and ex-boyfriend live happily ever after. Now guess what part I played in that tragic tale."
After-School Activities
As of rite now the only club am in is the music club."
Schedule
Period 1:|7:28 - 8:18| Music (Instruments)
Period 2:|8:20 - 9:06| Physics
Period 3:|9:10 - 9:58| U.S. and Global Economics
Period 4:|10:02 - 10:50| British and World Literature
Period 5:|10:54 - 11:42| Lunch
Period 6:|11:46 - 12:34| Statistics
Period 7:|12:38 - 1:26| Home Ec
Period 8:|1:30 - 2:18| Health
History
"I was born on February 14th on my dad's tour bus. Yeah he always loved telling me that story but I'll spare it. It was after my birth that my mom stopped touring around the world with my dad and she came to Manor Hill. I would like to say that having me turned her whole life around and made her all domesticated and such but that would be the biggest lie ever. The only reason that my mom abandoned the rock and roll scene is because my dad set her up in this lavish mansion that I still call my home. Honestly speaking I know that my mom resents me because I have "ruined her life" but hey I didn't ask to be here. She had options and in the end she opted to keep me. I'd probably be better off had gone with option two ... or three. At the end of the day it wasn't a dream come true for either of cause.

While me and my darling mother lived the luxurious life that having a rock star dad and husband allowed my dad neither stopped his rock and roll life. My dad rocker, Ralph Daniels was the lead singer of the rock group Purple Poison, and all while me and Christina were living in a mansion he was still touring around the world. He was doing drugs, sleeping with whatever crossed his path and was rarely home at all due to his constant touring with his band. By the time I turned the married was over and my parents were divorced. Not that I cared because by that time I was just so over the arguing and cheating and just all the drama in general that I welcomed there divorce. Not that the divorce really stopped them from fighting.

A month after my parents divorced my mom got married to stepdad number one. Which is what kicked started this wealthy parade of stepdads. The marriages never lasted long and always ended with my mom getting half of their earnings, Between that and child support you have to admit my mom was doing pretty well for a non-working socialite. With my father always touring and my mom opting to travel rather than raise me I've pretty much raised myself. I only got to see my father on special occasions such as my birthday and stuff and as I've gotten older the times I see my mother have dwindle drastically. Not that am complaining.

Anyways, speeding up time my father dead this summer. It was after one of our rare dinners between father and daughter and on the way going back to his hotel his car got into this really bad accident on the highway. Car explode. No survivors. He was just here one minute and gone the next. This summer has probably .... not it was the craziest summer I have ever lived in my life. Despite the roller coaster ride in the end I got a 20.5 million dollar inheritance out of it so I guess death isn't all dead. Downsize to it all is that I can't touch the money until am eighteen so am still stuck with my dear mother in the mean time. He left her nothing so of course she's in a bitch fit right now and trying to butter me up so when I hit the big one eight I'll cut her a piece of my money. Its not going to happen but who am I to crush her hopes.
Other
I do have a tattoo on my lower back. Tramp stamp I know and its illegal for minors but everything fun is so no surprise there. While I could afford to be driven around by my own personal chauffeur or drive over in some over expensive benz or something I prefer my jeep."