Name
Cole Matthew Rexx
Age
17
Gender
Male
Grade
Junior
Sexual Orientation
Bisexual
---
---
Likes
Dogs, cats, photography, parties, talking to people, soccer, movies, romance, family, and helping at the animal shelter.
Dislikes
Silent treatment, being used, fake people, liars, people who don't like animals, and those who lack ambition.
Personality
First things first, I love my kids. If you know me at all, you'll know that I have four dogs and two cats. I absolutely love animals of all kinds. Besides my kids, my mom and I are really close. My younger sister is with my dad, and my parents divorced almost ten years ago. I still love my dad, and I see him during the summer. My sister Katie goes to a boarding school where she can do her art stuff. Me? I like hanging out with people and learning about them. Besides, the more people I know the more likely I can meet cute girls or guys. I'm a bit of a romantic. Sometimes I go a little overboard for holidays and stuff, but that's just because I'm a sensitive guy. I love soccer and I'm pretty good at it--not that I'm trying to be cocky or anything. Over all, I'm a loyal, caring, and kind guy. Please don't abuse that. I hate it when people think that they can walk all over me, because they can't.
---
---
Relationships
Mother: Linda Collins--46 Divorced from Matthew Rexx
Father: Mathew Rexx--47 Divorced from Linda Collins
Sister: Katie Rexx--14 Lives with Matthew



Dogs:




Zac--Golden Retriever (7 years old)
Lilly--Golden Retriever (2 months old)
Scotch--German Shepherd (4 years old)
Andy--Mutt (6 weeks)
Cats: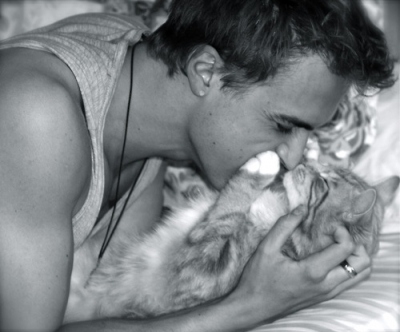 Killer--Yellow Tabby (1.5 years old)
Tipsy--Calico (7 weeks)
Clique
Jock
After-School Activities
Soccer, Yearbook Committee, School Paper/i]

Schedule
[i]Period 1:|7:28 - 8:18| U.S. History
Period 2:|8:20 - 9:06| Algebra II
Period 3:|9:10 - 9:58| Gym
Period 4:|10:02 - 10:50| Journalism
Period 5:|10:54 - 11:42| Lunch
Period 6:|11:46 - 12:34| American Literature
Period 7:|12:38 - 1:26| Chemistry
Period 8:|1:30 - 2:18| Photography
History
Cole was only six when his parents divorced. Before that, they were constantly fighting, screaming, and breaking things. His younger sister was only two when it happened. After the messy divorce, Cole found out his dad had been cheating on his mom. He was eight before the custody battle finally simmered down. He would stay with his mom during the school year (per his request), and his sister was going to be at his dad's, who lives in Miami. When Katie was old enough to make her own decisions, she still wanted to stay with their dad. Her brother and her really only see each other on certain holidays when they both spend time at the same house. Cole likes to think his sister would tell him anything, but he's not entirely sure. With Katie just starting high school, Cole wishes he could look out for her better. After all these years, Cole has finally forgiven his father for cheating on his mom and they get along pretty well now.

Being a junior now, Cole loves the life he's built at Manor Hill High School. He has friends, he has some enemies, he's got a part time job at a pet shop and he volunteers at an animal shelter. He loves his dogs and cats, spending a lot of time training them and playing with them. He manages his time well, splitting it among all of his after school activities and also still having a social life. As much of a jock as Cole is, some people still don't believe that he bats for both teams. His mom is really supportive and they often jock about guys and girls. It helps that his mom is also bisexual. They have a modest living on the edge of town. Cole has a black truck and drives it every single day. Cole has lived in Manor Hill since the divorce and grew up with most of the kids.

During the summer before the year started, Cole's boyfriend of three years in Miami broke up with him. The guy was someone Cole really trusted and thought that they'd go off to college together. No one at Manor Hill knew of the relationship in Miami, and Cole really doesn't want to add to the rumor mill. He still hasn't deleted Jake's number from his phone and will occasionally drunk text or call him. When he and Jake first met, Cole was posting flyers about a dog that he found. It turned out that the black lab was Jake's and they bonded over their shared love of animals. Now, Cole feels on the verge of tears every time he sees a black lab at the animal shelter and his stomach knots whenever he seeing dog flyers.
Other
Cole's ex-boyfriend cheated on him with his dad's girlfriend. Jake was caught when Cole woke up in the morning and walked in on them on the couch. Cole didn't tell his father, and Jake broke up with him no matter how much Cole wanted to work it out.