My Name is: Anya West
"And don't you forget it..."
I am the: Omega
"I'm happy being so too."
I am age: 19
"Almost twenty and still I haven't changed."
My mate is/I hope my Mate is: Yet to be decided.
"Mate?! Ugh, the thought."
In human form I look like: Anya's most defining feature; her eyes. They are icy blue, flecked with darker blue bits. When she is angry, they seem to darken completely. They are framed by thick dark eyelashes and surrounded by the pale skin of her face, with flushed pink cheeks. Her face is a delicate heart shape. Long, wavy white blonde hair reaches the middle of her back, though often she has this tiny up and out of the way. It will also be reflected in her wolf form. She is slender, though she curves in all the right places and on the right side of her neck she has a small star-shaped birthmark.
Image: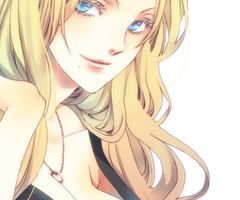 "It's not much, but it's who I am I guess."
As a wolf i look like: Anya's wolf form will reflect her human form. The fur will be completely white blonde like her own hair. Her body will be slender, but in proportion. Her eyes will remain the same blue colour as they do in human form. Also, she will have a grey tip to the end of her tail, which is bushy and full.
"If I actually ever receive my wolf that is..."
Image:
Personality: Anya normally keeps herself to herself. She prefers to be alone, rather than in a larger group. However, that does not mean that she is quiet or indeed shy. In fact, when she opens her mouth, she usually talks for a long amount of time. And although she can speak her mind at times, she would never do it in order to actually hurt someone's feelings. It is usually her that calms a situation, with her naturally calm attitude to everything. She is kind of heart and is the one to go should you need to talk about anything, for she will listen. If she can assist anyone, in any possible way then she will do so because she is only willing to do so. However, trouble does seem to follow her around and more often than not she will end up in some kind of predicament. However, she does try to help. But that doesn't mean you should cross her. If you harm someone she cares about then you will find yourself on her wrong side and that's not where you want to be. She will become sarcastic and rude to all those who hurt her family.
"I do try to help..."
Likes: Playing the piano, walking in-between the trees, rain, fruit, laughing, trying to help, running chocolate and cake!
"Give me chocolate and I'll be completely on your side."
Dislikes: People who are rude, cabbage, confrontation with those she loves, clowns, being alone.
"There is never a situation where you need to be intentionally rude."
How you feel about the pack: Yet to be decided.
"We will see how it goes."
Other: Anya's parents are both werewolves themselves, however they were loners before they met. And it was a chance meeting when they did finally come across one another. When they got married, both refused to surrender their "free" lifestyle away from a pack and so they travelled as a pair. They were both a bit wild and enjoyed living life carefree. Until Shiela fell pregnant with Anya. They agreed that it was time to settle down, but they still would not join a pack for fear of restriction. It wasn't until Anya "stumbled" across the fact that she was a werewolf that the teenage girl sought out the pack, meaning that she's relatively new there. They accepted her for she needed guidance. Her parents are back travelling, almost glad to be free of the burden of a child.
Anya loves to run. It allows her to be free and to do as she wishes. It is how she escapes the world.
"My life, was normal."