Name
Inanna [
Pronounced - En-nah
]
Breed
Scaled Horse
Gender
Female
Marking
The Mark
looks like a bunch of lines but to an objective point of view, it could resemble several things.You would have thought of the moon or a crescent but then it starts to resemble the sun. Truthfully, the symbolism behind it would be that it means ascendance. The downward waves mark the upward thrust while the circle is in fact, the sun or the full moon. This points out the ascendance into the universe above. The differently sized circled coming from the right to left into the sun mean the different cycles of life. The growing period and etc.
Personality
Inanna is classy, petite and very cheerful on a usual day. This dragon is calm and mature with a sense of a playful spirit. She likes to play tricks on others but she still knows her limit. However no matter how mature she can be, Inanna is still somewhat insecure and childish on the inside. She can feel down when insulted and also angered. When provoked by something that is certainly intolerable, Inanna becomes visibly enraged. Her mood will be ruined for the rest of the day and no one will enjoy being around her. Although with success, if she's attached enough, its possible for her to calm down enough to act sensible. When she does get in this foul mood, she also becomes stubborn and snappy. Inanna is not to be messed with even for a small dragon like herself. Although, even for all the bad days the good days make up for it. Her kind nature and caring attention to well appreciated most of the time.
Egg Appearance
The egg is dark blue with swirls of gray in the shell, however the dark blue, almost black, splotch on half the egg is peculiar in itself. However the surface of the egg is soft and seems almost to have a light sheen of fur. The surface also reflects light a lot more for this reason, making it seem metallic.
Hatchling Appearance
With wide eyes, and an small innocent appearance. Her feathery soft scales and ruff are fluffy and short trimmed. She resembles a puppy in consideration of size and shape. With long legs, larger feet, and a head with wider eyes. Though the body is lean and lithe it's still small.
Adult Appearance
Her adult appearance is much more mature and adult-like. None of the previous innocence is there yet some features remain like her large eyes and long legs. More spikes have grown along her spine and her wings are covered completely in feathers.The mane is like a lions around her face and the way she carries her is almost like a purebred horse.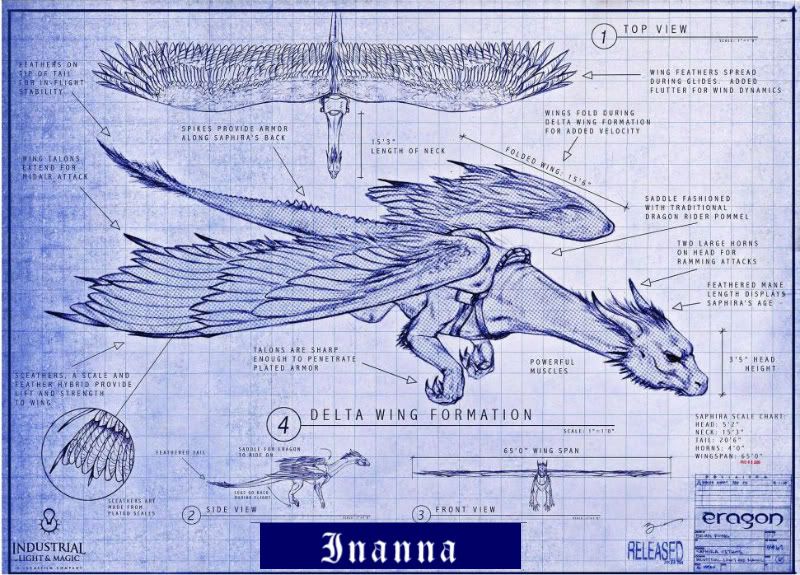 Breath Weapon
Wind/Air
Bonded
TBA