GAGE VANDERGEAR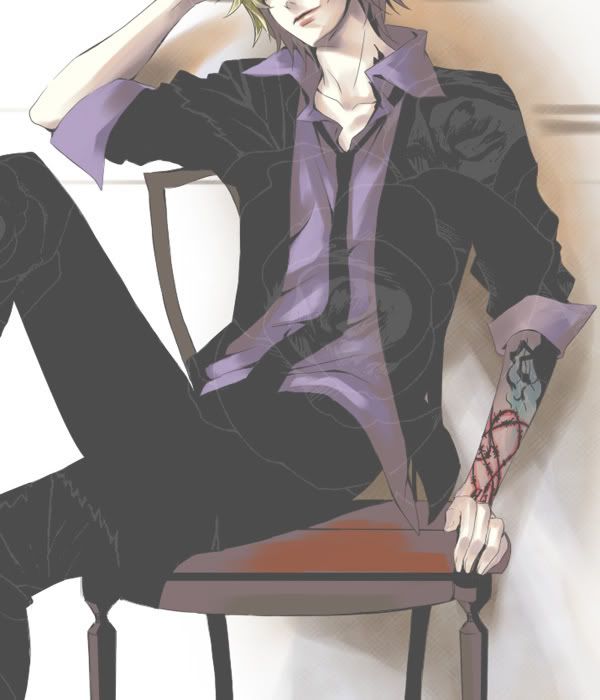 Grade
12th
Role
The Masked Jack
Which Masks do they possess?
Noble Guardian
Gender
Male
Age
19
Personality
Gage is a bit of a contradiction, not only being two-natured in the sense that he has two personas - one obviously being the mask's -, but in other ways as well. For instance, he may seem relaxed and lazy, but it would also be obvious to a perceptive person that he's alert and ready to act. He likes to pretend that he's rude and snarky at times, but then he'll readily do things for you if you ask. He moves like he has all day to do something, seeming lazy and unmotivated but when it really counts, he's frighteningly fast. No warning, no hesitation, when action needs to be taken, he goes for it. His humor is dry and sarcastic in such a subtle way that it's hard to pick up on unless you've been exposed to it a couple of times. His humorous comments come with a completely straight face, and no matter how absurd some of them may seem, it's hard to discern if he's really joking, unless you're just good at that kind of thing. He's confident, even arrogant sometimes, but doesn't have much pride, though he likes to pretend he does.

Gage is also pretty cynical in his life views, as well as stubborn. Once his mind is made up, you have the same chance of Hell freezing over as you do in changing his mind. You just have to hope that the decision he made was one he took a lot of time and deliberation to make - because there are times; however few - when emotions are running high that he is brash, and reckless with such matters. In regards to emotions though he has the ability to cover up any emotion that he sees as a weakness with a well practiced mask(ironically enough), or an even better timed secondhand remark. He absolutely hates to depend or rely on anyone but himself and has a lot of walls up, so he is still adjusting to the team aspect of the Masked as he is only used to watching out for himself. He has deep seeded issues when in comes to trusting others, whether it is trusting them with secrets, trusting them to follow through with things they've promise, or as far as trusting someone enough to let them get close. He despises talking about the past, particularly his past, or about any personal issues in general. If anyone asks, he gets almost instantly annoyed. Despite these flaws however, to those who prove they are trustworthy in his eyes, he will be unfalteringly loyal. In the past, he has never really formed emotional attachments for more than a short period of time, if at all. To get attached was to set yourself up to get hurt. The only person he ever really cared for was his brother, but that's a different story to be told at another time.

Gage is a bit of an enigma, often choosing to think more than he speaks. He may seem to be a day dreamer that lives in his own thoughts but don't be fooled by his silence or lack of contribution to group conversations. When he has something to say, be it helpful, sarcastic, or anywhere in between, he'll say it. No inhibitions. Otherwise he doesn't like to bother with or stress over the little things. Heck, Gage doesn't seem to stress about anything. He has an uncanny ability to shrug off things that would normally cause someone to worry. However, seem is the key word there. When there are times that he's visibly stressed, then trust that it isn't just any small issue. Another aspect of his personality is that he doesn't seem to try at anything. Academics come easy, athletics come easy, and he can honestly give a rats ass what people think which subsequently makes his social life, or lack there of, easy as well. It gets to the point where his professors get frustrated when he never does homework, rarely writes papers, but aces exams. When asked about it he'll shrug, respond in a variety of bodily gestures, or on certain days give a snarky remark. Ultimately, he's a mysterious fellow who when the going gets tough is a good guy to have on your side.


Brief Description
He's rather average looking to the unobservant person; slightly above average height, average semi athletic build, an average, if not occasionally scruffy face. There's definitely something intimidating about him though, or maybe several somethings. For one thing, his icy blue eyes are naturally narrow giving a dagger effect, which adds to his already intense stare. For another, his stance and expression always have a predatory undercurrent, even if he appears to be completely relaxed. Much like a lion will appear at ease right before it pounces and sinks its teeth into your throat. Skin that lacks a tan and untamed tawny and Caribbean sand colored locks complete the picture of the average looking but not so average male.
Skill(s)/Abilities
Gage is naturally pretty athletic resulting in him having decent stamina, endurance, and quick reflexes. He is also pretty sharp witted with a dry degree of cleverness that enables him to think outside of the box and find new or unexpected solutions to problems. Also very observant, Gage is cautious to the point that he is not often fooled by lies, tricks, or straight up bullshit. Another skill is that Gage appears so indifferent and often flies under the radar, similarly his unpredictable nature make him deadly in a fight as no one ever expects him to suddenly take action.
Likes
Going for morning runs - They help keep him in shape and he uses the time to clear his head, think, and really figure things out.
Rain/Storms - Sound, smell, but most importantly feel. He always loved the water, and still does. But there is something about watching, and feeling it fall from the sky that relaxes him. Thunder and lightning only add to the experience.
Music - Piano in particular. He enjoys getting lost in the melody as his fingers dance along the keys. Funny thing is, he can't read music; only play by ear.
Biting - Gage bites the ends of pencils, the inside of his cheek, his lower lip as a sort of soothing habit he does when he's thinking, nervous, or even just absentmindedly lounging about.
Cat naps - Gage will often wander off only to be found later napping in a variety of precarious places.
Respect - A very important value to Gage and until you earn it, don't expect to get the benefit of the doubt.
Dislikes
Bad hygiene - Honestly, who wants to be anywhere near people that don't bathe or brush their teeth on a daily basis. He also likes smelling good.
Confinement - Gage needs to be able to roam, to wander, to explore, and to be active. Coop him up and he'll get restless and annoyed.
Large groups of people - Being a bit more of an introvert and coupling it with his trust issues, he has the tendency to get a tad uneasy or frustrated in crowds.
Drama - Enough said.
Dishonesty - Going with the respect thing if Gage things you're lying or trying to bull shit him, good luck getting off of his mental black list.
Phobia
Fear of being Vulnerable
Fear of clowns…seriously.
History
I know! I know! I'm working on it!
Crush
No one, but if he did it's not like he'd admit to it.
Other
He has a few tattoo's and his tongue is pierced.